Chez Huntley - update 7/22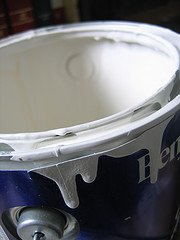 One step forward, one step back. We had a major hiccup this week at chez Huntley. Remember all those beautiful neutrals I taped to my walls? Remember that I selected Benjamin Moore's Vanilla Milkshake as one of my colors? That turned out to be a bit of a problem. Upon the completion of 1 – and in many areas 2– coats of this color, I noticed that it seemed a little off. The rooms appeared to be a lot more white than ecru. I thought perhaps it was all the light that pours into my house. Or maybe my new downlights were brightening the space more than before. Alas, when I taped the paint chip back up on the wall, it just wasn't right. To make a long story short, Benjamin Moore's formula for Vanilla Milkshake #OC-59 is simply wrong. The real color doesn't match the paint decks. Moreover, Monarch Paint and BM corporate don't really care. Umm, excuse me? As someone who has spec'd countless Benjamin Moore colors in her career, this is more than a little alarming. As a designer you can't always be on site (or in-state or in the country) to review a test sample. I can understand a slight difference in value or undertone, but this so-called vanilla is just plain white. That means my entire first floor has to be painted again and that Tricia has to roll up her shirtsleeves and do some of the work herself. Because I may have been comp'd freshly mixed (and corrected) gallons of paint for my troubles, but my painter and his crew don't exactly work for free. So add to my loaded schedule and to my resume …
Tricia Huntley: Professional Interior Designer, Dish Columnist & HOUSE PAINTER
Thanks Ben!
Vanilla should be, well, vanilla. Right?!
The sample that says it all. Vanilla Milkshake as sample (on left) and in reality (on right).
The paint store's work product.
A little GRRRR to go with your morning coffee today. Hoping for a little more "progress" in next week's progress report.
Tricia : [