Chelsea Clinton and Michelle Nunn Join Forces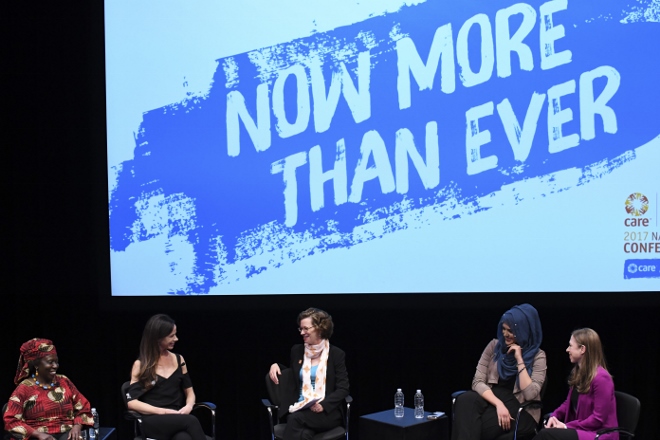 With federal budget cuts looming for international and domestic aid to the poor and displaced, Chelsea Clinton, vice chair for the Clinton Foundation, and CARE CEO and President Michelle Nunn are lending gravitas to pleas for the Trump Administration and Congress to keep up funds for assistance to the poor.
The appeal was made at the CARE 2017 national conference at the Arena's Mead Center for American Theater in D.C. Conferees from most states and from as far away as Switzerland attended the nearly packed theater on Monday.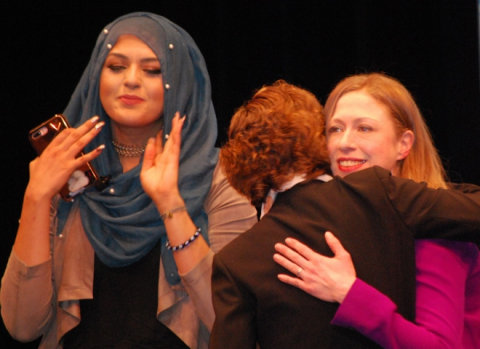 The charitable organization CARE calls what is happening today the "largest humanitarian crisis since World War II."
"This year's conference theme, Now More than Ever," underscores the urgency of action, particularly as we face deep and disproportionate cuts to the foreign assistance program," said Nunn.
"With more than 20 million people facing famine conditions in South Sudan, Yemen, Nigeria and Somalia, and tens of millions still displaced by conflict, now is the time for the United States to stand by its commitment to U.S. foreign assistance, which has served as the beacon of American leadership and stability for decades in the poorest communities around the world."
More than 400 conferees met with members of Congress and their staffs during the week to advocate for foreign assistance and steps to combat extreme poverty worldwide. President Trump's federal budget was sent to Congress on Tuesday.
Nunn lauded Congress for maintaining the assistance levels at the same in the temporary budget passed weeks ago. Nonetheless, she said the proposed 2018 budget should be more mindful of the dire needs of the world's starving and homeless people.
In her remarks, which centered on empowering women and girls, Clinton touched on the importance of hearing the voices of others.
But Clinton said that in listening, "We have to know that sexism is not an opinion, racism is not on opinion, Islamophobia is not an opinion, homophobia is not an opinion, jingoism is not an opinion … In our posture of listening, we have to stand up and speak out."
She said she is "fiercely proud" that her charitable organization has helped more than 12 million people around the world.
Secretary of Transportation Taiwan-born Elaine Chao, among other topics, addressed the challenges of women and girls everywhere. She recalled that she came to America on a freighter with her mother and two siblings when she was eight years old.
Participating in a panel was Barbara Pierce Bush, co-founder and president of the public health focused non-profit, Global Health Corps. She is the daughter of former President George W. Bush. Also speaking was Amani Al-Khatahtbeh, founder and editor of MuslimGirl; Katie Meyler, founder and CEO of More Than Me, and Musimi Kanyaro, president and CEO of the Global Fund for Women.