Chateau Coutet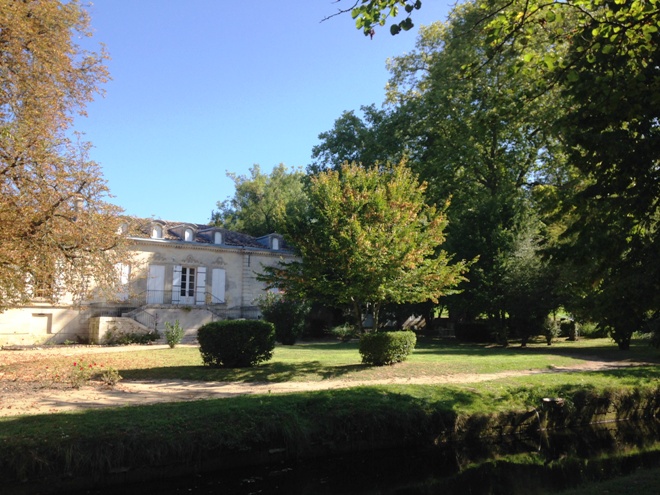 After a wedding weekend in Bordeaux where my youngest sister Roxane was married on Saturday, I come home to Geneva to my sister's apartment and what is on TV but a documentary about Saint-Émilion, this amazing piece of land in the Southwest of France.
The documentary opens with an interview of the owner of Angelus, one of the most amazing wineries in the area. My sister's partner has promised my husband and I that we would get to open a bottle at Christmas time … And I just learned that there was significant product placement of this wine in Casino Royale … quite the coup!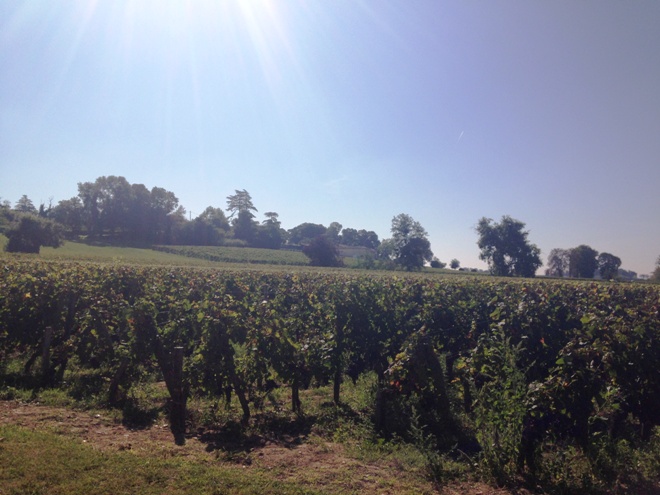 Angelus is also near and dear to my heart because that is where we met on Friday for a visit to Roxane's favorite vineyard. Not Angelus, but a small, family-owned (still) chateau called Chateau Coutet. There is no sign (that is part of the fun), except to meet across from Chateau Angelus and take the small dirt road immediately to the left. Very mysterious.
Mysterious, on purpose. The first thing that Adrien tells us is that his chateau is "non-classe" on purpose – it used to be, but it is easier to stay under the radar by note being "classe." This enables his family to keep the value of the land under control – which in turn enables them to keep the vineyard in the family. Indeed, his pride shows through that Coutet is family owned, and has been for 400 years, aka 14 centuries. Unlike most of the other properties in the area, who have sold to large corporate investors, mostly foreign ones (he cites Asians). Why? Partly because the inheritance taxes when the father passes on to the next generation are so prohibitive (even more so when the land is officially "classe" and thus higher in value). And partly because the prices offered are so high it would be almost irresponsible to refuse to sell.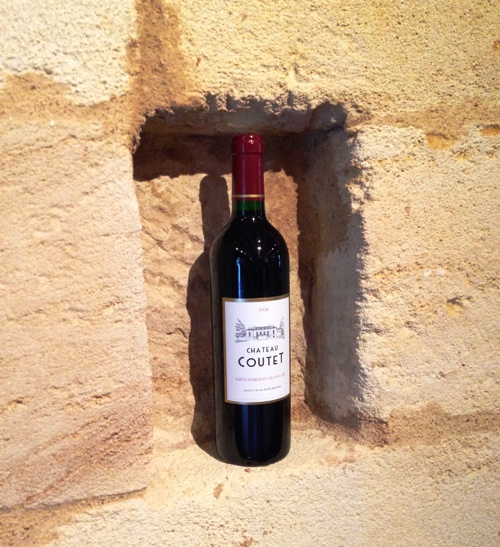 In any case, in the three hours we spend at Chateau Coutet, I learn a few things about Saint-Émilion / Bordeaux wines, and the Coutet label more specifically.
First, the wines of Saint-Émilion are typically blended from different grape varieties, the three main ones being Merlot (60% of the blend), Cabernet Franc (nearly 30%) and Cabernet Sauvignon (around 10%).
Second, most vines of Saint-Émilion (probably most wines actually) are highly treated with pesticides and insecticides. However, at Chateau Coutet, no pesticides or insecticides have been used since the beginning. They are fully organic, and in turn fully dependent on the weather. And hence, their productions are quite small and niche. They don't sell their wine ahead of having it actually made.
Third, Americans are the largest consumers of the wines of the Saint-Emilion region. Go figure …
Fourth, most vineyards in Saint-Émilion specialize in producing a single type of wine. Not here my Napa experiences of trying three red and three whites. We try red – from various years. The same blend, different weather conditions.
Finally, no rosé is made in Bordeaux (it's kind of like Champagne… and appellation restriction). Instead, they make Claret (or Clairet). It is redder than a rosébut less than a red. It has 14% alcohol and (thus?) is more tannic. It will be perfect next summer, served chilled in the heat of summer.
I have to admit, we leave having ordered three cases of wine… the 2005 red which is ready to drink now, and the 2009 red which will be ready to drink in 4 years. And, of course, a case of Claret!