(C)happy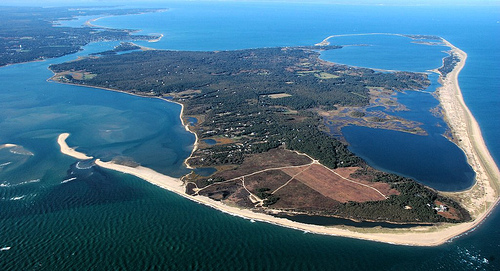 I spent this past weekend on Martha's Vineyard. Apart from several trips to Newport for hotel work a decade ago, I haven't spent any time in New England. I tend to migrate west for family get-togethers and downtime. And being the contrarian-enthusiast that I am, I was fearful of a preppy endemic. I.e., an island saturated with bobbed hair, lockjaws and Lily Pulitzer ad nauseam. Oh ye of little faith (and so much paranoia!) … I didn't know what I was missing. Pristine architecture, majestic beaches and charming shops abound. Add world-class seafood to the mix and you have the perfect destination for a weekend getaway.
* FRIDAY *
Since our destination – Chappaquiddick – was east of Martha's Vineyard,we decided to take a driving tour of the island's west side upon arrival.
First stop - The views of Gay Head.
To know me is to understand that I am a HUGE Jaws fan. It's one of my favorite movies of all time (see the October Luxe & Lucid post "Mad About Macabre"). Several key scenes were shot in Menemsha (above) as well as on other parts of the island.
Aprés dinner and before hopping on the Chappy ferry, we stopped for a nightcap at Atlantic.
The Mike Benjamin Band was headlining – they've played for Mary Steenburgen and President Clinton – and absolutely rocked the house. We danced until we were soaked through and closed down the bar. Haven't done that in a few years and loved every minute of it.
* SATURDAY *
I woke up at 6AM ready to tackle the day's itinerary and enjoy the small window of sunshine forecasted for the weekend.
To make the most of it, we started the day with a little exploration and a walk on the beach.
Followed by shopping for groceries at the famous (and newly renovated) Morning Glory farmer's market. I brought their blackberry/strawberry jam home to DC. Yum!
But the real highlight of the day (well, for me) was a visit to Island Alpaca.
I fell in love with these animals when Sandra Jordan made a visit to Huntley & Co. this spring. Sandra's eponymous company manufactures and imports incredibly beautifulfrom Peru. She has a true passion for her fabrics and the Alpaca breed itself. How could she not? Just look at those faces!
Two babies and several "colorways" from Island Alpaca's herd.
This little fella' had a passion for grooming. So cute!
After all that excitement, we continued onto Vineyard Haven to do a little sightseeing and shopping. Below are a few of our stops.
RILEY'S READS
A charming children's book store owned by the very knowledgeable Zoë Pechter. Check out her blog for new releases and recommendations.
BRAMHALL & DUNN
Great linens and tabletop items with [you guessed it] a slightly preppy theme. I did, in fact, find several sheet sets and coverlets from Pamela Kline and Le Jacquard Français that were quite lovely.
RAINY DAY
A vast assortment of gifts, paper goods and tableware that range from sweet to sophisticated to amusing.
MIX
An eclectic mix of modern and vintage accessories. I left with a darling pair of sunglasses. You can also find classic Golden books, antique typeface letters and colorful dinnerware. And the staff couldn't be friendlier.
A. E. KIRKPATRICK
A slightly kooky jewelry store tucked away off of Main Street. I found a chic, bendable gold-plated snake bracelet/necklace for a song. I'm using it as a sculpture on my coffee table.
A great accessory that will change up my tablescape in a snap.
Our long and active day required a nap and a nice dinner in Edgartown. We dined at Restaurant Détente, an unassuming spot in Nevin Square. Casual décor, excellent wine list, award-winning fare.
* SUNDAY *
It's hard to believe we had already packed all the activities above into 30 hours. We didn't slow our pace much on Sunday.
Morning is a great time to view Chappaquiddick's wildlife in its natural habitat. Besides the incredible sea creatures (horseshoe crabs are insane!), the bird-watching on the island is pretty incredible. We saw each of the species below during our excursions.
clockwise from top left: Osprey, Oyster Catcher, Snowy Egret and Cormorant.
Later we headed to East beach across infamous Dike Bridge.
I've never been the beachy-type, but I found all sorts of design inspiration in the sand – a collection of shells and other organic materials that will make great samples for custom furniture finishes. I know … Could I be any more entrenched in my profession?!
On our way back to the house we stopped for a stroll through Mytoi Gardens. A Japanese-style garden and cultural treasure protected by the The Trustees of Reservations. Still beautiful in the rain, I would like to go back when the gardens are lit by sunshine.
Despite the inclement weather, we went for a sail on Cape Poge. The increasing winds turned a casual cruise into an exhilarating 2 hours.
Can you say "exhausted"?! Only 3 things left to do. Eat, cocktail, and relax.
And that's how you do a fabulous weekend.
SOME LUXE & LUCID RECOMMENDATIONS FOR YOUR VISIT TO MARTHA'S VINEYARD
- The Vineyard's official site is www.mvol.com and has a lot of useful info.
- Design Sponge's December post featuring MV is Grace Bonney's extensive, personal guide.
- I also like the New York Times Travel Guide because it includes reader recommendations.
- The island has an excellent radio station. Tune into mvyradio and you'll be set for the weekend.
- If you're an architecture and/or design buff, bring your camera and do a walking tour of Edgartown.
- Pack layers for travel before July. The weather can turn on a dime and become quite chilly when the winds pick up.
- With that said, a first time visit before the crush of July 4 is a great idea. You can enjoy the island sans mob.
- Most important? Make sure you travel with the right partner in crime!
Tricia xo
P.S. Final cool moment of the weekend? Bill Murray on our flight from MVA on Monday.