Chancellor's office leads PR campaign for embattled Hardy principal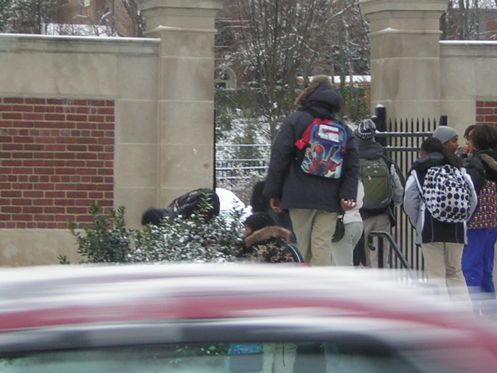 The Office of the Chancellor of the D.C. Public Schools has been soliciting letters from parents to the media in support of struggling Hardy Middle School Principal Dana Nerenberg.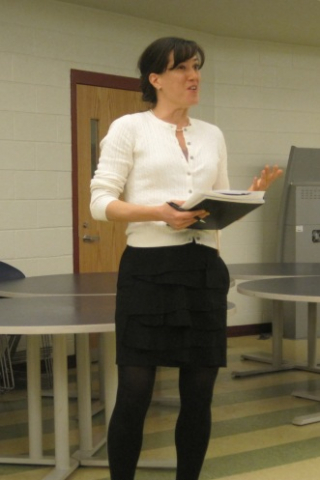 In an email to parents forwarded to The Georgetown Dish with the subject line "Calling for Hardy Parent Support," Safiya Simmons, the Chancellor's Assistant Press Secretary, wrote, "I have been working with Prin. Nerenberg on refuting rumors that parents are unhappy with Hardy. After reading Bill Turqe's (sic) article in The Washington Post this weekend, I asked Prin. Nerenberg for the names of a few parents I could chat with. I'd like very much to have a Hardy parent or two write a letter to the editors of The Washington Post disproving the story that Bill Turque is trying to sell: that all parents are unhappy with Hardy, that Prin. Nerenberg is not doing as good a job as prin. (sic) Pope was, and that the school somehow is spiraling out of control."
Schools Chancellor Michelle Rhee named Nerenberg principal of Hardy last year -- in addition to her role as principal of Hyde-Addison -- after removing popular Hardy Principal Patrick Pope, who had led the award-winning school for 12 years until his sudden reassignment to a desk job in the central office. The school has since experienced spiraling discipline problems, upheavals over the schedule, and disruption of Hardy's renowned music and arts programs including the unprecedented absence of the annual holiday musical in December.
When asked whether the Chancellor's office was soliciting public support for Nerenberg, Simmons first said, "I am not actively asking parents. But that doesn't mean that someone else on our team is not doing that. This is a big organization." She added, "We had some conversations in November, but that effort did not pan out."
Later, Simmons wrote an email to The Georgetown Dish, saying "there isn't a campaign to solicit parental endorsement of Hardy in the press" but that "Interim Chancellor [Kaya] Henderson has received multiple emails from parents expressing their support of Ms. Nerenberg" and that the Chancellor's office was contacting those parents to speak with the media.
Doug Ellis, a Hardy and Hyde-Addison parent, declined the request sent to parents. "I like Dana Nerenberg. I like her as a person -- she is pleasant, energetic and well-meaning. But sending her to Hardy was a terrible decision that has had extremely detrimental consequences for both schools." Ellis' 7th-grade daughter transferred from the prestigious Holton-Arms School in Bethesda to attend Hardy last year, but now questions the decision. "She said, 'I don't want to go to Hardy anymore. There is too much chaos and disorder' -- those are the words of a 12-year-old," Ellis said. "She said she doesn't want to go back if Ms. Nerenberg is still there." Ellis has sent four children to Hyde-Addison and Hardy over the past eight years, including his 7th-grader, a straight-A student.
"If you walk up to the school, you will see kids in front of the school hanging out in the morning acting crazy. You just didn't see that before," Ellis said. "Just the level of chaos. Fighting and bullying. I wouldn't send my son to Hardy. I don't think it would be safe for him -- kids getting jumped, fights and what have you. There is neither fear of nor respect for the leadership."
Tuesday, Hardy promoted a media-ready event for students with karate and fitness expert John Mirrione of New York to address bullying. In a letter to parents, Nerenberg wrote, "Bullying has been identified as a challenge in schools across the country as students are unaware of potential harmful affects." (sic) The letter continued, "Sensei Mirrone (sic) will perform his one-arm, bare-knuckle push-up performance to motivate Americans about the growing concern for bullying."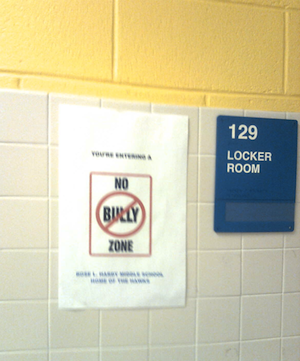 "It's a publicity stunt," said Ellis, an attorney. "It is utterly ridiculous." Ellis declined to sign the media waiver/permission slip required for attendance. About 40 of Hardy's 525 students turned in permission slips to attend the program designed to accommodate 160, school sources said. Nerenberg did not attend, as she typically works at the school on Mondays and Fridays in order to be at Hyde-Addison Tuesday through Thursday.
"How is this program going to address the bullying issues at Hardy, which is a school-wide problem?" asked parent Mia Pettus. "It's a problem that never existed at Hardy until this year under Nerenberg and her team."
"We have never had the problems of discipline before that we're having now," Pettus, the mother of a 7th-grade boy, added. "I'm not saying we never had an incident, but Mr. Pope knew how to handle it. Now the teachers are having to fend for themselves."
Nerenberg's letter expressed optimism in the karate effort to address the school's problems. "We are very excited about this presentation and are looking forward to more opportunities to discuss bullying with our students and reinforce our Bully-Free Zone."