Culture
|
October 17, 2023
|
The Chameleon
A satire that takes on superheroes, social media, political divides.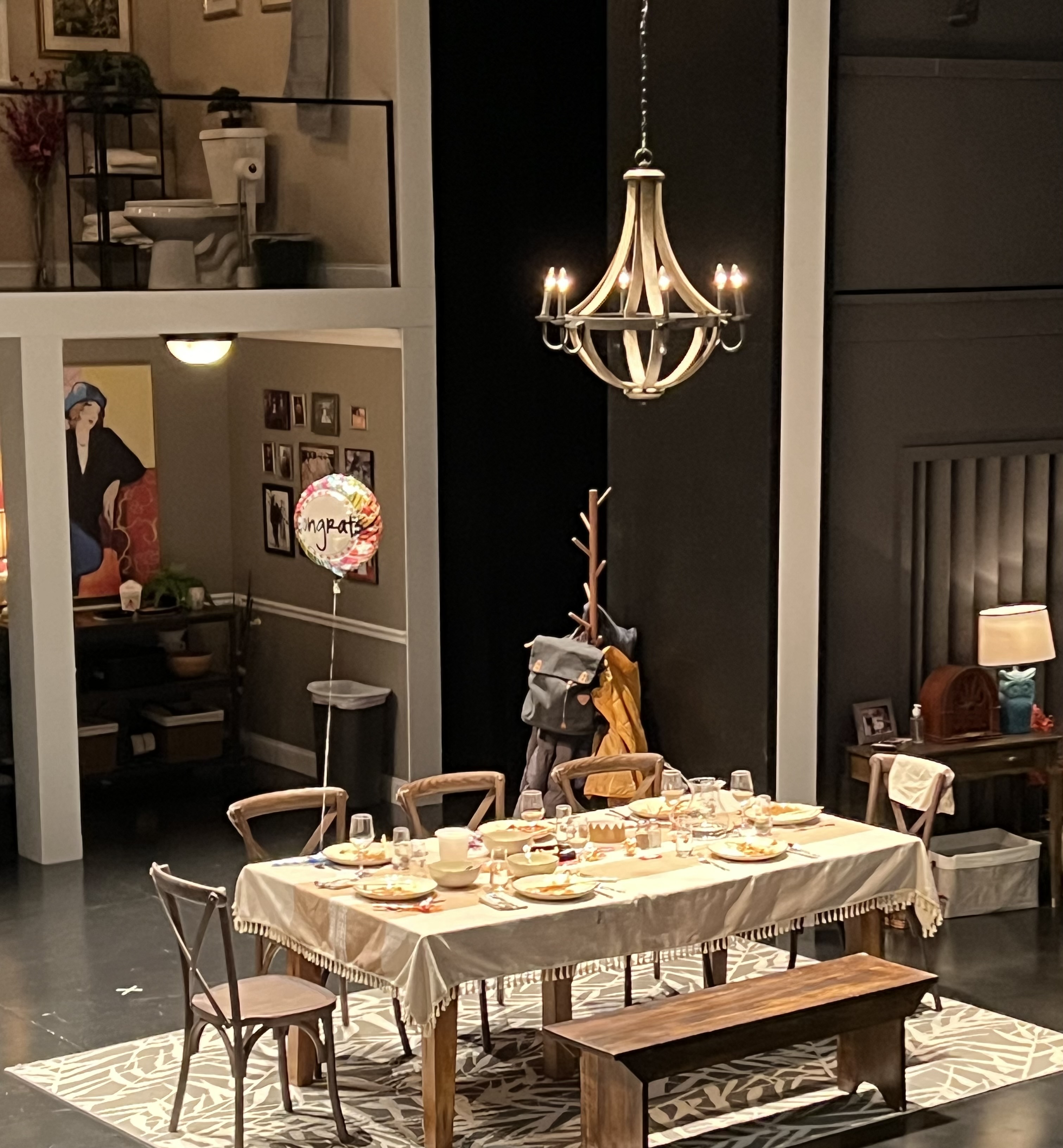 The Chameleon is a play by Jenny Rachel Weiner which had its world premiere at Theater J. It is directed by the talented Ellie Heyman.
Theater J says about The Chameleon, "It is a satire that takes on superheroes, social media, political divides, and intergenerational strife to hilarious results. Actor Riz Golden-Kruger finally got her big break, the starring role in a new superhero franchise, The Chameleon. But when news leaks that could threaten to ruin Riz's career, she must decide to hide or fight for what's right. Ignited by the fast-paced frenzy of social media, the play rampages through questions of identity, representation, and the complications of assimilation, as a family home transforms and becomes as exciting and potentially dangerous as a comic book." Now reading that before I saw the play, I thought to myself, that is a lot to deal with. 
As the play opens the family is seated at the dinner table. We are told it is a Jewish family Christmas, and of course they are eating Chinese food. At the table are Bubbe, the Yiddish speaking grandmother, who escaped the Nazis by at times pretending she wasn't Jewish. She is played to absolute perfection by the incredibly talented Nancy Robinette. Then there is Riz, the daughter who is being celebrated for finally achieving her goal of being cast to star in a movie, played by Dina Thomas. She is clearly a very talented actress and gets the chance to show off her dramatic and comedic skills throughout the production. Then there is her husband Joaquin, played by the talented Ryan Sellers.  He gets plenty of time to showcase his comedic talents, and even his singing voice at one point. Then the mother and father, and the Lesbian daughter and her girlfriend.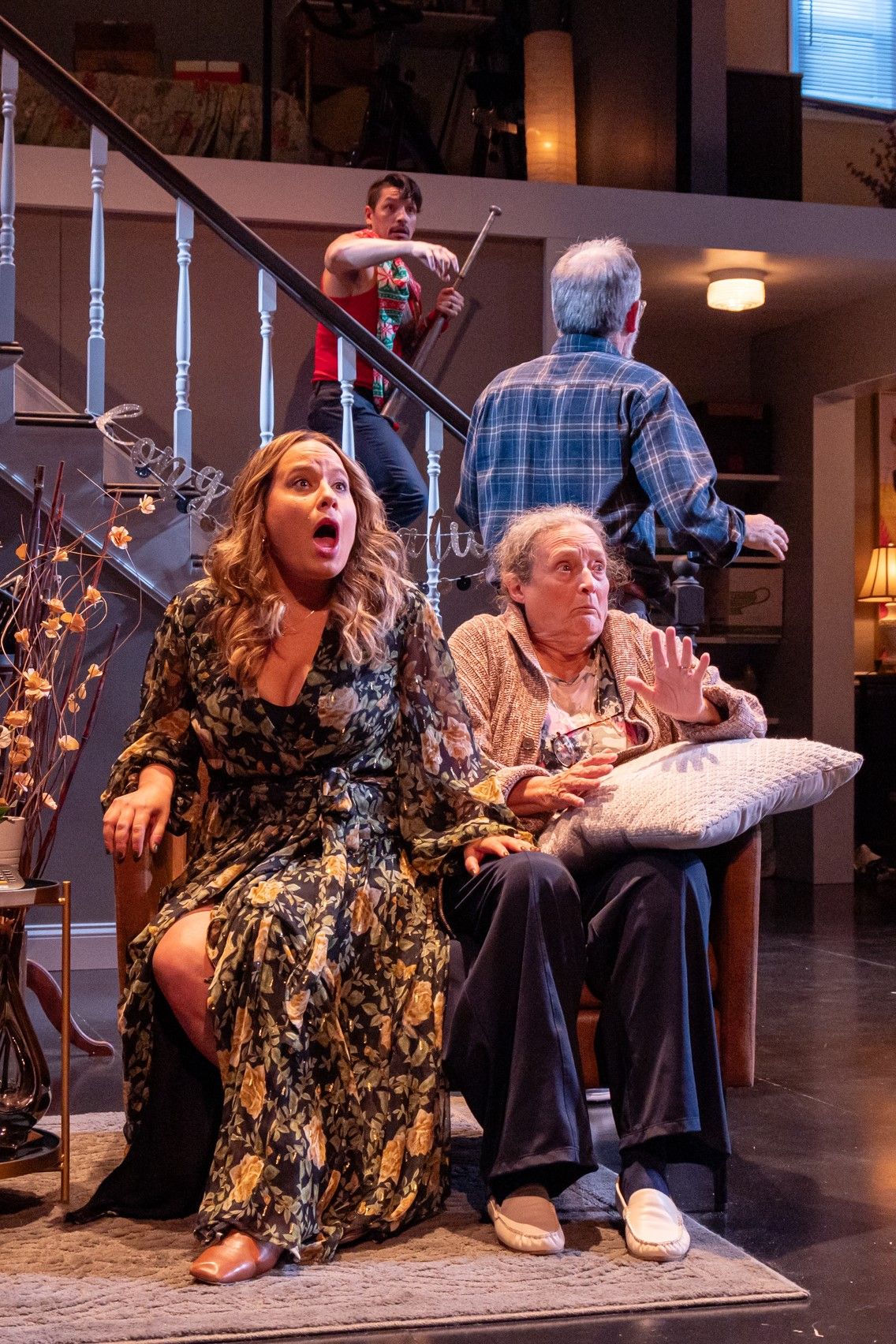 From the start it is quite frenetic, a typical Jewish dinner, everyone talking over each other. Then add two sisters each having something they are hiding and each of their partners spend the play trying to tell the whole family their secrets. Then a typical Jewish mother who glides above all the sturm-and-drang, ensuring everyone is eating.  Dad is trying to give a toast and keeps getting interrupted. The comic lines come fast and furious and many are funny. But we soon get into what the play is about. We are asked to think about what it means when a Jew hides their identity, and then finds they also want to personally fight antisemitism. How does one do that if no one knows you are a Jew?  
My fear, as I thought when reading about the play, comes partly to fruition when watching it. I think Weiner may have tried to put a little too much into 90 minutes of theater. She takes on the problems with; Tweets, Hollywood, Nazis, racism, eating vegan, the Jewish family dynamic, LGBTQ issues, and of course, Israel and Palestine. I wonder if Israel/Palestine was a last minute add because of the world situation today as she has the Lesbian sister and her partner, in an interracial relationship, saying they are going to Palestine.  
While frenetic, and I think the play needs some more work, it is still definitely worth an evening in the theater. Many in the audience clearly enjoyed it, and everyone gave the cast a well-deserved standing ovation. Kudos go to the creative team; Set Designer, Andrew R. Cohen; Costume Designer, Danielle Preston; Lighting Designer, Ryan Seelig; and Sound Design, Sarah O'Halloran. 
The Chameleon wiil be at Theater J through November 14th. Tickets can be purchased online.  Theater J advises, "this show contains strobe/flashing lights, fog, and antisemitic language."