Chads Restaurant Boasts New Celebrity Ownership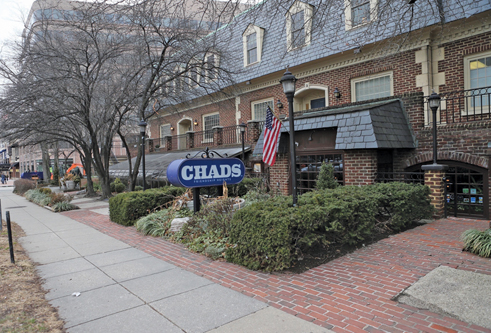 By Mark LiebermanCurrent Staff Writer
The restaurant Chadwicks has been an anchor in Friendship Heights since 1982, particularly for professionals in the local news media. Though it's undergone some changes over the years, including the abbreviated name Chads, the affordable prices and friendly atmosphere have kept locals coming back.
But in the next few months, the 5247 Wisconsin Ave. NW restaurant will see a transformation, thanks to several high-profile new owners: nationally recognized sports talk personality Tony Kornheiser; syndicated talk show host and former local news anchor Maury Povich; longtime University of Maryland basketball coach Gary Williams; and D.C. entrepreneur and socialite Alan Bubes. The quartet purchased the restaurant late last year and plan to change its name, upgrade its interior and add a studio where Kornheiser, a former Washington Post columnist and ESPN anchor, will record episodes of his podcast "The Tony Kornheiser Show."
Immediate tweaks will include new flooring and paint, an expanded wine list with help from Calvert Woodley Liquors, and a sound system that will simulcast Kornheiser's podcast recordings, according to Geoff Dawson, a local restaurateur who's helping the new owners with the business end of their new venture. Eventually, visitors will be able to view Kornheiser's podcasts and interviews from an enclosed green room space in the restaurant, Dawson said.
The sale came together quickly — initial conversations began four to six months ago, and the final paperwork was signed in the last week of 2016, Dawson said. Plans will start to take shape in the restaurant over the next 30 to 90 days, according to Bubes. The restaurant will remain open throughout the transition, Dawson said.
News of the Chads purchase arrived first on the Jan. 3 episode of Kornheiser's podcast, aptly titled "The Big Announcement." Kornheiser called for loyal listeners to write in with suggestions for the restaurant's name. In an interview with The Current, he said renaming the restaurant will help him and his fans put their stamp on it.
The idea for the new business was born out of loose conversations among friends, the new owners told The Current last week. Bubes had heard that Chads was up for sale and floated the possibility to Kornheiser, who thought Povich and Williams might be up for the transaction as well.
"I don't want to make it seem like there was a master plan and we've been sitting waiting to pounce on an opportunity," Kornheiser said. "Not at all. It just sort of grew out of a conversation."
Povich signed on to purchase the restaurant as an act of friendship.
"They basically told me I was going to be a partner. I don't think I had a choice," Povich joked. "Usually when my friends ask me something, I just blindly do it."
Unlike Kornheiser and Povich, Williams brings a modicum of restaurant experience, having helped oversee a few restaurants in Columbus, Ohio, while he coached basketball at Ohio State University in the late 1980s. Meanwhile, Bubes is the founder of Linens of the Week, a company that has provided Chads with tablecloths and other fabrics for years. And Dawson's properties include popular establishments like Penn Social and the Iron Horse Taproom.
Chads founder Joe McGuinness put the restaurant up for sale in 2015 and considered three offers before making a deal with Kornheiser's group, McGuinness told The Current in an email. "I'm almost 71, I have been doing this for over 50 years, it was simply time to retire," he wrote.
Tucked below street level at the corner of Wisconsin Avenue and Jenifer Street NW, the restaurant was known as Chadwicks for its first three decades in service, co-owned by McGuinness, Tom Russo and Mike Kirby. Russo, who owned the rights to the name, decided to pull the Chadwicks name from the Friendship Heights restaurant when he fell ill in 2012 in order to avoid any issues with his estate, according to McGuinness. McGuinness decided to simply shorten the name to Chads, which stuck, though Bubes and other longtime patrons still call it Chadwicks out of habit. A location in Georgetown closed in 2014; another one remains in Alexandria, still operating as Chadwicks.
Handing Chads over to the new owners made sense because McGuinness knows many of them from their patronage of the restaurant over the years. Povich recalls that his colleagues at WTTG-TV often headed to Chads after newscasts to commiserate with each other and with their competitors at WUSA-TV — playful ribbing over who missed out on an exclusive story, debriefs on how that night's show had gone and a fair share of drunken merriment.
Ken Crawford, a Woodley Park resident who worked at WUSA for almost a decade in the late 1980s and early '90s, describes Chads as a "home away from home" for the local media crowd.
"Of course there's hilarious stories that would not be fit to print. Things were lively. We were all friends," Crawford said. "We knew each other's business through Chadwicks and the good times that we had down there."
The new owners plan to continue making changes to their establishment over time, based on feedback from patrons and Kornheiser's listeners. Long-term goals include teaching high schoolers about podcasting, an idea Kornheiser credits to his son Michael.
And visitors can look forward to an annual appearance from Povich's wife, longtime TV journalist Connie Chung, who told The Current that she has agreed to serve as a waitress there once a year. "Fair warning, I'm going to be the waitress from hell," Chung said. "Just for fun."
Kornheiser teased on his show that he'd like to see the restaurant become a hub for University of Maryland sports fans. Williams told The Current that the place will be welcoming to all, and won't formally affiliate itself with the Maryland school.
Kornheiser is coming in with a humble attitude, freely admitting that he's no expert on running a restaurant, and that he's far from certain the endeavor will prove successful.
But Povich and Williams do think their new venture will be a hit — within reason. "I don't go into things with my heart with the idea that I'm going to make money," Povich said. "Anything that's positive is just a bonus."
Though change might scare off some loyal customers, Kornheiser and the others want to preserve as much of the restaurant's existing spirit as possible.
"It's not a fancy restaurant. We're not going to sell anything where you have to add foam," Kornheiser told The Current. "The whole model of it is to be welcoming and familial and friendly."
This article appears in the Jan. 11 issue of The Georgetown Current newspaper.