Celebrating Jewelry & Fine Metalware at Dumbarton House April 4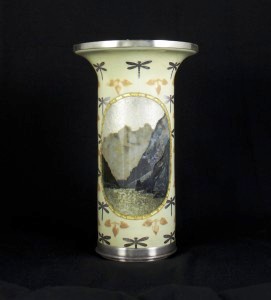 The Ladies of the Dumbarton House Board and International Club of D.C. cordially invite you for an evening of music, food and cocktails with live and silent auctions featuring the one-of-a-kind commissioned pieces currently on exhibition in the museum.
April 4, 2013 6:00 to 9:00pm Dumbarton House
2715 Q Street, NW
Washington, D.C. 20007
Ticket price: $100
Proceeds from the auctions will go toward Dumbarton House's preservation efforts.
To purchase a ticket please visit Dumbarton House.
Shown above, a vase by Regents Professor of Art at the University of North Texas, Harlan W. Butt, who has has exhibited both nationally and internationally in a career that spans three decades. He also spent a year studying enameling and metalsmithing in Kyoto, Japan.
His work has been exhibited in Australia, Canada, England, Germany, India, Japan, Korea, Russia and throughout the United States. It is represented in the collections of the Victoria & Albert Museum in London, the Museum of Fine Arts in Boston, the Renwick Gallery of the Smithsonian Institution in Washington, D.C., and the National Gallery of Australia in Canberra. An avid writer of Haiku, Butt lives with his wife Robin in Denton, Texas.
To create Grand Canyon Vessel #1, Harlan took for a starting point a Chinese spill vase from the early 19th century found in the collections of Dumbarton House (click on image to enlarge). The natural beauty of the American southwest was another source of inspiration. To place a bid on Grand Canyon Vessel #1 click here.