Cathedral of St. Matthew the Apostle Commemorates JFK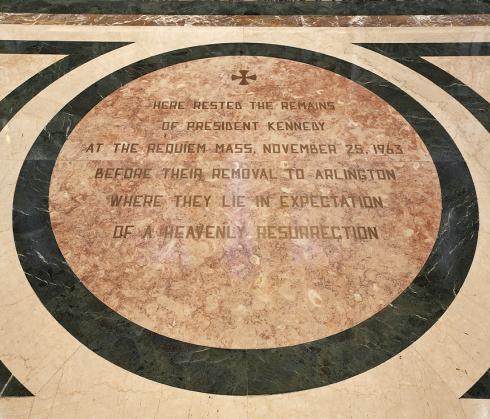 The Cathedral of Saint Matthew the Apostle is observing the 50th anniversary of the death of President John F. Kennedy throughout the month of November. The significance of this anniversary for the Cathedral lies not only in Kennedy's distinction as the nation's first Roman Catholic president, but also in that his Funeral Mass was celebrated at this site on November 25, 1963.
Choral Mass of Remembrance Friday, November 22, 2013, 5:30pm
The Cathedral will mark the anniversary of the day of President Kennedy's death with a Eucharistic celebration including choral music. A musical prelude will begin at 5:10pm.
Reverend Monsignor W. Ronald Jameson, Cathedral Rector, will be the presiding celebrant, and Reverend Bryan Hehir will be the homilist at this Eucharist. Father Hehir is the Professor of Religion and Public Life at Harvard University's John F. Kennedy School of Government.
Parking will be available in the garage adjacent to the Cathedral as well as in the commercial lot across Rhode Island Avenue.
The Cathedral of Saint Matthew the Apostle is located at 1725 Rhode Island Ave NW.