Cathedral Commons Aims to Wrap Up Work This Year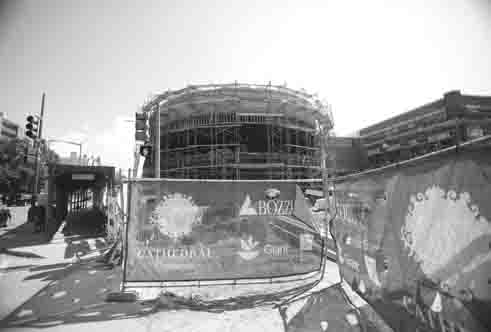 By Brady HoltCurrent Staff Writer
The long-planned Cathedral Commons project at Wisconsin Avenue and Newark Street continues to take shape, as construction progresses on the large mixed-use development and more retail tenants sign leases.
Cathedral Commons, which is replacing the neighborhood's one-story Giant Food supermarket and a nearby shopping strip, is expected to be complete in December. Lauren Neuvel, spokesperson for developer Bozzuto, said yesterday that residential leasing will begin in September, and anchor retailers CVS and Giant are set to open in October and November, respectively, along the south side of Newark.
Other confirmed retail tenants include Barcelona Restaurant & Wine Bar, featuring Spanish fare; Raku, an Asian restaurant with sushi and sake; and a Wells Fargo bank branch along Wisconsin Avenue on the southern portion of the project. On the northern section, between Newark and Idaho Avenue, confirmed tenants include SunTrust Bank; iDoc Optical, a full-service eye-care office; and Starbucks, all along Wisconsin.
Eleven retail spaces totaling about 26,000 square feet remain available, according to the project website; four more have pending leases, including two on the second floor of the southern parcel that are slated for Pilates and spin centers.
The project also includes 145 rental housing units: 13 apartments south of Newark, due in September; eight Idaho Avenue town houses behind the Giant, due in November or December; and 127 apartments north of Newark. The 127 apartments will be the last phase of the project when they're completed in December, aside from some possible retail build-out, Neuvel said.
Some neighbors and businesses have faced disruptions from the Cathedral Commons work since the project kicked off in October 2012. Newark Street has been closed between Idaho and Wisconsin, and portions of Idaho have also been closed at times (including now). There have been issues with construction traffic, worker parking and runoff from the construction site, according to advisory neighborhood commissioner Nancy MacWood.
Now, said MacWood, residents must prepare for four to six months of nighttime water main work under Wisconsin Avenue. This work began late last week, and MacWood said she's already gotten "the first round of complaints" from constituents.
According to MacWood, the D.C. Department of Transportation is allowing the work only overnight, despite requests that the noisiest work take place during the day.
MacWood also said the community has faced a resurgence of construction workers parking in the neighborhood, which violates an agreement with Bozzuto as well as Residential Parking Permit restrictions. Cleveland Park advisory neighborhood commission chair Carl Roller reported at the commission's Monday meeting that he sought more parking enforcement.
But overall, MacWood praised Bozzuto's efforts to work with the community, including monthly meetings with key stakeholders. "We knew because of the size of the construction project and its location that it was going to be very disruptive," she said. "It's been very helpful that they've taken the neighborhood's interests very seriously."
She also said she'd heard positive community feedback on the planned retail tenants — in particular Raku, which has a good reputation from its Dupont Circle location. (Barcelona also has an existing restaurant, on 14th Street NW.) She also expects that the fitness centers "will be embraced."
At its Monday meeting, the neighborhood commission endorsed an application for a 26-seat sidewalk cafe for Barcelona, contingent upon adequate sidewalk space remaining for pedestrians. The commission is also due to consider a liquor license application for Giant in July.
This article appears in the June 18 issue of The Georgetown Current newspaper.