CARE Hosts Global Leaders, Honors Girls' Education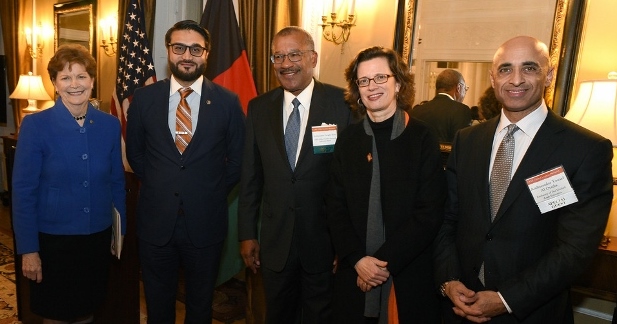 With the Afghanistan and United Arab Emirates ambassadors attending, the global poverty-fighting organization CARE hosted a reception Tuesday to honor the progress made toward girls' education in Afghanistan, where CARE has worked since 1961.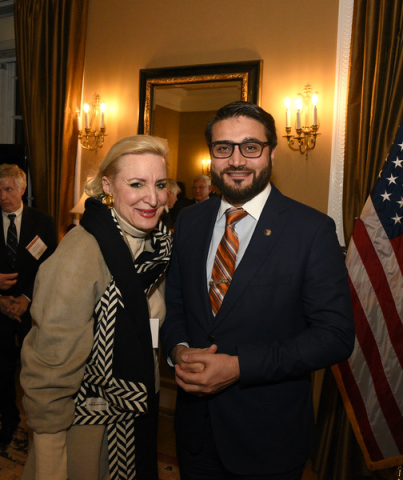 "We are no longer the country that was reduced to rubble," said Hamdullah Mohib, Afghanistan's ambassador to the U.S. "The last 15 years have changed our country." The annual higher education graduation rate, he said, went up from a minimal number to 300,000. "We are no longer an isolated country…we are a new country…but we do have challenges."
The ambassador also gave credit to international charitable organizations, saying, "We would not be where we are … but because of organizations" such as CARE.
Senate Foreign Relations Committee member Jeanne Shaheen, D-N.H., agreed that significant progress for women and girls has been achieved in Afghanistan.
To illustrate that headway, Shaheen noted a recent accomplishment of Afghan girls, ages 14-17, at Europe's largest robotics festival in Estonia. The girls won the Entrepreneur Challenge with a robot that could use solar energy to support small-scale farmers.
Michelle Nunn, president and CEO of CARE, in her talk, said: "Now 9 million students are in school from the 1 million that were a few years ago, and 40 percent of those are girls.
"Girls' education is the cornerstone of our development progress. CARE knows when we invest in girls' empowerment, we pave the way for equality, growth and prosperity….
"The CARE Global Leaders Network supports America's legacy of delivering humanitarian and development assistance to fight poverty, relieve suffering and promote human rights – ultimately enhancing our national security and global stability."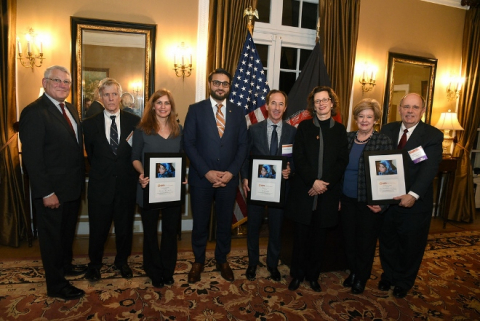 The event was the first in a series of embassy-based receptions presented by CARE's Global Leaders Network, a strategic initiative aimed at supporting humanitarian and development aid through an active network of national security, business and military veteran leaders who support CARE's work.
It drew more than 120 attendees, including UAE Ambassador Yousif Al Otaiba, members of Congress and congressional staff, foreign dignitaries, international development experts, corporate partners, philanthropists, media and members of the national security, business and military veterans' communities.
Among those speaking were Martha Brooks, chair of CARE's board of directors, retired U.S. Army Gen. Carter Ham, former commander of the United States Africa Command, and Amb. Ryan Crocker , former U.S. ambassador to Afghanistan and Iraq.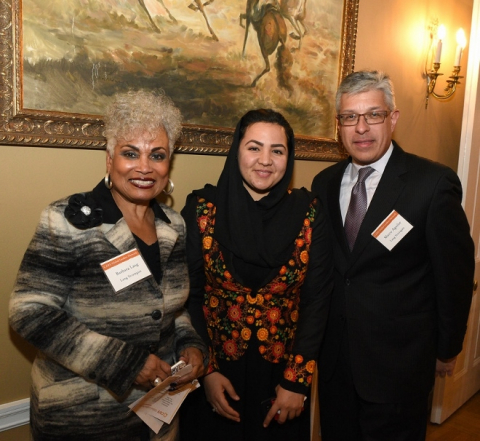 Attendees included: Kåre Aas, Norway's ambassador to the U.S.; Vlora Çitaku, Kosovo's ambassador to the U.S.; former Yemen ambassador to the U.S. Abdulwahab Al-Hajjri, California Rep. John Garamendi; and Gen. John Campbell (USA, Ret.), previously the commander of the Resolute Support Mission and U.S. Forces in Afghanistan,and vice chief of staff of the U.S. Army.
More Global Leaders Network events are scheduled in D.C. for Feb. 13, 2018 at the embassy of Finland, in April at the embassy of Australia, and in May at the embassy of Canada.
For more information about the Global Leaders Network program, visit CARE.
Founded in 1945, CARE, based in Atlanta, is a leading humanitarian organization fighting global poverty. CARE places special focus on working alongside poor girls and women because, equipped with the proper resources, they have the power to lift whole families and entire communities out of poverty.
Last year, CARE worked in 94 countries and reached more than 80 million people around the world.