Car Crashes into House at 28th & P Streets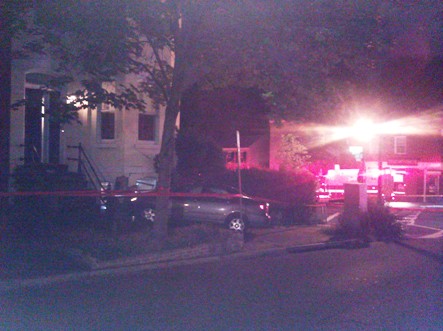 Police cars and emergency vehicles were blocking 28th Street as I was driving home Thursday. Expecting a visit from President Obama (who often visits the yellow McMansion on the SW corner of Q and 28th), I was surprised to hear from a member of the press walking towards the scene that "there is a car in a house."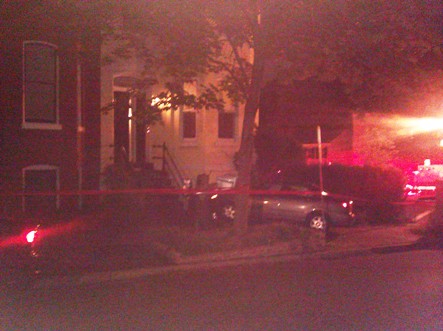 Indeed, there was a car in a house. The accident happened around 9:00 pm or a tad earlier. A car lost control and ran into the ground floor of the row house on the NE corner of P and 28th. The car had diplomatic plates from Bhutan. No one was hurt and the driver was on the scene, much calmer than I would be in his situation.
The owner of the house lives in California. The house is divided into three apartments. The resident of the third floor apartment, a reporter for the Washington Post explained his wife and child were home when it happened (he was playing basketball). The resident of the ground floor apartment (where the car is currently located) luckily had stepped out just a few moments before the accident. Luckily, all individuals involved are safe. However, the residents may have to find alternate living arrangements ... The authorities are not expected to let anyone back in the house as they fear for structural damage to the building and a potential collapse.