Candidates make last push before Tuesday election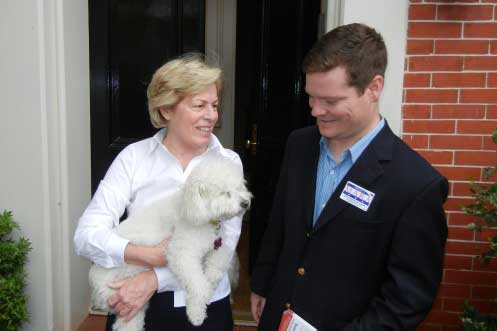 The candidates for the at-large D.C. council seat were out across the District on Saturday, the last weekend before the polls open at 7 am on Tuesday. The Georgetown Dish caught up with three: Patrick Mara in Georgetown, Sekou Biddle on Capitol Hill and Bryan Weaver in Mt. Pleasant.
Mara, looking for votes door-to-door in East Georgetown, worked on making the most of the momentum of the one-two endorsements by The Washington Post and the editor of The Georgetown Dish. One door he knocked on was a sure vote: Betsy Werronen, the Republican National Committeewoman for D.C. While she is a loyal Republican, she said Mara's going to win because "every Democrat and independent I know is going to vote for him."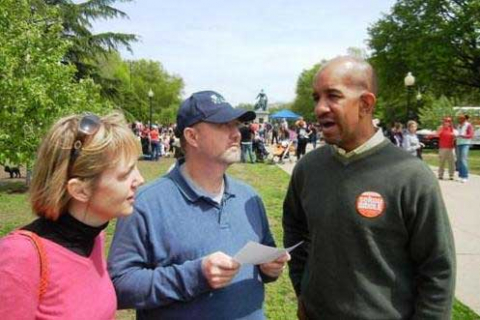 Biddle, filling the seat by appointment by the Democratic State Committee, worked the crowd at the Easter egg roll in Lincoln Park. Biddle touted his tenure on the State Board of Education, talked about charter schools and continuing the education reforms to the young parents with children filling the west end of the park.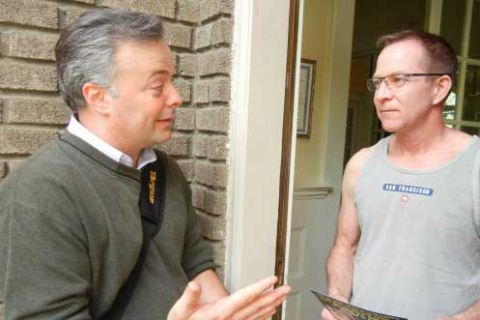 Weaver, going door-to-door in Mt. Pleasant in his home base in Ward 1, talked about ethics reform as he handed out a new piece of literature to sympathetic voters. The money side shows the a black SUV with the license plate that reads "LOADED" running over city problems, such as the deficit, education reform, the HIV/AIDS rate and unemployment.
But the big news of the day was the flyer candidate Vincent Orange passed out in Ward 8. As reported by Tim Craig in The Washington Post, it appears to introduce the "the specter of race" into the campaign. The flyer asks voters to support Orange because "He walks like us. He talks like us. He has a record of working for us," above a large picture of Orange. While Orange distanced himself from the language, saying "I'm the same all over the city," his ward coordinator, former Ward 8 Councilmember Sandy Allen, took responsibility for the handout.