Canal Road to Add Signal in November to Improve Fletcher's Access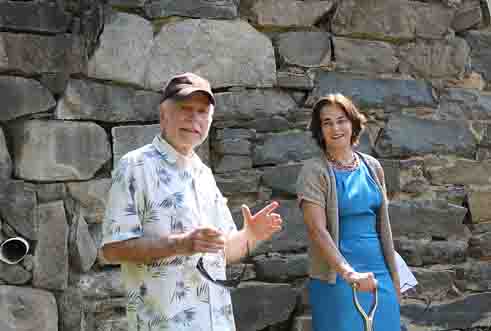 By Chris KainCurrent Staff Writer
When a forthcoming traffic signal to let pedestrians and bikers cross Canal Road NW near Fletcher's Cove becomes operational in November, it will mark the culmination of more than a decade of planning and prodding.
"While it took about 13 years or longer — and we were able to get a man on the moon in nine years — it's done," said Foxhall Village resident Howard Bray. "It should give pedestrians and cyclists a greater sense of security in a very busy crossing. … I hope it will make it easier to access one of our great treasures."
For years, Bray doggedly pushed for officials to fulfill commitments to address the intersection's hazards. Pedestrians must dart across it to reach the boathouse and the C&O Canal towpath from Reservoir Road. (In fact, it's the main access point from the neighborhood.) Over the years, Bray and the Palisades/Foxhall advisory neighborhood commission enlisted the help of Ward 3 D.C. Council member Mary Cheh and D.C. Del. Eleanor Holmes Norton.
"He has been tireless in attempting to get this done," Cheh said at a Monday morning groundbreaking event attended by Bray and other area residents to mark the start of construction. "I think we should call this the Howard Bray Pedestrian-Activated Light. … He's the man of the hour."
Bray and other residents first urged D.C. Department of Transportation officials to install a pedestrian crosswalk with an on-demand traffic signal at the site back in 2002. The agency's Palisades transportation study that year included the request — which, residents later learned, echoed a decades-old government plan for a signal there documented in a 1972 map.
But nothing happened for years. In 2005, an agency official assured the neighborhood commission that engineers would soon begin designing the signal. Then, in November 2008, the Ward 3 project director said construction would start the next summer. In January 2014, an agency spokesperson said design work was 90 percent complete, though she couldn't provide a project timeline since the National Park Service hadn't signed off on the design.
With poor sightlines and Reservoir Road hitting Canal at a sharp angle, the Y-shaped intersection is particularly complex, but another aspect of the site's geography has proved even more pivotal: The D.C. Department of Transportation had to design the signals, but the Park Service owns the land where they are being installed and therefore had to approve the plans. The Federal Highway Administration is also involved, given Canal Road's status as a major thoroughfare that receives federal funding for its maintenance.
At Monday's event, officials from the D.C. Department of Transportation and the National Park Service joined Cheh and community leaders near the steep, narrow driveway that leads from Canal Road down to the boathouse, the adjoining parkland and the historic Abner Cloud House.
"It's taken an awfully long time to resolve things," Cheh told a crowd of about a dozen gathered in the midday heat. "It really was very tricky."
Cheh's office had previously arranged for several visits to go over the possible safety measures for the intersection. Bray recalled one of the site meetings occurred in below-freezing temperatures, a marked contrast to Monday's event.
"You had two different agencies," Bray said in a later interview. "I think that it was crucial that Council member Cheh remained committed to getting it done and that Del. Norton got the Park Service to move on this."
In an interview, Cheh noted that the project's use of Park Service land triggered formal environmental reviews. For the effort to move forward, officials had to address aesthetic, legal and practical considerations, she said.
"The lesson learned, I guess, is just to be on top of it as much as you can," Cheh said. "I don't know of any other way to hasten them all to come to agreement."
Greer Johnson Gillis, deputy director of the D.C. Department of Transportation, said Monday that construction will start immediately, with completion expected by early November. The signal will be pedestrian-activated, with cars on Reservoir Road and the boathouse driveway also triggering a red light for Canal Road traffic.
"Early November — we look forward to it," responded Cheh.
The signal is designed to balance the needs of motorists, pedestrians and bicyclists, according to a department spokesperson. Flashing yellow beacons on Canal Road will provide advance notice of the signal, and a closed-circuit TV camera will permit monitoring of traffic conditions.
"The signal will remain green for both directions of Canal Road until a pedestrian or a side street vehicle is detected and safely served," department spokesperson Keith St. Clair wrote in an email to The Current.
Kevin Brandt, superintendent of the C&O Canal National Historical Park and an attendee at Monday's event, praised community members for pushing the issue, citing the planned signal as "an example of citizen-driven government."
In an interview, Brandt said the safety issues presented by the boathouse access point are long-standing — a concern for him since he became superintendent in 1996.
"That's why I'm so thrilled to see this go in," he said.
Brandt attributed the repeated delays primarily to the site's geography, as well as its location along a heavily traveled commuter corridor.
Despite Brandt's excitement about the project, he said more steps are needed to improve access to the popular boathouse. The Park Service has floated the idea of building a new ramp for vehicular traffic, making the current one available specifically for pedestrians and bicyclists.
"This will go a long way toward improving safety, but it doesn't necessarily address access," he said. "There's more work to be done."
The long-term access project, however, lacks funding and has not gone through the agency's formal planning process, Brandt said.
This article appears in the Aug. 19 issue of The Georgetown Current newspaper.