Campus Plan Agreement Announced – Details to Follow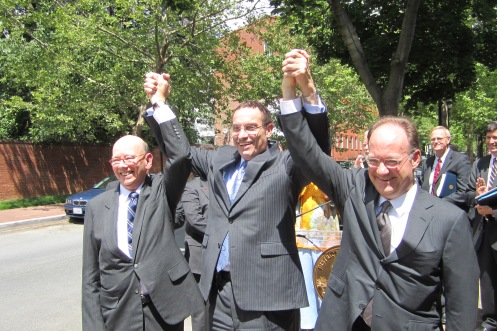 An agreement between the Georgetown community and the University over the ten-year campus plan was announced on Wednesday afternoon by the top leaders of the community, Georgetown Univesity and the District Government. Coming together to mark the successful end of months of negotiation, were Ron Lewis, chair of Advisory Neighborhood Commission 2E, Mayor Vincent Gray, GU President John DeGioia and Ward 2 Councilmember Jack Evans.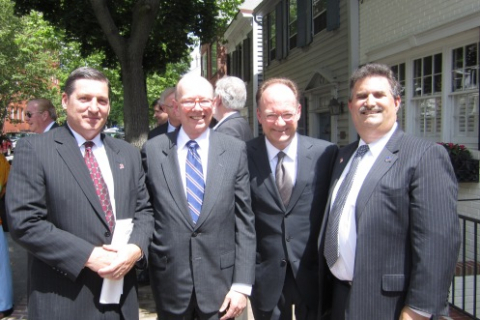 The detailed agreement is to be posted on the ANC web site on Thursday because "we're still working on it," according to Lewis. The guiding principle, however, is a balance between the immediate desire for protection by the residential communities of Georgetown and Foxhall while allowing for the long-term growth of the university.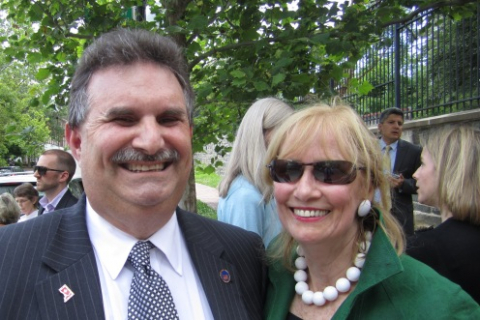 Others at the press conference, held outdoors in bright, sunny weather at P and 36th Streets, NW, were Commissioners Bill Starrels and Jeff Jones, Bob Avery of the Foxhall Community Citizens Association and Jennifer Steingasser of the DC Office of Planning. All praised the collegial nature of the discussions that led to the final result. "What they have done is developed a prototype, set a precedent for how these issues are to be dealt with in the future," said Mayor Gray.