CAG Wins Georgetown Iron Chef Cook-Off

Cooks for the Citizens Association of Georgetown (CAG) won the cook-off championship Monday night at the new Capella Hotel Georgetown on 31st Street.
On the winning team were CAG President Jennifer M. Altemus, John Girouard, Colleen Girouard, Kallie Seniff and Betsy Cooley.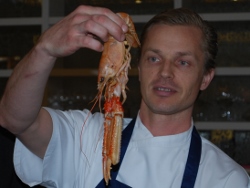 The Capella reception for the Georgetown Business Association, Georgetown Business Improvement District and CAG featured a Georgetown Iron Chef competition on the patio right next to the C&O Canal. The ingredients were supplied by the hotel's restaurant. The expertise was by the participating competitors.
Among the judges were Sonya Bernhardt, publisher of the Georgetowner newspaper, Jakob Esko, executive chef at the hotel, and hotel GM Alex Obertop. Or at least we think so, because judging was done behind closed curtains in an interior dining room, although the cooks did their slicing, dicing, frying, and whatever out on the patio for all to see on a beautiful night. The winning dish was a yummy combo of fish and vegetables, said Esko.
The Capella has been doing a series of events to celebrate its recent opening.