CAG presents Georgetown ARTS 2011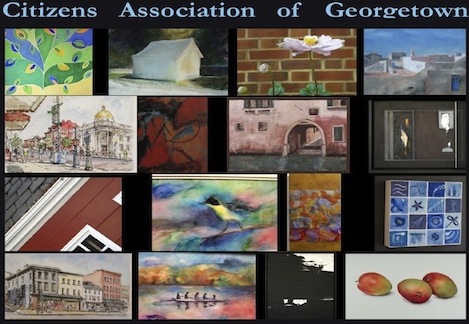 CAG presents Georgetown Arts 2011
Group show of Georgetown Artists
Where: Shops at Georgetown Park, Level 2
When: Reception, Thursday Jan. 27, 6:00 - 9:00 p.m.
Show continues until Feb. 1
Contact: Betsy Cooley (cagmail@cagtown.org)
Georgetown ARTS 2011
The talent of Georgetown resident artists will be on view again this year under one roof at the Shops at Georgetown Park (3222 M Street) for five days— Thursday, January 27, through Tuesday, February 1.
The opening reception will be Thursday evening, January 27, from 6 to 9, with catering compliments of Memorable Meals. CAG's unique show of dozens of Georgetown artists will include painting, photography, sculpture, 2D and 3D mixed media.
The show continues from 11-6 daily until February 1 on Level 2 of Georgetown Park, directly above the DMV.
Participating artists:
Michele Banks, Cherry Baumbusch, Camilla Bozzoli, Betsy Cooley, Barbara Downs, Anne Emmet, Guy Fairlamb, Karen Feld, Sandra Flavin, John Gerachis, Robin Hill, Cindy Howar, Stephany Knight, Joan Konkel, Sidney Lawrence, Jane Lepscky, Dale Haven Loy, Edward "Bear" Miller, Elba Molina, Rosie Moore, Shaun Murphy, Lisa Neher, Wendy Plotkin-Mates, Isabella Page, Ross Ruot, Joan Shorey, Dariush Vaziri, Elyse Wolf