CAG Hosts Georgetown ARTS 2014 at House of Sweden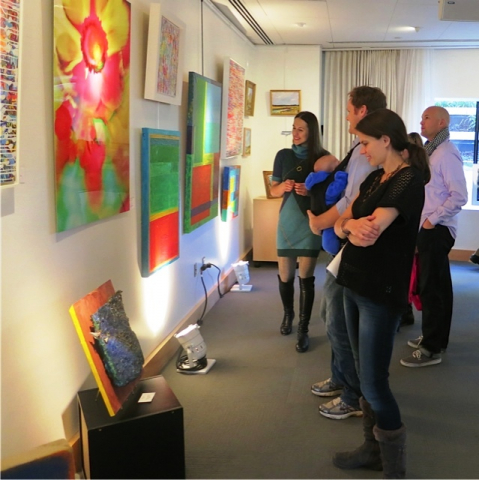 GEORGETOWN ARTS 2014, the 5th annual art show of the Citizens Association of Georgetown (CAG), will showcase talents of Georgetown artists at the House of Sweden from February 6 through 9, 2014.
The show opens with a reception on Thursday, February 6 from 6:00 – 9:00 pm, and will be open Friday, February 7 through Sunday, February. 9 from 11:00 am to 5:00 pm. The show is free to the public, and will be held in the House of Sweden's premier gallery room, which offers expanded space from previous GEORGETOWN ARTS shows.
Image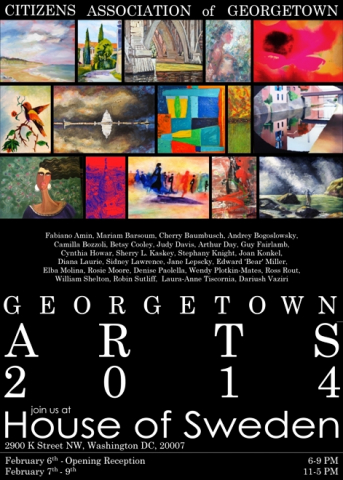 The event will feature artwork by local Georgetown residents and artists who have studios in Georgetown. Media will include oil and watercolor paintings, prints, sculpture and photography. All art will be suitable for viewing by adults and families with children. The show also will feature mid-day "art talks" on Saturday and Sunday, when chosen artists will discuss their art pieces, inspiration and other life experiences.
Most works will be for sale, with the proceeds going to support CAG, which aims to preserve the historic character, quality of life and aesthetic values of Georgetown with a particular eye toward protecting the interests of the neighborhood's residents and homeowners. CAG activities include a public safety program, Trees for Georgetown, and a summer concert in the park series House of Sweden, itself a noteworthy destination for beautiful contemporary architectural design and Potomac river views, fronts on the water with footpaths to Georgetown's restaurants, parks, shops, theatres and galleries.
The Citizens Association of Georgetown invites all to come celebrate and view various types of art media and creativity of local artists at House of Sweden.
House of Sweden is located at 2900 K Street.