Café Milano threatened by unruly nightclub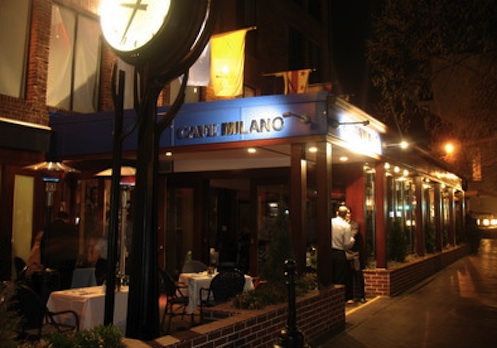 Café Milano, the venerable Washington dining place of stars, is under threat from a new nightclub on the block that has spilled noise, vomiting and other disruptions in the tracks of Cabinet officials, Senators, ambassadors, Hollywood stars and even military leaders who regularly gather at the high-profile restaurant.
George -- the nightclub that recently took over a former billiards hall a few yards from Milano -- is seeking to terminate the "Voluntary Agreement" section of its alcohol license that governs noise, music, occupancy limits and other controls. The agreement limits the club's capacity to 99, specifies that noise shouldn't travel outside the establishment, and prohibits live music as well as dancing.
George's owners say economic circumstances necessitate that the old restrictions inherited from the billiard hall be scrapped for George to survive. A hearing to consider the case will take place Wednesday at 4:00 at the Alcohol Beverage Regulation Administration at 1250 U Street, NW, Second Floor.
"They get sick, they get drunk. They are standing outside there," said one local observer of the clubgoers. "Many times we have seen people puke."
"On New Year's Eve, taxis did not want to pick up their people. They were wasted," said the longtime observer. "It was a nightmare."
As George attracts larger crowds through LateNightShots.com, the private networking site for club-goers, the current controls have not succeeded in preventing disturbances that worry neighboring restaurants, including Morton's and Peacock Café.
"It's really just a spruced up dive bar with a floor that your feet won't stick to, playing loud 80s music. It's dim, crowded, and has a dance floor full of people having a great, if sloppy, time," said one enthusiastic reviewer on Yelp. "This place gets drunker, and louder, and more festive as the night goes on, to the point where by 1:30 or 2 everyone from one end of the bar to the other is dancing, or making out, or both."
George has hosted more subdued events. Cocktail-hour gatherings listed on the bar's website have included Homeland Security officials Janet Napolitano, Michael Chertoff and Tom Ridge. "White House press secretary Robert Gibbs...happened to be walking by [George] when Ridge arrived, but he was really heading to Café Milano next door," reported Politico.
D.C. alcohol control authorities held a hearing Jan. 26 which was suspended due to weather. The follow-up will include testimony from George as well as the Citizens Association of Georgetown (CAG) and the Georgetown ANC -- both of which want to keep the current restrictions in place.
"If a Voluntary Agreement is just a piece of paper that an entity can walk away from, it eviscerates the intent of the law -- it would take away the people's voice," said attorney Tim Altemus, who is representing the ANC and CAG. Nullifying George's Voluntary Agreement "could open Pandora's box and eviscerate any effect a Voluntary Agreement has, or its community has, in the way a restaurant operates," he said. "That should be of concern."
ANC Commissioner Bill Starrels said the outcome of the hearing could affect nearby residents and property values in the Madelon and Georgetown Court complex. "Without a Voluntary Agreement [George] could be a full-fledged nightclub -- with few restrictions -- and there isn't anything anyone could do about it," he said.