Bye Bye Betsey with Boomerang Tours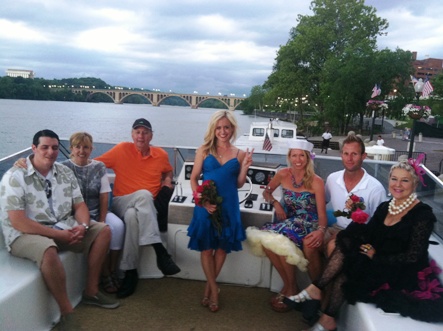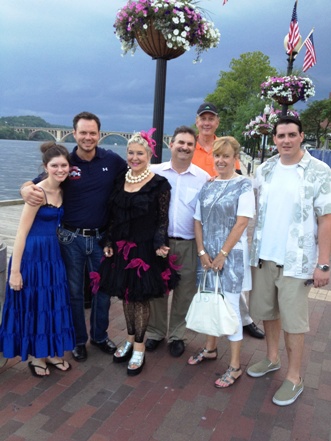 Wednesday evening was the goodbye party for the beloved Betsey Johnson Georgetown store and the welcome party for the new Boomerang Boat.
Guests enjoyed cocktails and the water views from the rooftop deck of the Boomerang Boat prior to the rain bringing everyone inside the boat cabin. Many of the female guests were wearing Betsey Johnson clothing as a tribute to the store and their friendship over the years with Jenny Zinn, who has worked at the Georgetown location for over 10 years. Fond stories of shopping at the shop and the good karma the outfits brought to their owners provided the cocktail fodder and forged new friendships. Proudly wearing their Betsey dresses, shoes, jewelry, handbags and goodness know what else were Lolly Amons, Sherie Gabriel, Rachel Schoonover and Abigail Adams Greenway to name a few. Business and community leaders in attendance included Bill Starrels, Jim Wilcox and Dave Nelson.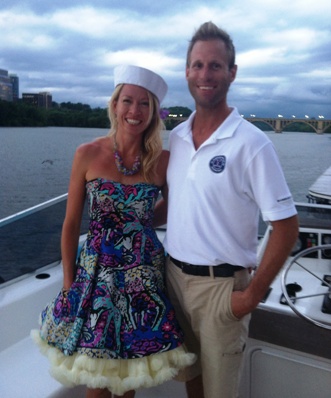 Nikki and Dave DuBois provided their signature boomerang hospitality with Dave serving up cocktails and Nikki chatting up the party guests. As Georgetown residents and business owners for the past ten years, they started Boomerang Tours with the infamous Boomerang Bus well-known for its fun times. The Boomerang Boat is their new venture providing an afternoon or evening out on the water departing from the Georgetown Waterfront and taking guests over to Old Town, Alexandria and then back to Georgetown. Inside the main cabin is a seating area, built-in bar, DJ booth, flat screen TV, and wrap around windows providing views of the monuments and Kennedy Center. Private parties may also be booked.
With the news that Tony & Joe's and Nick's Riverside Grill plan to have their restaurants fully open and operational within the next 4-6 weeks, the Georgetown Waterfront will be the happening place this summer to sit outside or take a Boomerang Boat ride. Summer weather is here and the party guests demonstrated the whimsy of Betsey Johnson will live on. What better excuse to play hookey and go out on the water for a fun escape?
Ticket and departure information can be found at Ride The Boomerang.
By Janine Schoonover, Co-Chair Economic Development + Small Business, Georgetown Business Association