butter LONDON Scoundrel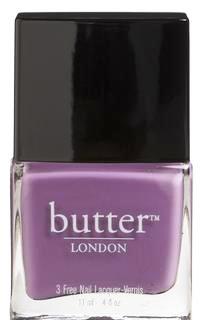 It all started when Kate Middleton's favorite nail polish was announced. Before that, I'd never heard of butter LONDON. Considered the cult phenomenon of the nail industry, it's fast becoming famous for their high fashion, non-toxic nail lacquers formulated without the use of harmful ingredients like Formaldehyde, Toluene, DBP or Parabens. butter LONDON was the first company to sell non-toxic nail lacquer in the United States.
So, when Nectar Skin Bar opened last year, I was delighted to see they carried the whole line. I promptly bought four shades, plus a base and top coat, and have been a fan ever since.
But it's Scoundrel, "a medium tone purplish-mauve lacquer that can appear darker or lighter depending on what clothing you are wearing," that's my favorite. The company is right. The color does change with clothing and sunlight, and it looks best (on me) in the summer with tanned toes and colorful sandals.
I know this year's polish colors are tangerine and turquoise, but I'm sticking with Scoundrel. Every time I wear it, I'm also reminded that it should be Nectar's official polish color, as it goes perfectly with their decor!
Nectar Skin Bar is at 1633 Wisconsin Avenue.