Business leaders banter on Georgetown nightlife, restaurants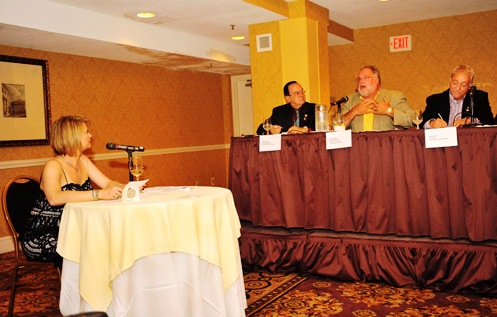 "All I know is that my grandmother told me never get involved with a business that takes place in the dark," quipped Anthony Lanier, Principal Partner, EastBanc Wednesday evening at The Latham Hotel during a Georgetown Business Forum on D.C. Nightlife and Hospitality hosted by the Georgetown Business Association (GBA) and Business Improvement District (BID).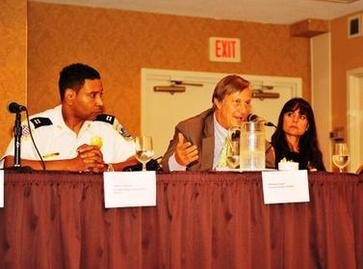 Janine Schoonover moderated a lively panel discussion attended by over 100 invited guests.
Prominent business and community leaders addressed issues ranging from competition from downtown establishments to underage drinking, parking and high rents.
"It's difficult for new restaurants to operate in Georgetown. Our competition is going downtown," stated Paul Cohn, President of Capital Restaurant Concepts (Neyla, Paolo's in Georgetown and Georgia Brown's).
Lanier added, "We need to understand the underlying facts. A deteriorating retail market with very high landlord rents. We're here to look to the future. How can we mitigate rent escalations?"
About the competition, Linda Greenan, Vice President of Georgetown University noted, "The establishments in Penn Quarter, and on H and 14th Streets are catering to the neighborhoods. It seems like Georgetown is catering to tourists."
"Young people don't like to go out before 11:30." Skip Coburn, Executive Director, D.C. Nightlife Association told the crowd. "We can't have Metro closing at midnight."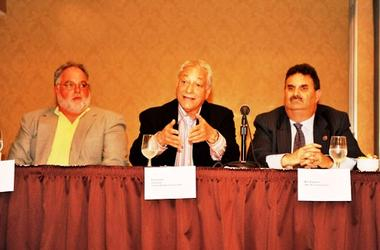 On the need for flexible rules and revisiting priorities, Lanier said, "Refrigerated trash is more important than closing at midnight."
Bill Starrels, ANC 2E Commissioner, pointing to nine new licenses including converting one tavern to a restaurant (Serendipity3 DC), said "That's a bold right move. I'm proud we work closely with the business community and try to strike a balance between citizens and restaurant community."
For Greg Casten, Operations Director for Tony & Joe's, Nick's Riverside Grille, and Cabana's, the main issue is the economy. "It's a battle all restaurants are fighting," and one that has hit his family-owned businesses especially hard with the recent flooding at Washington Harbour.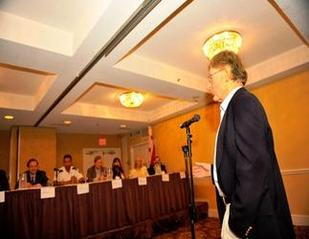 Janine Schoonover made special mention that WASH FM's Marilyn Thompson will be at Nick's Riverside Grille for a special happy hour Thursday, July 14 from 5:30-7:30 pm.
Fred Moosally, Director of the District's Alcoholic Beverage Regulation Administration (ABRA) Board explained his main goal was to identify underage drinking and fake IDs.
Echoing Moosally, Captain Gresham,D.C. Metro Police Department in Ward 2 explained, "Our mission is to increase public safety. The challenge is that fake IDs get more sophisticated. We hold seminars twice a year and work with the city's nine universities."
Jennifer Altemus, President of the Citizens Association of Georgetown said, "We need to be careful to respect the historical integrity of Georgetown. And we can have a vibrant nightlife without being edgy."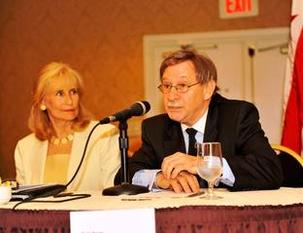 Britt Swann (owner of Rhino, Modern, Serendipity3 DC, and Sign of the Whale) here since 1991, sees a lot of change. "We're headed in the right direction. I could have had Serendipity anywhere in D.C. but chose Georgetown."
"Our main issue is parking available below M Street. The perception is you can't park here. We have more than 3,000 parking spaces in Georgetown." said BID President, Jim Bracco.
Before adjourning to the lobby for cocktails and hors d'oeuvres, panel members were asked for their vision of Georgetown. For Britt Swann,"My vision is being realized tonight with this forum." Agreeing, Linda Greenan added, "The conversation doesn't end here."