Buried Treasure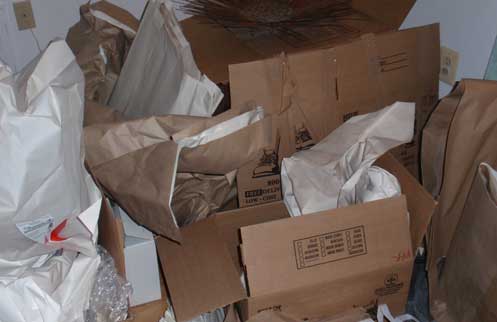 Moving is rarely enjoyable. Packing, unpacking, cleaning, misplacing items, schlepping things around, cleaning again … and so on. But if there is a silver lining, it's discovering those things you had forgotten about. And since I have had personal items packed away in storage between anywhere from five to fifteen years, it feels like Christmas all over again now that I'm tackling the dozens of boxes in my house. It's pretty exciting to unwrap a nondescript package and find a vintage shagreen cigarette case I purchased twelve years ago. Does it get any better? And since the renovation of my new pad could take awhile, accessorizing gives me a little instant gratification. I can personalize my rooms with signature touches and vignettes that showcase the objets d'art I've collected over the years. But more importantly, I turn a house into a home by infusing it with personality and soul … something I do for all my clients, but even more meaningful now that it's for me.
These cut glass and silver candlesticks were a Christmas gift in 1995. I haven't seen them in some time and love their patina and residual wax.
I purchased this sculpture in Munich in 2005, but had packed it away for the last three years. It now wears a vintage necklace and greets people in my foyer.
I think it was eight years ago that I found this chaise online. It's hard to remember because I put it in storage right away. And people say I'm not patient!
Doesn't everyone find Fortuny when they unpack?
And a chandelier? I know, it's crazy. This stunning chandelier was thrown haphazardly in a box and tossed around a storage container for seven years. Thank God it survived. It now hangs in my master bedroom adding romance and charm. It's been missed!
I have no idea when or where I purchased this pair of statues. Seriously. To make up for lost time I've appointed them as stewards of some of my jewelry.
Three purses that had been lost in a box. They range in age from seven to fourteen years old. Still so chic – they look amazing just sitting atop a table in my dressing room.
Here's hoping I find more treasures as good as the ones above!
Tricia xo