Bulbs: Better than gold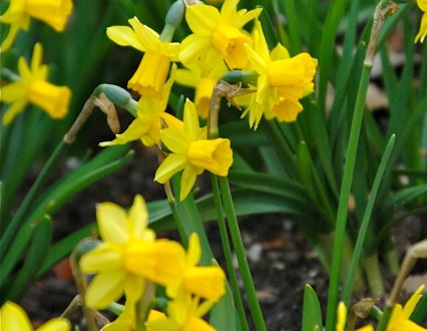 I walked into the hardware store this week in search of a tarp, remembering wistfully those days I focused on drought tolerant plants. With all this rain, it seems my new roof leaks. But, there's a silver lining: As I headed for the tarp department, my eyes lit on a flower bulb display. Now, we Dutch are good at two things: Leaks and bulbs, and I was in my element.
I walked out with several bags of my favorite bulbs and, though they haven't been planted yet, just the prospect is comforting. Planting bulbs, indisputably in my DNA, gives me confidence that, next spring, after winter's coldest months, there is something to look forward to.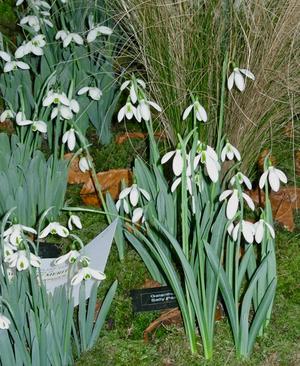 The first thing I grabbed were several bags of Snowdrops (Galanathus). Snowdrops are the first bulbs to bloom, and they bloom for a long time. Depending on the variety, they grow 5-8 inches tall, and bear the most charming little green and white flowers. I am not fussy about the variety I plant, but the British are quite mad about them. At last year's Royal Horticulture Society spring show, some sold for over $35 dollars a bulb. There were tales about nurserymen who produce varieties so rare and in-demand (possibly the gold ingots of horticulture), that they do so in undisclosed locations for fear of snowdrop-poachers. I kid you not. One variety, named "Grumpy" for the green blotches on its white petals that seemingly depict a disgruntled face, is said to have sold for $550 -- for a single bulb!
The sensible thing the Brits do is plant snowdrops in pots, to be sold "in the green", i.e., when they are blooming. That way, they can be planted in bare spots in the garden. If you want to try this, plant them when the night temperatures are consistently in the forties, keep them cool and moist until they come up, and then transplant them after they finish blooming. They are tenacious little bulbs that don't mind a bit of shade, prefer organic soil, and don't like to be dry and hot. They are an outstanding addition to small gardens because they bloom early and their foliage, before and after blooming, is well behaved.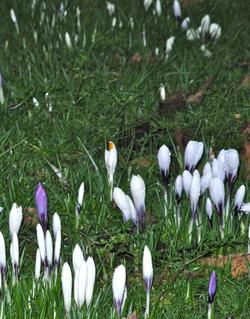 Scillas fall into the same category: Easy, resilient, can be planted "in the green", and bloom early. There are lots of different species of scilla but I'm referring specifically to scilla siberica, Siberian Squill (not a Siberian native). It blooms just as the snowdrops are in full force, they look fabulous together and, conveniently, they like the same growing conditions. I prefer the standard blue but you can also get them in white, pink, and purple.
I didn't buy crocuses because the hardware store didn't carry my favorite squirrel resistant species, the snow crocus (Crocus tommasinianus) which spread beautifully if left to their own lavender devices. Squirrels can decimate a crocus planting overnight, and have the infuriating habit of yanking them out of the ground just as the leaves shoot up.
The reason I raise the crocus issue, though, is that all kinds of crocus, as well as snowdrops and scillas, looked fabulous planted in lawns, where they will spread over time, unless you mow too early and prevent the seeds from maturing. Just don't apply weed killer to a bulb-infested lawn until the bulb foliage has died back or you will lose them all.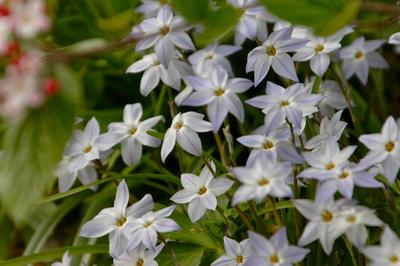 Another of my favorite bulbs is Spring Starflower (Ipheon uniflorm). A South American native, it looks exotic, but it is hardy. Ipheon grows about 4-8 inches tall and has beautiful star shaped flowers in various shades of pale blue and white. I cannot say enough about these little darlings. They are pest resistant, elegant, and captivating. The only thing you should know is that Ipheon's leaves smell faintly of garlicky onions since it is in the ornamental onion family, and they emerge for a short period in the fall, so it's important to plant them where it this won't be annoying. Like other small bulbs, you should plant them in clumps large enough to "read" easily: In large gardens, small bulbs should be planted in large drifts, and in small gardens, in reasonable clumps. I will probably pop 5-8 in a hole and let them spread.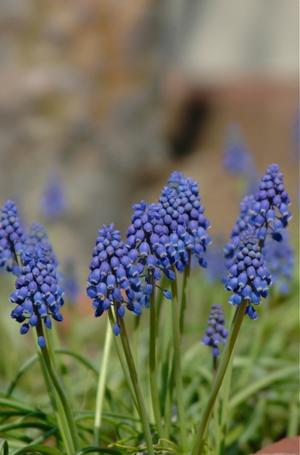 Grape hyacinths (muscari) likewise send up leaves in autumn and so should be planted where its fall foliage is not bothersome. Also easily forced, they bloom at the same time as starflowers, and both bloom just after as the snowdrops, squill, and crocus finish. Muscaris, including grape hyacinths, come in various shapes, sizes, and colors. I'm sure that, that like me, your catalogues are nearby and dog-eared. Just look up Muscari latifolium, M. comosum plumosum, and M. armeniacum Blue Spike to see what I mean. There's something there for everyone!
While I am a fan of huge, brash yellow daffs, like King Alfred, I would never plant them in a small garden. I don't even like them in medium sized gardens. They belong in big spaces where they can take their time emerging, blooming, and dying back naturally. It takes them a long time to die back, and twisting yellowing daffodil foliage into nasty little bundles is a serious "garden don't". Try the miniature yellow "Tête-à-Tête" daffs instead. They grow only 4-6 inches tall, and though they need a fairly sunny location, and you need to let their foliage die back for best results, they are tough. I have purchased them in pots from the grocery store, neglected them until late fall, popped them in the ground, and have had them come back without complaint. They haven't always bloomed the first year, but they were robust the second.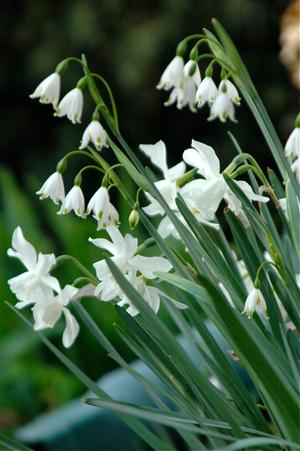 The last of my favorite bulbs to bloom is the Giant Snowflake (Leucojum aestivum), which blooms in late spring. I saw it first at Gravetye Manor, an Elizabethan hotel in West Sussex, and I was in love. I like the cultivar named "Gravetye Giant", which was developed in the 1920's for its outstanding clusters of flowers. They remind me of snowdrops, but grow to 12-18 inches tall and have leaves like daffodils. Normally. I wouldn't plant something that tall in a small garden for the same reasons I avoid tall daffodils, but they are irresistible.
When they were first introduced in the 17th century, bulbs, especially tulips, were just as precious as gold. Though the Dutch Tulipomania came to a grinding halt in the late 1630s, and investors went bust, their bulb's beauty returns each spring. With the exception of the Brits and their snowdrops, I think bulbs remain an excellent investment.
At the end of the day, I'd rather buy bulbs than gold!