Budget shmudget...it's GRAMMYS on The Hill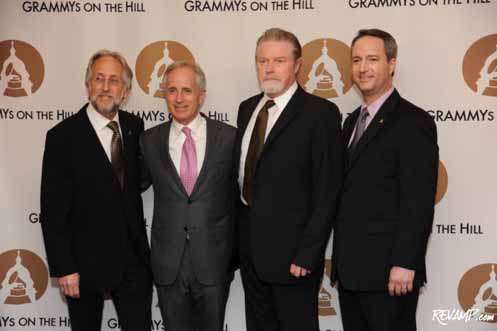 Sure, the President delivered an all-important budget speech Wednesday. But that didn't stop movers and shakers on The Hill from moving and shaking to the sounds of great music, as Wednesday evening they joined talents such as Paul Williams, Don Henley and Stevie Wonder at the Liaison Capitol Hill in the cause of advocacy of music.
Now in its 10th year, Grammys on the Hill, honorees include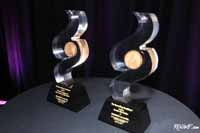 Vice President Joe Biden, Sen. Bob Corker (R-Tenn.), and eight-time GRAMMY® winner and Recording Artists' Coalition founder Don Henley. The event will be hosted by Oscar®-winning songwriter Paul Williams, with special guests including three-time GRAMMY winner Bruce Hornsby, Dave Koz, Recording Academy® President/CEO Neil Portnow, and 25-time GRAMMY winner Stevie Wonder.
The event includes two days of music advocacy connecting top music makers with members of Congress in an effort to inform policy makers of the important role the recording arts play in the nation's culture and economy. The Recording Academy's annual advocacy event honors outstanding legislators who work to improve the environment for music makers and artists who use the power of music to improve lives.
The evening began with a reception that had everyone from the media to Hill staffers chatting it up amidst a flow of champagne, cocktails and hors d'oeuvres at Art Smith's country restaurant, Art & Soul where Chef Art Smith, looking svelte, discussed his newest project in California—a healthy restaurant. A highlight was the homecoming of GW graduate,Neil Portnow, president of the National Academy of Recording Arts & Sciences Inc. (known as The Recording Academy).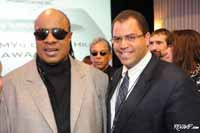 Also spotted at the event were FRESH 94.7's Tommy McFly, MSNBC.com's Kiki Ryan, and WTOP's 'Man About Town, Bob Madigan along with Senator Frank Lautenberg and Congressman Joseph Crowley—who has been known to lift his golden voice and musical talents in song at this annual event. He described his performance this evening as a 'mixture of Springsteen and Spiritual.' Also present were children who excel in their school's music programs—just an exclamation point to the end of the sentence of the importance and success of arts programs in our schools.
Established in 1957, The Recording Academy is an organization of musicians, producers, engineers and recording professionals that is dedicated to improving the cultural condition and quality of life for music and its makers. Internationally known for the GRAMMY Awards — the preeminent peer-recognized award for musical excellence and the most credible brand in music — The Recording Academy is responsible for groundbreaking professional development, cultural enrichment, advocacy, education and human services programs. The Academy continues to focus on its mission of recognizing musical excellence, advocating for the well-being of music makers and ensuring music remains an indelible part of our culture. For more information about The Academy, please visit www.grammy.com. For breaking news and exclusive content, join the organization's social networks on Facebook (www.facebook.com/thegrammys), Twitter (www.twitter.com/thegrammys), and YouTube (www.youtube.com/thegrammys).