Boys Tourney Rivals Kastles at the Tennis Club of Georgetown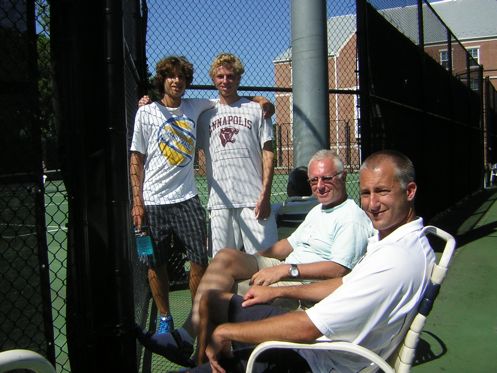 With bullet-speed serves and topspin forehands slashing impossible angles across green-tinted hard courts, a USTA/Mid-Atlantic Boys 16 tournament at the Tennis Club of Georgetown, George Washington Tennis Center, rivaled the Kastles for tournament excitement
Image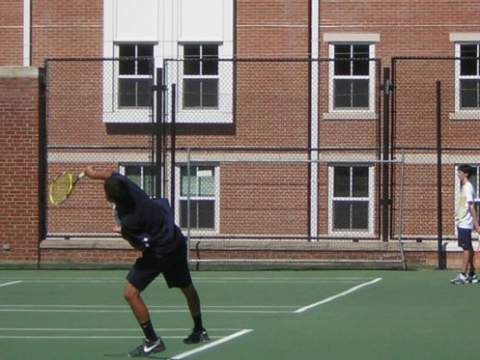 in Washington this week.
Parents lined up lawn chairs to watch big-game tennis played by boys who hit harder than most men, but for the most part, can't even drive. "They're not going to the net anymore, because the racquets are so much more powerful, the shots are so much bigger, that most of the kids are baseliners," said NPR science editor, Christopher Joyce, watching his son Morgan Joyce. "But don't ask me, ask Morgan's coach."
Nowadays, added to the stress of being a teenager and having an audience witness this high-pressure war of nerves that can last two hours or more, many of the boys now have coaches in their entourage, along with keenly interested parents (who are paying for all of it), and the occasional sibling.
"I'd like to see Morgan get more height over the net," advised Andrew Carlson, Morgan's
Image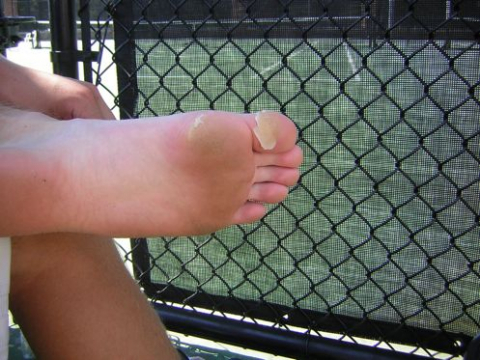 coach, who works with him a few times a week in Annapolis. Morgan won his match in graceful straight sets, but earned a couple of serious blisters along the way. "They don't hurt," he said. At this age, practically nothing hurts, except maybe all the chauffeuring necessary to get to clinics and tournaments.
"My parents can't wait til I get my license," said number-one seed Anton Zykov, a Russian native who came to America at age five and is now a top student at Gonzaga. "They don't want to drive me around any more." Zykov is fine with that. He trains at Four Star Tennis Academy in Merrifield, Va., out Route 50, on top of a heavy academic load.
Despite all the hours, the training, and the intensity, Zykov said his grades come first. "I look at tennis as a way to get a scholarship," he said simply. Generous brown curls falling into his innocent eyes fail to divulge a honed, exacting strategy. "I try to keep long rallies to a minimum," he said. "I set up the point and finish it in three to four shots." Zykov's strategy is working.
So is Liam Sullivan's. The Richmond 15-year-old was seeded second in the doubles, despite having only started playing seriously two years ago. "He picked the one sport that's more time consuming and more expensive than competitive swimming," said his mother Laura Sullivan, who nonetheless, was beaming at her son's skill and excellent court manners.
Laura, an IT sales rep, greets the other parents warmly and makes conversation to lighten the intense mood, which can sometimes be as thick as Washington humidity at these tournaments. "Sometimes they look at me like I have five eyes," she says. There are parents with Excel spreadsheets and even phone apps that track hits and misses. "It can be intense," she nods.
Image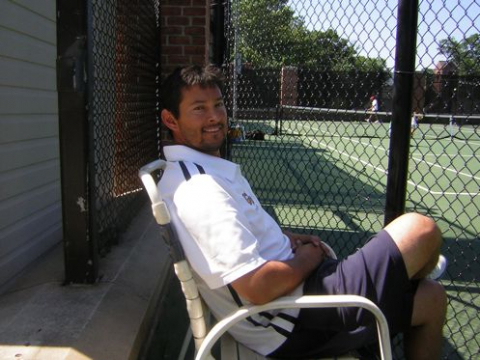 Liam loves the sport, and even without Excel spreadsheets or a hypercompetitive mom, he's winning. "You have to talk with your partner about different things," he says. "Almost every point."
The boys could do worse than get noticed by George Washington Tennis Center director Greg Munoz (left), who also coaches GWU's Men's Tennis team. Speeding back to the tournament after a recruiting mission Saturday, Munoz got back just in time to restring one of the tournament player's racquets before making sure the boys got a good lunch and could tune in the World Cup final between matches. "We're a little busy today," he smiled. For more information about the GW Tennis Center, click here.