Boxwood Winery: A Taste of Bordeaux in Middleburg
Designed by internationally-renowned Georgetown architect, Hugh Newell Jacobsen, Boxwood Winery, is a 90 minute drive from D.C., on 18 acres of what was one of the earliest established farms in Middleburg, Virginia.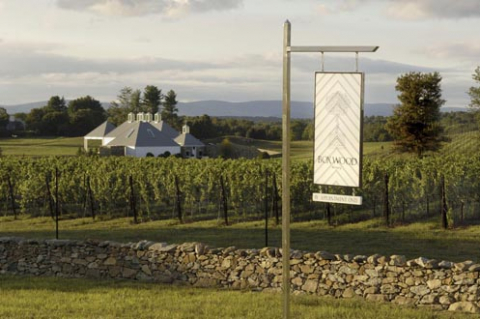 Now a National Historic Landmark, proprietor John Kent Cooke and his wife Rita bought the property in 2001 to fulfill a life-long dream of making premium red wines in Virginia. In three styles of the Bordeaux tradition (Medoc, Saint-Emilion and Rose), Boxwood produces red wine from five varieties of grapes certified by the French government: Cabernet Sauvignon, Cabernet Franc, Merlot, Petit Verdot and Malbec.
Image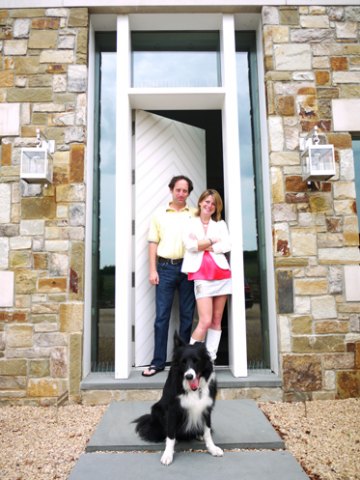 From grape to bottle it's a family enterprise. Before taking the helm as executive vice president, daughter Rachel Martin studied viticulture and enology in Napa and Bordeaux. Her brother Sean Martin, vice president and general manager, manages the satellite tasting rooms (in downtown Middleburg, Reston, Va. and Chevy Chase, Md.), while Soleil, lends a helping paw wherever needed.
Committed to quality in every aspect of the business, Rachel explained that they have a low yield sustainable vineyard producing high quality grapes for premium wine-making.
With a team of world-class experts, including Dr. Richard Vine, Professor of Enology at Purdue University, who advised Jacobsen on the design of the state-of-the-art facility, the winery was completed in 2005 just in time for its first harvest.
The center of the four linked structures is a reception room with a circular stainless steel tasting bar. This space overlooks the circular cave (shown below) that is totally underground and fitted with a dome ceiling. The cave comfortably fits 255 (currently housing 75) French oak barrels arranged in concentric circles.
Image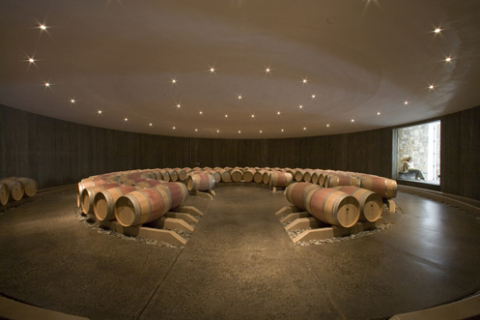 photo by Robert Lautman
The third structure, on the same level of the other three is the chai with custom designed stainless steel fermentation tanks.
Image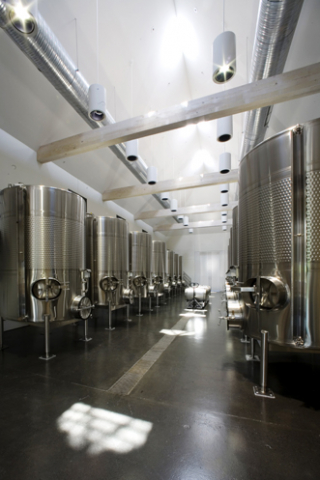 photo by Robert Lautman
The fourth structure houses the bottling plant and case storage (shown below).
Image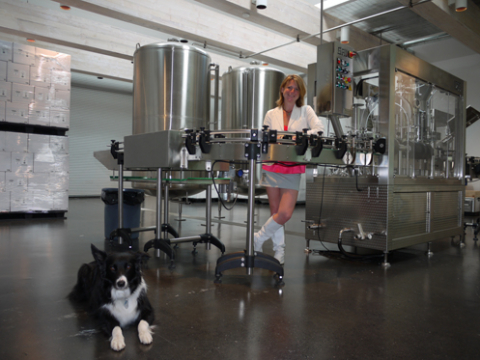 The three above-grade buildings are signature Jacobsen: fieldstone and white clapboard. The roofs are standing-seam aluminum with tall glass, cupola skylights.
Image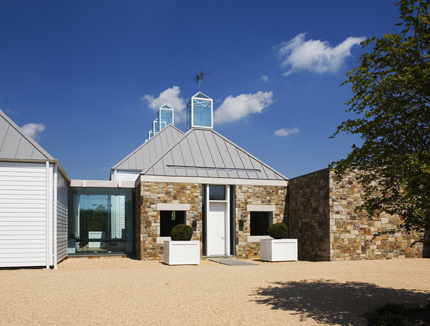 photo by Robert Lautman
Two years before planting, to ensure that the soil was right for wine-growing, viticulturist Lucie Morton, installed weather-recording stations and took samples of the clay and rock soil throughout the vineyard. "Only American root stocks were used because non-indigenous vines are destroyed by insects," Rachel told us. Grown in California, "one year dormant bench grafts, French-certified clones were grafted into American root stocks." The vineyards' rows and vines, in Bordeaux tradition, are spaced one by two meters.
One of Bordeaux's great winemakers, Stephane Derenoncourt, described by Rachel as "a bit of a maverick," agreed to come see "what we were doing" within five minutes of meeting her, and now comes to Boxwood six times a year to "walk and taste the grapes" and advise Boxwood's wine-maker, Adam McTaggert on the percentage of grapes in the blends that varies due to vintage conditions.
The grapes are harvested by hand, de-stemmed and hand-sorted at the press pad adjoining the chai.
Image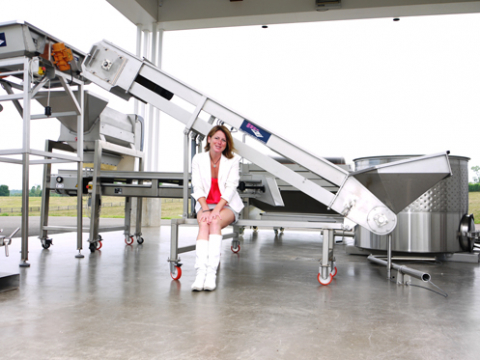 Whole berries are then transferred by a unique gravity system to custom stainless steel fermentation tanks.
The circular cave is constructed below ground and maintains a constant natural temperature of between 55 and 65 degrees. Wine is pumped internally through stainless steel pipes into oak barrels from French forests. Wine is aged and barreled for 12 months … and occasionally has some company doing so. One melodious example: when a string trio performance of musicians associated with the Washington Performing Arts Society played.
After the wine is aged, it is pumped back to the chai, blended and delivered through stainless steel pipes to the bottling room. The wine is transferred to the bottling machine, which automatically sanitizes and fills the bottles, corks and labels. And then it's ready, for shipment and tasting!
Image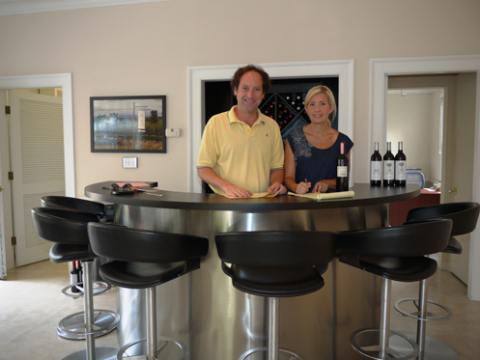 Sean Martin and Catherine Coughlin, e-marketing manager at Middleburg Tasting Room
Boxwood Winery is open by appointment only. Many thanks to Rachel for a gracious private tour.
Image