Boqueria: Tapas, Barcelona Style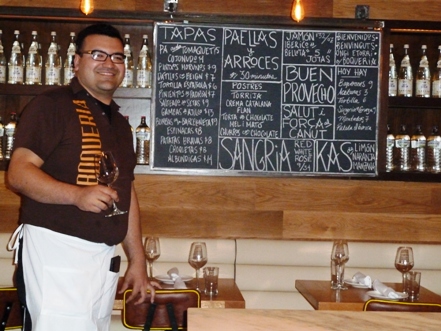 Inspired by the tapas bars in Barcelona, and named after the famous Boqueria market, the popular New York eatery, Boqueria has opened on the corner of 19th and M Streets (formerly Penang restaurant). The space, spectacularly transformed into a multi-level, wine and bar dining room, is warm and inviting from the moment you peek through the glass wall at the entrance to watch chefs prepare your next meal.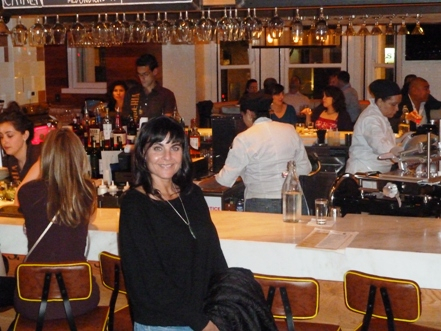 "We ventured out of Georgetown to discover this gem," said Jennifer Altemus. "This place has a great vibe with excellent, informed service. It's going to do great."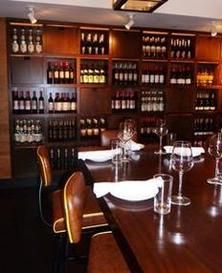 As server Adam Diaz, explained, "There's a culture here that promotes team work ... a love for the food and respect for each other." Focusing on market fresh specials that are local means the menu changes daily.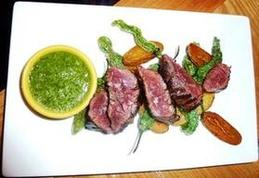 It's been almost a week since we were there, and I'm craving the carne a la plancha (hanger steak) and datiles con beicon (dates stuffed with almonds and Valderon, wrapped in bacon). If you only have time for dessert, you must try the churros con chocolate (fried dough with thick hot chocolate) and café con leche, but I'm jumping ahead.
We started with a glass of D Ventura "Pena do Lobo" 2010 and the croquetas cremosas. Delicately crunchy and filled with puréed mushroom and Serrano ham, the croquettes were a mellow pairing with the earthy red wine.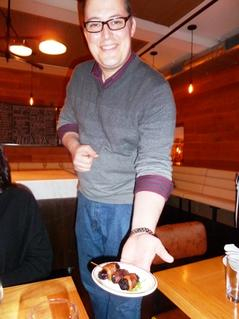 Next, the txipirones, elegantly served with a salad mix of crispy scallions and tomato confit. "Delicate without being overpowering," is how Jennifer described the succulent baby squid.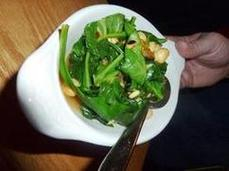 The espinacas a la Catalana (sautéed spinach, garbanzos, pine nuts, garlic and raisins) arrived with flatbread.
There are three kinds and we chose the coca de seta (wild mushrooms, Idiazabel cheese, Porcini mushrooms, artichokes, green bell peppers and garlic).
The carne a la plancha (hanger steak with fingerling potatoes, Shishito peppers and mojo verde) called for a more robust wine. General manager, John Barry suggested the La Tremenda 2008, Monastrell. Excellent choice.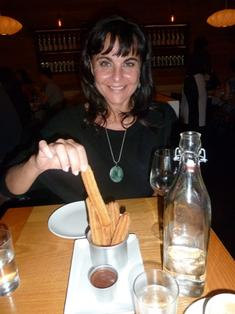 There wasn't room for dulces (dessert) but we couldn't resist the Spanish doughnuts. As authentic as I've ever tasted, the churros were light and sweet.
The "House" coffee is La Colombe's Nizza blend, which I was delighted to discover is carried at Whole Foods. So my mornings now begin with the aroma of Boqueria. Delicioso.
Boqueria is located at 1837 M Street, NW. Tel: 202.558.9545