Bonhams Sold on Georgetown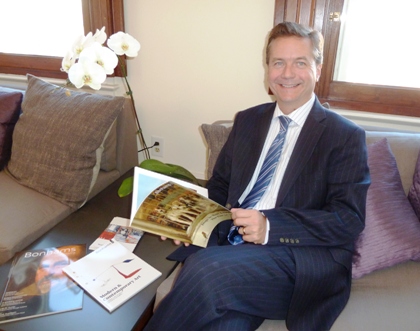 Perhaps best known as an 18th century British auction house and for their recent acquisition of Butterfield's, Bonhams, which was founded in 1793, is now in Georgetown. Of the three most prominent international auction houses (the other two, of course being Christie's and Sotheby's) only Bonhams has a D.C. office.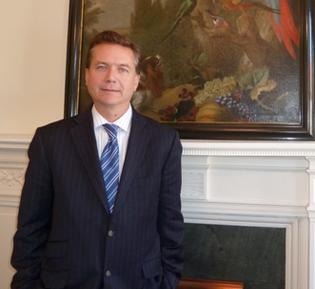 The Georgetown Dish caught up with Dr. Martin Gammon, managing director of the D.C. office, in his new second floor suite on M Street. Coming from New York, and San Francisco, I asked what most surprised him about Washington. "Outside of government and business, while they're huge, there's a subterranean world of art here. Washington is one the greatest cultural capitals in the U.S." He continued, "When you have the combination of great museums like The Freer and Sackler, The Phillips Collection, and The National Museum of African Art … that brings a depth to the art collecting community."
As an expert in rare books and 13th century illuminated manuscripts, Gammon was quick to add, "In fact, the greatest illuminated manuscript collection is locally owned."
Prior to joining Bonhams, Dr. Gammon was a research fellow in the philosophy department at Yale University and a lecturer in the history of philosophy at Stanford University. He is widely published in academic journals on the philosophy of art, and appears frequently as an appraiser of rare books and manuscripts on the PBS series, "Antiques Roadshow.®"
Gammon, who moved to Georgetown late last year with his wife and children has found the transition easy. "I was overwhelmed with the openness and generosity of the welcome."
With specialties beyond fine art and furniture, Bonhams also has "the world record for sales of Porsche and Rolls Royce."
As an international resource to the Mid-Atlantic, the D.C. office is planning (in addition to appraisals) small exhibitions including upcoming Asia Week in March. China's prosperity has caused a "massive repatriation of art," Gammon noted, often with objects impossible to appraise. A similar phenomenon is happening with Russian art. "If you have an old insurance policy, update it."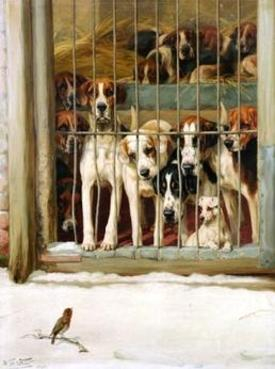 His personal collecting extends to photography and prints, and to my question on what's trending now, "contemporary African art and mid-century modern (but only the best and rarest pieces)."
If you happen to be in New York next week, you'll want to stop by for the American Kennel Club® (AKC®) and Bonhams Auction House annual charity brunch, Barkfest at Bonhams on Sunday, February 12, 2012 from 10:00 am to noon, benefiting the AKC Humane Fund, Inc.
Dog lovers and art aficionados are encouraged to bring their dogs, enjoy a light brunch and preview the highly prized dog art and collectibles at Bonhams (580 Madison Avenue, between East 56th and 57th Streets) as well as meet some canine celebrities.
One of two works by canine artist William Henry Hamilton Trood, Hounds in a kennel (shown above) is part of "Dogs in Show & Field: The Fine Art Sale," viewable then and on February 15th at Bonhams in New York.
Bonhams is at 2902 M Street. Tel: 202.333.1696