Bonhams' Martin Gammon Discovers Important Abraham Lincoln Letter on Antiques Roadshow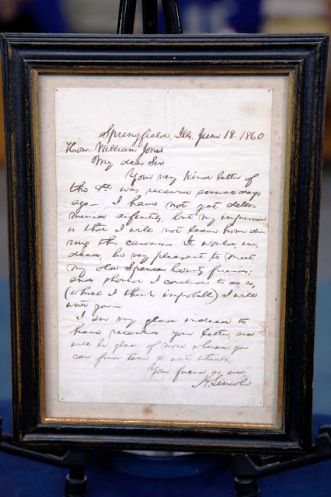 Bonhams' Martin Gammon discovers important Abraham Lincoln letter on Monday's Antiques Roadshow.
The latest season of PBS' Antiques Roadshow continues February 25th with Martin Gammon of Bonhams Auctioneers' Georgetown office discovering an important autograph letter by Abraham Lincoln. The taping was made this summer in South Carolina, where Gammon and several other specialists from Bonhams and other auction houses taped the celebrated PBS program, now in its 17th Season. Gammon has been a regular appraiser on the show for the past five years.
During the taping Gammon was presented with the letter by a woman whose father had collected Presidential manuscripts. Dated June 1860, the letter was actually composed in Springfield in the month following Lincoln's come-from-behind victory for the Republican nomination. The letter is written affectionately to Col. William Jones, who was Lincoln's very first employer and mentor in Indiana in his youth. Indeed, while working in Jones' country store, Lincoln was known for returning money that was overpaid for goods to a woman some distance away, earning him in later life the moniker "Honest Abe."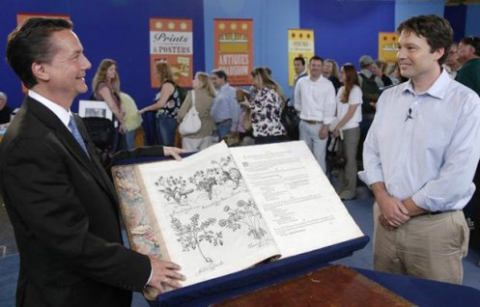 "It was quite an exciting discovery because it illustrates a critical juncture in Lincoln's development," Gammon recalls. "Lincoln has just ascended to the national stage as the Republican nominee, and is inundated by requests for an audience at his Springfield law practice. And out of the blue, his first mentor from his modest beginnings in Indiana appears and hopes to meet with him. Mr. Jones had an impressive library and was the first to teach the young Lincoln about American history, and so it must have been an emotional moment to be called upon by his first guiding hand, who had helped set him on his path to greatness, at the moment he arrives on the national stage. It is also bittersweet, in retrospect, as the elderly Col. Jones would enlist in the Union Army, and later perish in the Battle of Atlanta in 1864."
You can view a preview of the appraisal from Monday's episode here.
Think you might have a treasure of your own? Bonhams is planning on hosting an Appraisal Day with many of the specialists appearing on the Antiques Roadshow at the Four Seasons Hotel in Georgetown in late April. Please contact Bonhams' Georgetown office for more details at 202.333.1696 or martin.gammon@bonhams.com