Bon Anniversaire!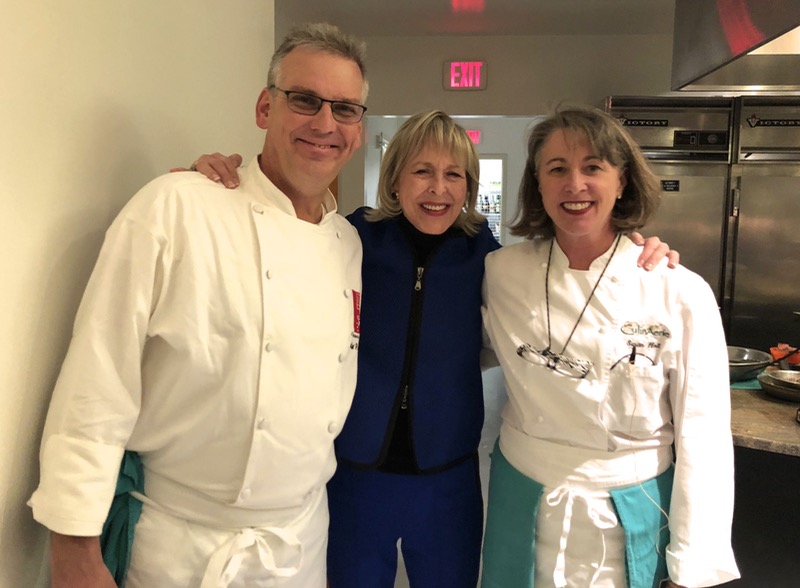 Lynda Webster was born on New Years Day …… the first baby born on New Years Day in Macomb Township, McDonough County, Illinois to be exact. "I quickly learned it was the worst day of the year besides Christmas to have a birthday. Parents were always hungover, nobody wanted to have a pink birthday cake and nobody even as an adult wanted to go out to dinner that night. In fact Bill (her husband William Webster) always says, 'What's for dinner, honey?' So after all these years of having a very disappointing birthday, with a few exceptions, I decided 'I'm just going to give a birthday party for myself and invite my most fun friends.' So you are my most fun friends."
*/
As it turns out, the fun friends were those who wouldn't mind putting on an apron and cooking their own dinner – and we thought that was 'fake news.' Guests ended up at CulinAerie on 14th Street. A beeline to the wine bar ensued when we realized it wasn't 'fake news.'
*/
Enter Susan Holt who explained everything. Susan C. Holt, CulinAerie co-founder graduated with honors from L'Academie de Cuisine's two-year Culinary Career Training Program in 1989 and worked in various Washington, D.C. restaurants for six years, notably Georgetown's famous 1789, at which she held the position of executive sous-chef for two years. She also worked at The Dining Room at the Ritz-Carlton for two-star Michelin chef Gerard Pangaud, as well as authoring a newsletter, Tastes and Flavors, for his eponymous restaurant. Susan was an instructor at L'Academie de Cuisine for twelve years, teaching such classical technique-driven classes as bouillabaisse, puff paste, risotto, and soufflés. She has conducted classes at Sur la Table, The US Botanic Gardens, The Epcot International Food and Wine Festival, and Montgomery (MD) College, as well as having been featured on Fox Morning News, Good Morning Washington, and The Ask Heloise Show. She is a former Board member of Les Dames d'Escoffier. Translation: She's good!