Boged Hits its Mark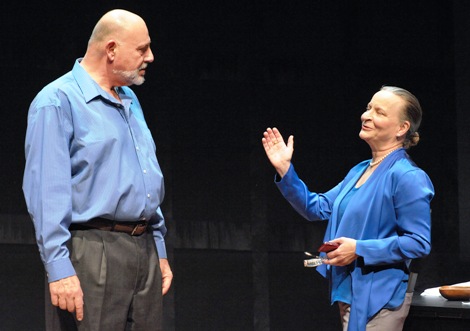 Now playing in the Gonda Theatre at Georgetown University is Boged (Traitor): An Enemy of the People, a one-act contemporary interpretation by Boaz Gaon and Nir Erez of a Henrik Ibsen play, set in the Negev.
When scientist Tommy Moany (Michael Tolaydo) discovers the environmental effects of a sudden chemical leak in an Israeli industrial park, his brother Simon the mayor, (Brian Hemmingsen), town industrialist Moddy Eckstein (Sarah Marshall), the media, and even Simon's father-in-law wrestle with how to deal with the reluctant whistleblower. "The right thing always starts a war," says Moddy Eckstein.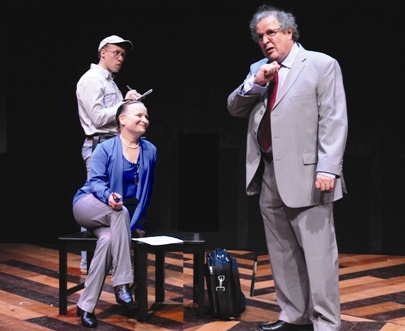 The stark oversized paneled screen center stage serves as family home, news monitor and window on the desert thanks to subtle day-to-night lighting.
The stellar cast is led by veteran stage actress, Sarah Marshall, who, once again showcases an acting range that won her the Helen Hayes Award (for which she was nominated 17 times). Last fall, she dazzled in The Shakespeare Theatre Company's The Government Inspector.
Following Tuesday night's premiere, The Georgetown Dish had a chance to sit down with Marshall.
TGD: I understand your parents wanted you to be a teacher (or a nurse). I imagine they have long been proud of your amazing acting career ... But what was their reaction when you started teaching drama at Georgetown University?
SM: Yes I think they wanted me to be a nurse and then I told them I would be a teacher but was majoring in Theater at college. I NEVER intended to teach. EVER EVER! And in fact I never took one course in education. But when I became a company member out at Round House Theater one of the requirements was teaching so I was thrown into a class and have been teaching ever since. Every teaching job I have had has sort of landed in my lap. I have taught at Duke Ellington, Studio Theater, Woolly Mammoth the Berkshire Theater Festival and at Georgetown U. My parents were quite proud of me for my acting and relieved that I ended up teaching. I like to say that Acting is my calling and Teaching is my fate.
TGD: How has D.C. theater changed over the last 30 years?
SM: Grown and grown and exploded with new theaters over 30 years. DC has becoming a true theater town, second only to New York in the nation. I suppose I have matured along with the theater in DC! TGD: What role would you most like to play?
SM: There can't be one role.. there are so many. Lady McB. Mrs Lovett. Martha. Lady Bracknell. Lady Britomart. Queen Elizabeth. The Nurse in R and J. To say nothing of the MALE roles. Moddy, the character I am playing now was originally written for a man but was changed to a woman when I got the part. TGD: How would you compare the Davis Center for the Arts acting experience to other local theaters?
SM: The Davis Center has two theaters, The Gonda and The Devine. I love them both. I think The Devine is one of my favorite spaces to perform in. BOGED is being performed in the Gonda Theater. It is a tricky space. It seems small and intimate but is actually rather grand in some ways. The stadium seating is challenging. I am forever reminded to keep my head up! And filling the space takes a good deal of energy. It is a beautiful theater really and very live but demands a certain energy and presence to fill. TGD: What have you learned about life in the the Middle East from the recent Theater J productions?
SM: I so love working at Theater J for the community ....the lively community on 16th street filled with Children and Dancing and Food and great conversation and debate. I think the Middle East is such a great impossible topic really and these two shows can't even begin to touch the vastness of the topic. But with Apples it was all about intimacy and tradition and true faith and family Boged seems to be about hope and the younger generation showing us the way to make a new world. Actually both do that. They are really universal these plays and could be about life anywhere. TGD: What do you like to do for fun?
SM: You don't want to know. Just kidding! I like to go to the country and bike and hike and star gaze. I am a great lover of nature and being outdoors. I like to eat out with friends and family. I like to play guitar and make fused glass objects. And ... oh dear ... I like to shoot sporting clays. I love shooting actually. I am a life long vegetarian, and I would not ever hunt, but those little orange discs ... There is nothing more satisfying than hitting your mark!
Part of theater J's "Voices from a Changing Middle East Festival," Boged is a traveling production directed by Joseph Megel. Originally produced by the Beersheva Theatre, it's being presented in partnership with Georgetown University, in association with StreetSigns Center for Literature and Performance.
Through February 3 in the Gonda Theatre, Georgetown University. Visit Theater J for tickets.