Blossoming Bonus: Cherry Cupcakes Come to Town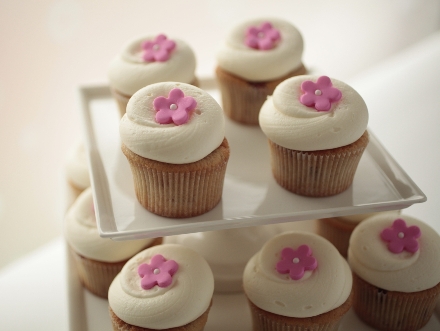 The cheery spirit of cherry blossoms has inspired bakers across town to create special offerings during the National Cherry Blossom Festival.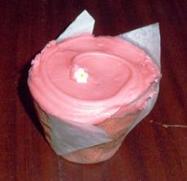 Though the blossoms peaked a few weeks ago, the annual parade is April 14th and the festival continues until April 27th.
So do most of these sweet treats at area bakeries.
Georgetown Cupcake is serving a Madagascar bourbon vanilla cupcake baked with fresh cherries and topped with vanilla cream cheese frosting. The masterful creation holds true to the cupcakery's signature traits: premium-quality ingredients, skillful baking and the sister-owners' heartfelt passion for their craft.
Mother Nature has a hand in the arrival of cherry cupcakes at Baked & Wired. They appear in the bakery case as soon as co-owner Teresa Velazquez sees flowers on the cherry tree in her back yard. Velazquez's cupcake is a vanilla cake with chopped maraschino cherries. Cherry juice tints the cake pink and so vividly colors the frosting that it's hard to believe the electric pink is natural.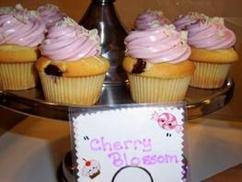 The unmistakable taste of real fruit dominates Sprinkles' cherry blossom cupcake. Cherry flavor shines through in the pink frosting, which tops a vanilla cake accented with moist diced cherries. The cupcake is adorned with an official National Cherry Blossom Festival decoration.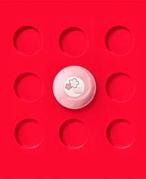 If the cherry cupcakes in the window of Georgetown Scoops catch your eye, don't be deterred by the fact that it's an ice cream shop. These first-rate artisan cupcakes are made with European butter and other imported ingredients. The cherry blossom cupcake is vanilla cake with dried cherries. Its value comes not from its bottom but from its top: a graceful swirl of light, airy and luscious frosting. Containing markedly less sugar than conventional American recipes, the frosting is hands-down the best kept secret in Georgetown bakery news.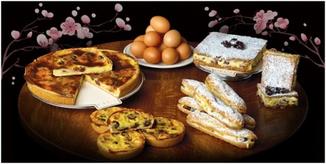 Georgetown Scoops has also crafted a cherry blossom ice cream with cherry chunks and notes of rose and Amaretto.
PAUL Bakery is showcasing a capsule collection of cherry pastries. The ensemble includes torsade cerises (cherry twisted bread), croissant aux cerises filled with pastry cream and cherries, cherry cramique brioche with sugar pearls and sour cherries, flan aux cerises (cherry flan tart), millefeuille aux cerises (Cherry Napoleon) and eclair aux cerises.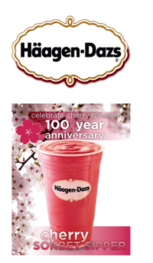 The millefeuille, for one, makes a statement even before the first bite is sampled. From the way the knife hits the crust, it's obvious the pastry is optimally crispy and fresh. The flaky crust perfectly complements the exquisite, creamy filling.
If you like your desserts frozen, you can get your fill at Häagen-Dazs and Johnny Rockets. Haagen-Dazs is featuring a cherry sorbet smoothie and Johnny Rockets will make an off-menu cherry milkshake upon request.
Even after the Cherry Blossom Festival concludes, cherry desserts can be found year around at several sweet shops.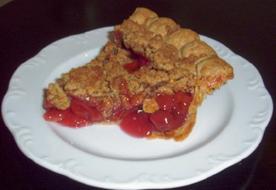 Pies are a best-seller at Baked & Wired, which offers traditional cherry pies and single-serving cherry hand pies.
Newcomer Pie Sisters is making a cherry pie with a dash of almond extract, gaining recognition for the flaky, hand-rolled crusts that encase their sweet and savory pies and individual "cuppies."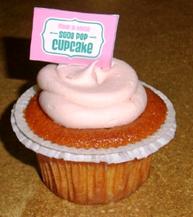 Whole Foods is promoting a line of retro soda-pop cupcakes, including a vanilla cherry flavor with a subtly effervescent frosting.
With so many choices, cherry fans have plenty to cheer this season and all year.
By Andrea Adleman, a communications consultant