Bloomberg Lambasts President; Stops Short of Announcing for Presidency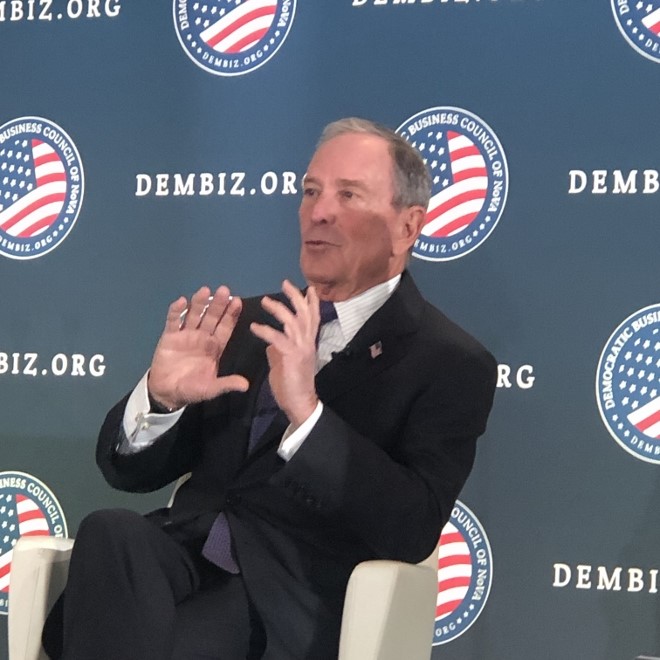 "To Donald, the art of the deal is cheating people. And now he's doing it to the American people," said possible Democrat candidate for president Michael R. Bloomberg, speaking to a business group in Tysons, Va., on Friday.
That was only one of the barrage of sharp arrows Bloomberg, 76, shot at President Trump, an old New York City adversary, during the sold-out breakfast for the Democratic Business Council of Northern Virginia.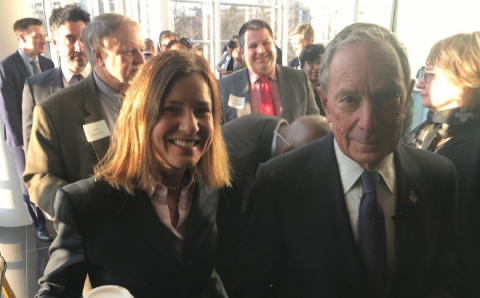 Many more scathing arrows were in the quiver:
a "reckless President…who doesn't know the first thing about management."
Alluding to Trump's brain power, Bloomberg said on occasion when they took the New York subway together; Trump didn't know which end to put his subway card in.
On the presidency, Donald Trump "is way over his head… complete failure of presidential leadership…the president is flunking every single test…the training wheels that his staff put on don't work….he should not be president…"
This is a government version of a "horror movie" such as the likes of Freddy Krueger.
Trump, he said, despite his bragging of knowing scientific things, is really ignorant. Does he send his family to "witch doctors?"
Bloomberg called the government shutdown "a simple political stunt…just so he (Trump) can build a wall that doesn't work…" And, he said the Republicans are "too cowardly to stand up"…comparing the lot to the cowardly lion in The Wizard of Oz. "What's happening now with Republicans…and Trump…they make the "lion look like a profile in courage."
He said that there is "certainly culpability on both sides…but no other government stops their government over a political fight." He said for House Speaker Nancy Pelosi, "herding cats is not easy."
On immigration, Bloomberg said he doesn't support open borders. "We need to be able to bring in many people from around the world…who obey laws..."if not throw them out." Today's immigration system "is just a joke."
He did not directly address by name the growing lineup of Democrats who have announced their presidential candidacy, with more to come. Nonetheless, he said it's important that in 2020, the candidates know how to manage, know how to work across the political aisle, know "how to run a railroad," and have a real concern for people. The federal government is the big league… "It's the NFL here. We need to have people who can do the job … not just hold a political rally…."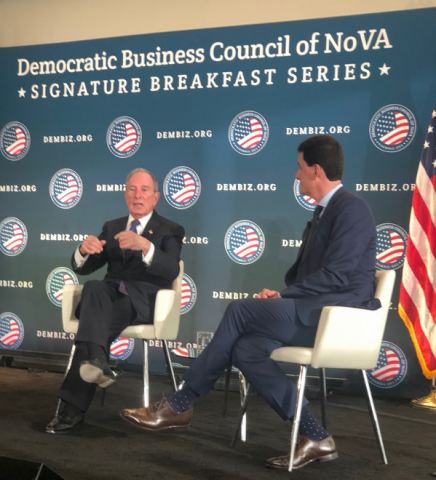 He pointedly spoke of his own resume, which includes three terms as New York City mayor. He was a backer of many successful economic policies that supported entrepreneurs, small and larger businesses, tech and bioscience, and technology startups, among other achievements.
In his hour-long talk followed by a Q&A, Bloomberg laughed:
"Now I'm going to take some questions. The perfect first question would be why I get confused with Brad Pitt. Well, we're the same age."
Although most in the audience of 100+ thought he sounded like a candidate, Bloomberg, said he is playing a wait 'n' see game. "I'll take a look and see" about the future. The billionaire, founder of Bloomberg LP and Bloomberg Philanthropies, said he has time to decide whether to toss his hat into the ring. In the meantime, he said he is pleasantly occupied with the philanthropic endeavors. But then, he alluded, one morning, he may get up and say: it's time.
Some think Bloomberg is too middle of the road to attract voters in the current democrat spin to the left. Others feel Bloomberg's views will appeal to moderate Republicans nationwide.
Attending the breakfast were Virginia political leaders, past and present. Honorees included Gov. Ralph Northam, Congressman Don Beyer, and former Congressman Jim Moran.
The former New York City mayor was in the D.C. area for the week, speaking at a Martin Luther King commemoration on Monday and several other events.