BLDUS Alley House Featured on DC Modern Home Tour
Local architectural firm designs organic, sustainable homes in DC.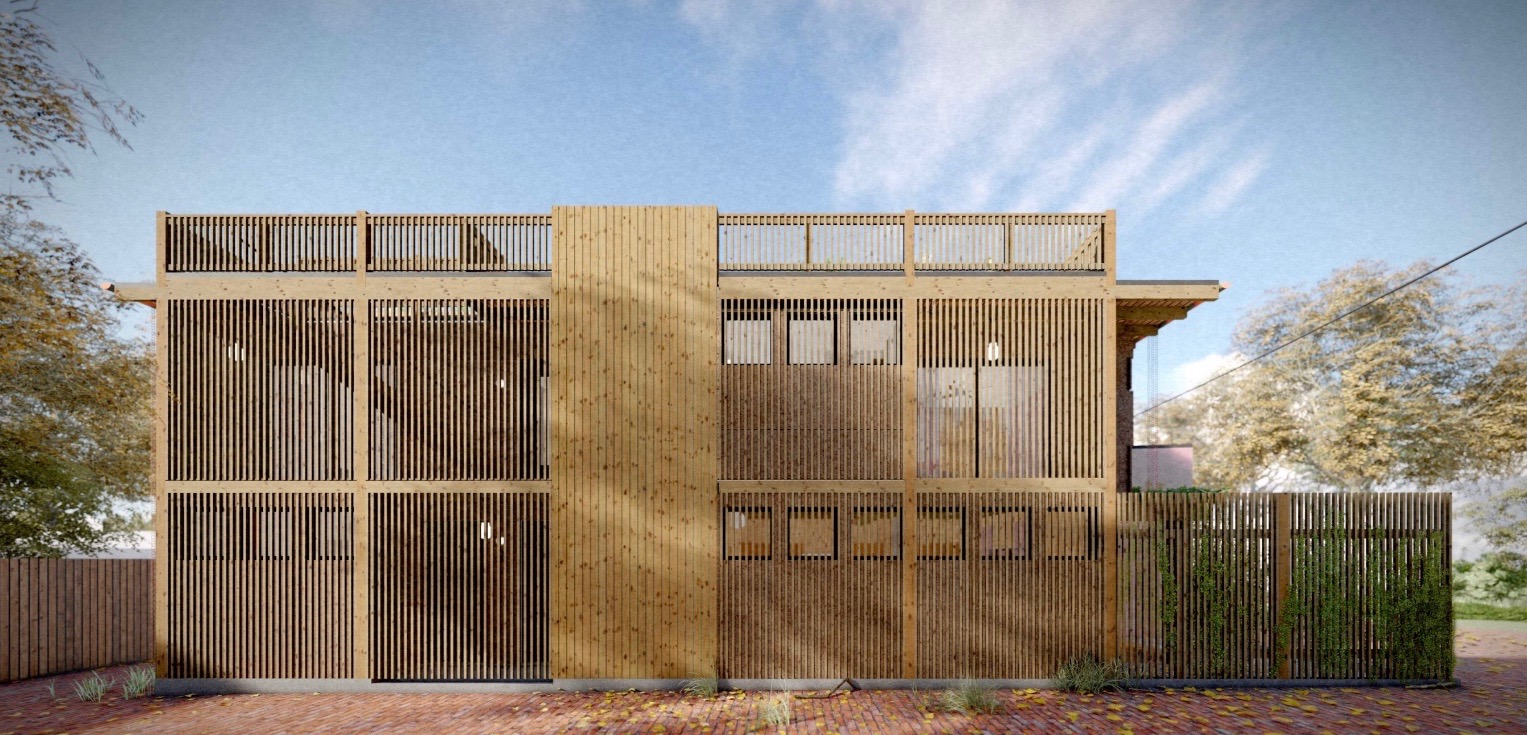 We're delighted that our friends Jack Becker and Andrew Linn at  BLDUS will be featuring their new Overbeck Alley House at DC Modern Home Tour in October.
This local firm, based in Anacostia, has found a niche in alley dwellings with their "farm-to-shelter" philosophy designing sustainable, aesthetic structures.
Sited on a charming brick alley two blocks north of Lincoln Park, Alley House weaves together organic and local building materials including structural bamboo, cork, hemp wool insulation and locally-sourced white oak, pine and black locust. 
A variation on the ubiquitous row house typology, the home's design takes full advantage of the site's western exposure while balancing privacy with daylighting.
Take a look at two other recent BLDUS projects: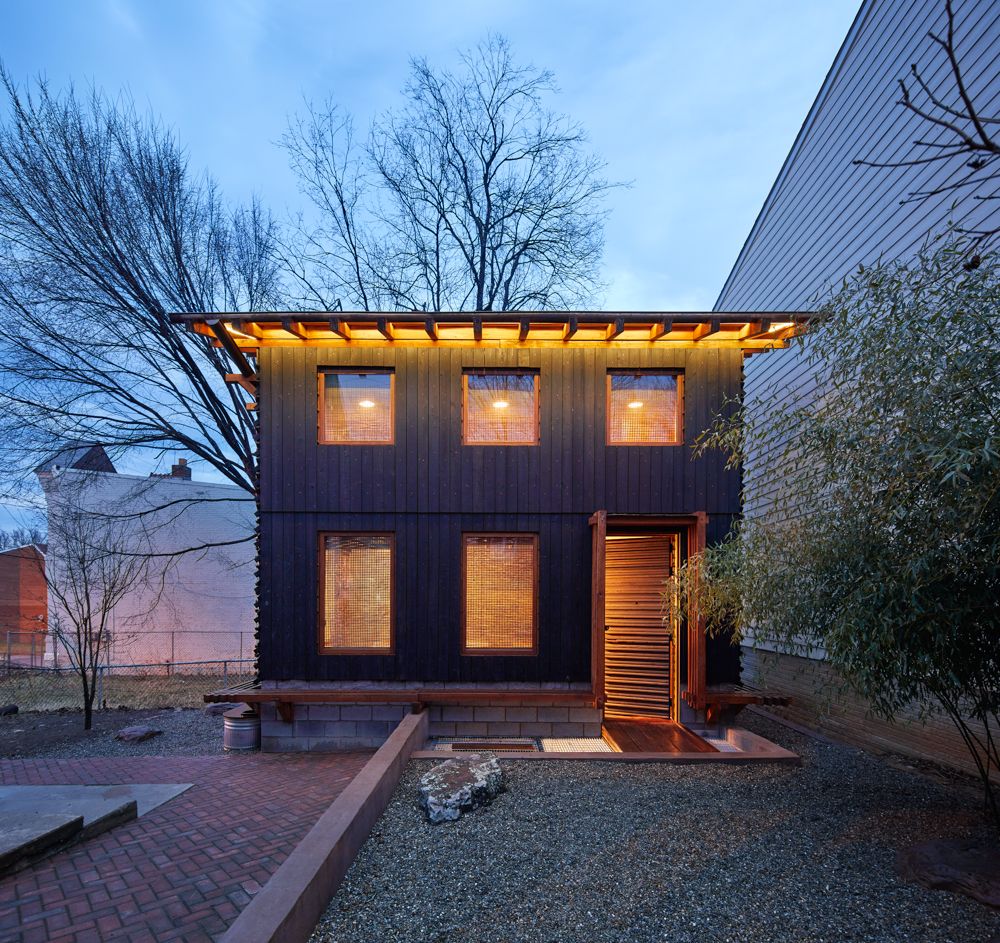 Inspired by how birds build their nests, Jack Becker and Andrew Linn wove the partition walls of their Grass House of willows and built the structure from bamboo. As the first code-compliant bamboo home in the US, the tall and thin ADU feels different. 
When you enter the space, it smells of drying grasses, in stark contrast to the more typical new home odors of paint and drywall. "Basically every surface in this space is a natural organic material, largely cellulose based," explains Becker "So everyone comments that they like the way it smells when they come in." 
Jack Becker was originally attracted to the wooden workers' homes built in the 19th century in DC's Anacostia neighborhood, but when he found a fixer upper across the street from Frederick Douglass' 1870s home he knew it was the spot to experiment with an all-natural home. 
By tearing up the driveway, they created space for an Accessory Dwelling Unit built from a panelized bamboo system for its structural walls and floors and ceilings. The willow dividing wall spans the 3 floors of the narrow structure supported by just tiny threaded steel rods. Everything here is natural and salvaged, like shelving from the raw-edged off-cuts of the lumber used for the stairs.
The lamps are made from mycelium that has colonized agricultural waste and because the mycelium is chitin (what crabs and exoskeletons are made out of) it's "entirely non-combustible." Becker explains that they tested the material using the same torch used to char their cladding and it wouldn't ignite.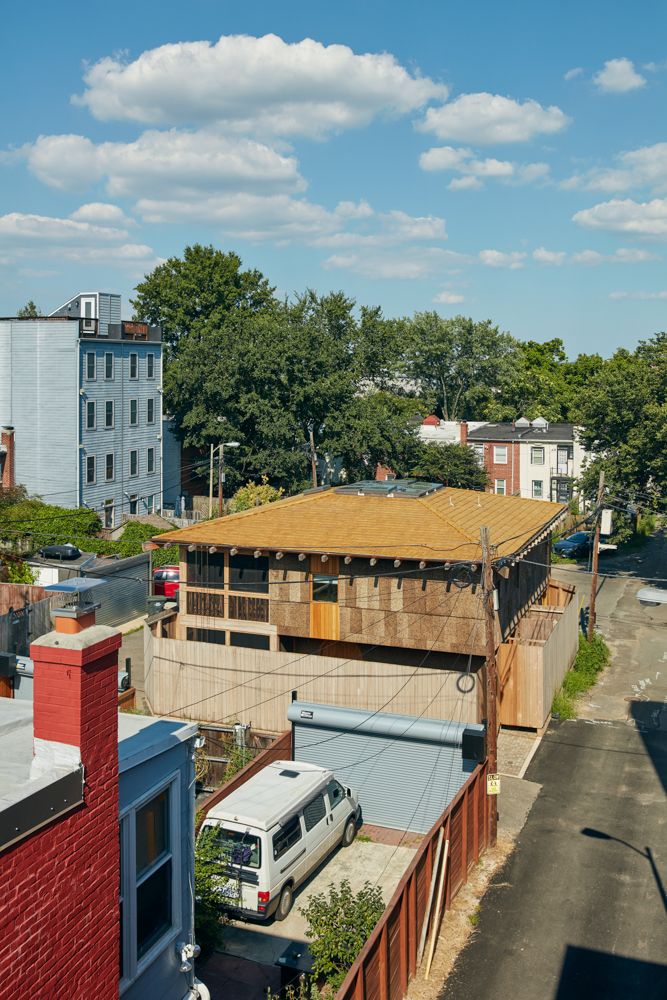 On a back alley in Washington DC where only a few weed trees grew between derelict cars, Andrew and Hannah Linn erected Poplar Grove, a compostable house of bamboo, cork, wool and wood, a healthy, and comfortable, home for their growing family. 
"For over a century, people lived in hundreds of wooden homes in DC's alleys until the Alley Dwelling Authority "developed" and "renovated" the alleys by demolishing them in the 1930's and 1940's. Seventy years later, in 2016, DC's zoning regulations were removed, once again permitting alley living in the District."
There are over 3000 alleys in DC, many of them currently parking lots or trash storage, that could become homes. Calling his a farm-to-shelter building, Linn used local materials, even trees felled and milled at the site. The primary wall material is BamCore, hybrid bamboo-wood plywood panels that eliminate studs in walls, thereby eliminating thermal bridges and improving the home's insulating performance.
There's no space for a backyard so, inspired by the Roman Domus, they created a center of the house open to the exterior with a huge skylight that illuminates both the second and first floor by using net flooring on half the second floor. Nearly everything material in the home is natural: from the wood pavers to the milk paint.