Blasts from the past come to a city needing cool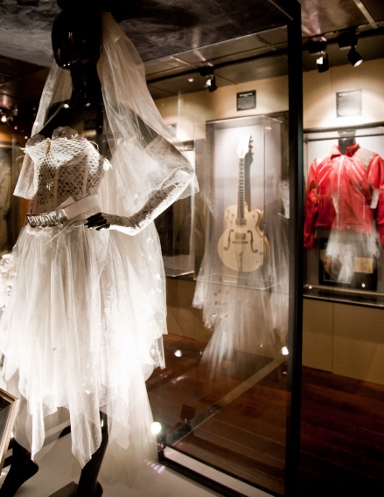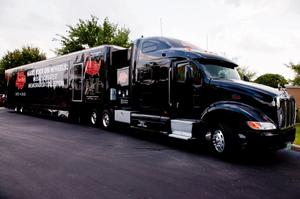 Congress and the public get up close and – almost – personal with Madonna's "like a virgin" dress, a guitar used by Elvis Presley and Michael Jackson's iconic "Beat it Jacket" on Thursday July 28 as Hard Rock's 40th Anniversary Memorabilia Tour rolls up to Capitol Hill for a one-day public exhibition of some of the most famous guitars, glitzy clothes, and other celebrity memorabilia.
Following a morning congressional viewing, fans will have their chance to experience rock history from the world's great music legends.
The collection of 40 of music's most iconic pieces of memorabilia will be on public display in a mega-rig truck from 11 am to 3 pm at Maryland Avenue SW and 3rd Street (between the U.S. Capitol and the U.S. Botanic Garden). Admission is free.
Members of Congress and other VIPs will tour the rig from 10:00 am to 11:00 am.
Hot-weather paper fans shaped like small guitars will be given out as souvenirs.
Coordinating the rig-stop is Tennessee Rep. Marsha Blackburn (D-TN), chair of the Congressional Songwriters Caucus, who represents parts of Nashville and Memphis. Fred Cannon, vice president of government relations for Broadcast Music, Inc. (BMI), will give remarks on the importance of upholding the creative rights of songwriters and performers.
The Hard Rock on Wheels Memorabilia Tour contains some of the most insane or rare memorabilia that could be dug up from Hard Rock's cafe and hotel vaults – an Eric Clapton guitar, Buddy Holly's signature glasses, Jimi Hendrix's custom Flying V, Johnny Cash's handmade Grammer guitar, the dress worn by Katy Perry when she dove on a birthday cake, a feathered jacket worn by Brandon Flowers of The Killers, Justin Bieber's skateboard, and a coat worn by Snoop Dogg in the movie "Starsky & Hutch."
There also are pieces from Elvis Presley, AC/DC, KISS, Slash, Kurt Cobain, John Lennon, Marvin Gaye, Janis Joplin, Bono of U2, George Harrison, Sex Pistols, Bob Dylan, Sid Vicious, Bob Marley, Neil Young, Morrisey, Will.I.Am of Black Eyed Peas, Jim Morrison of The Doors, Steven Tyler of Aerosmith, Brian Jones of The Rolling Stones, and Prince, among others.
"We are bringing out some of the coolest, most historic and rarest items in our collection," said Jeff Nolan, rock historian for Hard Rock International
After the D.C. stop, the nationwide tour travels South.