Bird-Watchers Tally Up Park's Feathered Fauna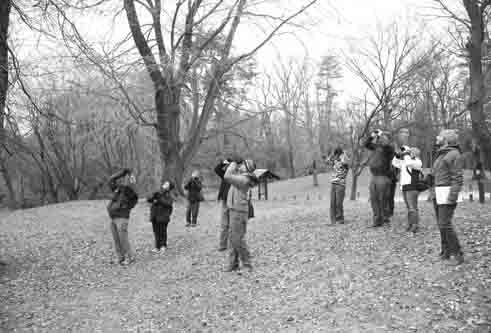 By Kat LuceroCurrent Staff Writer
Bright crimson cardinals, flocks of starlings, woodpeckers with red tips and even rare little winter wrens were among the various bird sightings at Battery Kemble Park as part of the National Audubon Society's annual continent-spanning Christmas bird count.
In its 115th year, the annual volunteer-driven survey is considered the world's "longest-running wildlife census to assess the health of bird populations — and to help guide conservation action," according to the bird conservation nonprofit's main website. From Dec. 14 to Jan. 5 every winter, thousands of volunteers throughout North America participate in this "citizen science" — a term used to describe a research project conducted by novices or nonprofessional investigators.
"We are trying to count every individual bird we see in the District of Columbia. And those numbers are compared against the 114 previous attempts to see how bird populations have changed in that time," said Nicholas Lund, a board member in the society's D.C. chapter, which organized the Dec. 20 event. Other D.C. counts took place that day in Rock Creek Park, at Fort Dupont and at the U.S. Naval Observatory.
On the cold Saturday morning at the hilly Battery Kemble Park, around 20 bird lovers from different parts of the city bundled up to participate in the tally, splitting into two groups paired with a guide.
Lund led one group up to the main hill, then toward a grassy knoll, moist from the melting morning frost. Fenceless yards of multimillion-dollar homes along Chain Bridge Road abut this lofty spot on the parkland. Birders peered through their binoculars looking for whatever feathery creatures they came across — sitting on the leafless branches or darting from tree to tree.
"Right now, we're creeping into a bunch of people's backyards with binoculars and seeing what we can see," joked Lund. He noted that other bird-watchers at last year's Christmas count spotted all kinds of fluttering activity at nearby feeders full of seeds.
Down the hill, the group stopped and tallied what they'd seen so far — chickadees, juncos, white-breasted nuthatches, a large flicker woodpecker, Carolina wrens, robins, blue jays, song sparrows, a mockingbird and, of course, dozens of cardinals. The metallic-sounding chirps of these bright red, black-beaked birds were heard throughout the walk. "They're everywhere," one of the bird-watchers noted as he looked around.
Non-native white-throated sparrows were also plentiful at Battery Kemble that day. Every winter, these full-bodied brown and gray northern birds with a yellow, black and white head migrate to the D.C. area from their natural habitat in Canada.
For an urban area like D.C., bird count participant Chris McMurray said that "it's important to realize that in [D.C.] there's a lot of wildlife."
"It's very accessible. You don't have to drive out to the country," said McMurray, who also serves on the board of the D.C. Audubon Society. He added that people need to appreciate the diversity of the urban landscape, especially in terms of policy that affects wild animals' natural habitat.
On Jan. 24, the D.C. chapter will host the annual C&O Canal Mid-winter Bird Survey, a larger event that requires groups to span the historic 180-mile-plus waterway from Georgetown to Cumberland, Md. The organization has been conducting this activity for the past 15 years.
This article appears in the Dec. 31 issue of The Georgetown Current newspaper.