The Bike House Rolls Out Pedal Power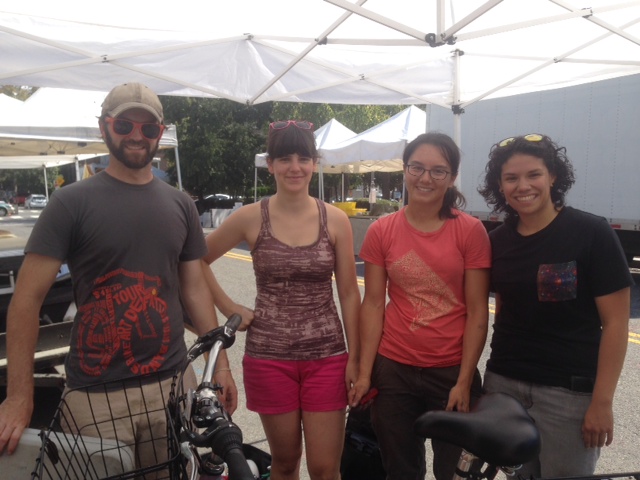 They usually come to the Bloomingdale Farmers Market for the heirloom tomatoes, mouthwatering peaches and fresh French bread, but a recent Sunday saw a line of residents snake around the spinach and kale in search of wrenches, pumps, and 3-in-1 oil.This is not the latest trend in farm-to-table sourcing or vegan cuisine.With the explosion of bike paths and bicyclists zooming around town on two wheels, flat tires, loose chains, and worn out brakes were bound to happen. So who, how and where to fix them?Enter The Bike House. This band-on-the-run of bike lovers has come to the rescue of the ever-proliferating peddling public.An S St. resident wheels up an orchid-colored Raleigh and a new set of brakes to install. She has been living dangerously, gliding into intersections instead of stopping hard as the old rubber brake pads wore thin. Drivers frowned, cursed or worse -- who could blame them?Ryan Scholl of The Bike House peers at the problem. "Sure you can install your new ones!" says the cheery Bay Area native. "We'll help you."At The Bike House, the volunteers don't just fix bikes, they help their clients learn how to fix them.Some repairs simply require the twist of an allen wrench or a squirt of 3-in-1.But others are a bigger bummer.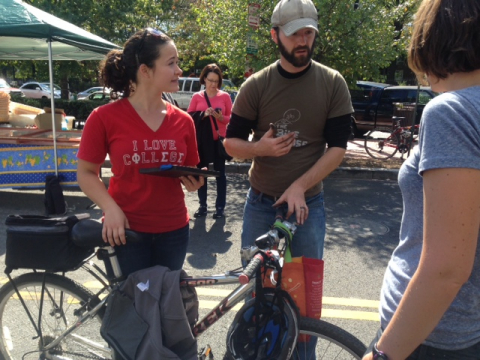 "I need help," says resident Hilary Kirwan, forcing a smile as she pushes a bike with a front tire that is flapping off its frame. At home, as she tried to fix a busted innertube, her bicycle pump ate the tire's valve. Everything went downhill, so to speak, from there.Nodding his head as the latest patient details mechanical maladies, Scholl signs her in on his iPad, moving through the line of bikes with broken joints, sprockets and other major and minor ills, assigning his volunteer clinic teammates to launch into sidewalk surgery.The team of young women on this Sunday are all confident with the tools, boldly going where others might shrink in fear, both of complex mechanics and the inevitable soot, oil and grime that slowly cover their fingers, hands and arms. But on this sidewalk, greasy, grimey extremities are a badge of honor.Bike House volunteer Meghan Madden shows the S St. resident how to place bolts, nuts and washers in the right order to successfully replace the worn out brakes. It's a crossword puzzle -- a code to break."Even if you know what you're doing," she says, "it's nice to have another person around."Founded in 2009, The Bike House provides free bicycle maintenance services and education through weekend clinics, mobile bike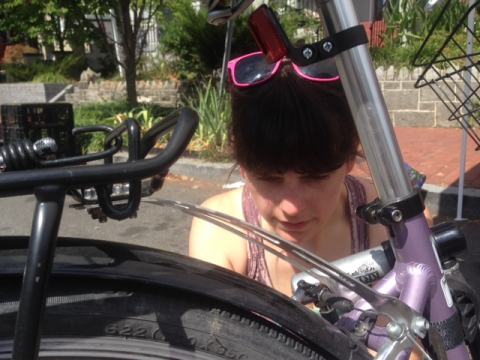 clinic, and beginner and advanced mechanics classes. The first clinic took place at an outdoor fish fry in the summer of 2009.
"Of the eight volunteers that day, only one of us would admit to knowing anything about bikes. The rest of us fuddled with air pumps and marveled at the strange machines before us. We all need to start somewhere. We learned though, and by the time we moved to the alley behind Qualia Coffee [in Petworth] a few months later, we had a core of about 15 volunteers with a growing knowledge of bike maintenance and teaching tools," the organization's website says. These days, The Bike House stores its tools for Bloomingdale at Big Bear Café, the neighborhood patron saint.
The Bike House asks for donations to cover the cost of supplies. Scholl says typical visitors might contribute $5 – or $50. Healthy bikes, not big bucks, are the goal here."We like bikes," Scholl says. "We wanted to empower people to do work on their own.""I started by fixing my bike myself. Then I wanted to help other people," says Jen Evans, a native of Toronto, who works weekends for The Bike House. "It expands your knowledge."These volunteer bike doctors say the increasing popularity of biking is great for the city, but tensions with automobile drivers can throw sand in the gears."People are either super in favor of bikes, or super against," says Scholl. He tries to stay off the busiest roads, including New York Ave., Rhode Island Ave., and Florida.And buses can be even worse than cars."I've gotten yelled at by Metrobus drivers," volunteer Jen Evans says, shaking her head. Could the city's public stewards be hostile towards these fragile canaries in the alternative transportation coalmine?But despite the downsides, many bicyclists wouldn't travel any other way. Door-to-door travel that's free, clean, cheap and almost hassle-free is getting more popular by the pedal.Kirwan says she has a car but is trying to bike to work as often as she can. "I like the exercise and reducing my environmental footprint," says the American University graduate.Now, almost every week in Petworth and at the Bloomingdale Farmers Market, as well as The Bike Store classes and clinics, D.C. bicyclists are adopting a fix-it philosophy to be able to pedal, with barely a pause.
Read more about The Bike House.