BID Touts Early Results on 'Georgetown 2028'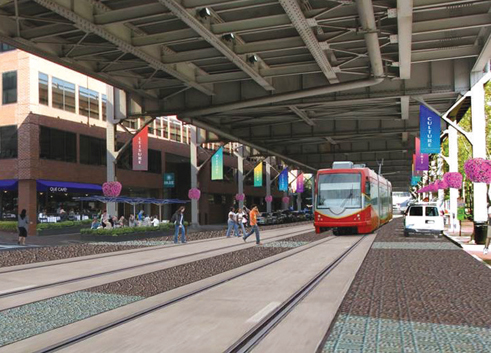 By Graham VyseCurrent Staff Writer
"Georgetown 2028" — the bold 15-year plan for transportation, public space and economic development in one of the District's most iconic commercial areas — formally launched last Thursday.
With a upscale breakfast event at M Street's City Tavern Club, the Georgetown Business Improvement District announced the official start of its project to an admiring crowd, noting that many of elements of the plan were already in motion.
The project's key initiatives, unveiled last year, include the creation of a neighborhood Metro station, a revitalized waterfront on the Potomac River, a pedestrian and bicycle bridge to Theodore Roosevelt Island, and aerial gondolas that would carry 4,000 passengers — including potential customers — across the river from Arlington, Va., each hour.
At the launch event, D.C. Council members Mary Cheh (Ward 3) and Vincent Orange (at-large) pledged to champion these initiatives at the John A. Wilson Building. "I'm here with a message of solidarity," Cheh told the crowd. "I think this vision is extraordinary."
"I'm behind it 100 percent," Orange said in an interview. "To have new modes of transportation, being able to go to Roosevelt Island — that's exciting stuff to me."
In an interview after the event, Georgetown Business Improvement District CEO Joe Sternlieb said he already had progress to report on some key components of the plan.
"There are so many things going on — lots of moving pieces," he said. For example, the business improvement district has secured the private-sector funding needed to study the feasibility of the proposed gondola system.
"What I can say is we've got pledges for up to $100,000," said Sternlieb. The business improvement district plans to ask the D.C. Department of Transportation to match those funds to pay for the study, which is expected to cost no more than $200,000. Sternlieb said he hopes the study can be completed by the end of this year, although he acknowledged that might be too ambitious.
Following the launch event, the business group released a list of project updates it had completed in recent months. These include requesting that the National Park Service install a dock this spring for canoe and kayak launches in the C&O Canal; gaining approval to install new wayfinding signage by next month; and agreeing to create a "streetcar partnership" with Georgetown University and the Transportation Department to examine operational and design issues and to study the feasibility to extending service to the campus.
More information about the project is available at georgetowndc.com.
This article appears in Feb. 5 issue of The Georgetown Current newspaper.