BID Seeks to Expand Use of 'Sidewalk Widenings' on M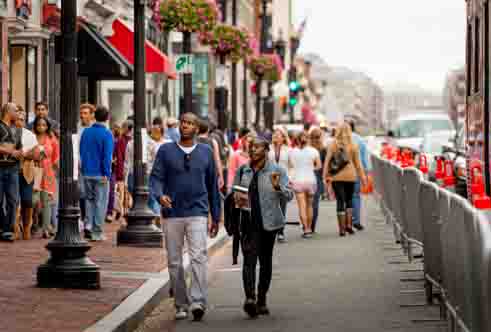 By Brady HoltCurrent Staff Writer
Expect more space to walk in the 3200 block of M Street on busy weekends next summer.
The Georgetown Business Improvement District is hoping to establish an expanded schedule for replacing the block's parking lanes with additional pedestrian space. The group is setting aside funds in its 2016 fiscal year budget to purchase metal barriers it will use for "sidewalk widening."
The sidewalks on this block — which runs from Wisconsin Avenue west to Potomac Street — can become as narrow as 4 feet, around "pinch points" like trash cans and light poles, according to the business group's Will Handsfield. That's a problem when nearly 4,000 pedestrians per hour try to squeeze through at busy times, he said.
"When people have an easier time walking on the sidewalks, everyone is going to have a better time walking around Georgetown," he said in an interview. "And that will mean more commerce and we'll be able to accommodate more people, and that should be better for everybody."
The BID has so far done six temporary sidewalk widenings on both M Street and Wisconsin Avenue, timed to coincide with special events like the French Market or particularly crowded days like the parent and family weekends at nearby universities. So far, said Handsfield, that effort has required renting barriers — which aren't especially attractive and cost about $4,000 for the 3200 block of M. Once the BID has its own barriers, the main cost per weekend will be renting the metered parking spaces from the city on Saturdays: $1,334 for the block. (The meters are free on Sundays.)
The reduced operating cost will let the BID roll out the program potentially as frequently as every weekend from the cherry blossom season through the end of summer, or perhaps one weekend per month. The barriers could have a coat of black paint over the usual bare metal and branding spelling out their purpose, offering "a little less of a work-zone feel and more of an intentional street festival feel," said Handsfield.
During past sidewalk-widenings, the BID has worked to secure discounted garage parking for visitors and free DC Circulator rides from garages near K Street. Handsfield said the parking impact on a single block is fairly limited — a few dozen spaces lost compared to the hundreds available in area garages. Plus, he said, traffic sometimes moves faster when cars aren't stopping to try to squeeze into a street parking spot.
The concept got a favorable reception when Handsfield shared it at the Georgetown advisory neighborhood commission's June 1 meeting. Commissioners voted unanimously to support the plans for the 3200 block of M, conditioned upon continued discounted garage parking and free Circulator rides. Community members cited a positive experience with the BID's six pilot efforts.
"I think if there were a problem we'd hear about it," said commission chair Ron Lewis.
Added resident John Lever: "I was kind of skeptical about it, but it seems to have worked a lot better than I thought it would."
Commissioner Ed Solomon urged the BID to fast-track the purchase of its own barriers. "The ones you have right now make it look like a construction site," he told Handsfield. Handsfield told The Current that the purchase will come in the next fiscal year, which begins Oct. 1, ideally in time for next spring's tourist season.
Although the BID is starting with the 3200 block of M due to its concentration of retailers and restaurants, the group also hopes to eventually expand the routine sidewalk widenings to other areas as it gets more experience with the program. Officials are still working out the best ways to accommodate essential motor vehicle traffic such as buses, delivery trucks and retail customers picking up newly purchased furniture.
This article appears in the June 10 issue of The Georgetown Current newspaper.