BID Releases 2014 State of Georgetown Report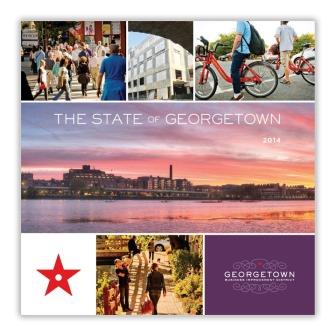 The Georgetown Business Improvement District released its second State of Georgetown Report 2014 this week at its annual membership meeting. The Report, a compilation of statistics and analysis about key features of the Georgetown economy in calendar year 2013, is intended to help inform decisions by the BID's members, as well as brokers, potential investors and tenants, and the District government.
The state of the Georgetown economy is strong, with marked improvement in several sectors, reports the BID. Additionally, the organization hs begun work on 26 of the 75 Action Items from its Georgetown 2028 15-Year Action Plan launched in January of this year, which is also discussed in the Report.
Key highlights of the 2014 report include:
· Office sector performance was strong, with the vacancy rate decreasing to 9.1 percent--the lowest figure in Georgetown since 2006, and 1.6 percentage points lower than the city-wide average at year-end.
· Retailer interest remained extremely high, evidenced by a net gain of seven new stores, a total collection of over 330 retailers, few vacant spaces and rising rents.
· The restaurant industry showed strength, posting a net gain of nine full service restaurants to a total collection of over 120 food service establishments
· Georgetown hotel revenues grew to $65 million, an increase of six percent from 2012.
· The multi-family housing sector showed signs of heating up, with over 100 units of new-construction condos and apartments breaking ground or in the pipeline.
"New multi-family housing construction, more office tenants, and a net increase in the total number of shops and restaurants point to the fact that Georgetown is dynamic and growing," said Joshua Hermias, the BID's Economic Development Director. "Much of this new activity is occurring south of M Street, around the historic C&O Canal and the Georgetown Waterfront. This area will be an exciting place to watch in the coming years."
The BID publishes the State of Georgetown annually, and uses the data in the report as a benchmark against which the future health of the neighborhood economy can be measured.
To receive copies of the Report, please contact the BID's Economic Development Director Joshua Hermias at 202.298.9222, x208, or by emailing info@georgetowndc.com. The report is also available on the BID's website at www.georgetowndc.com under the "About" section.