Style
|
February 2, 2022
|
Beyond
A wonderful name for a ship.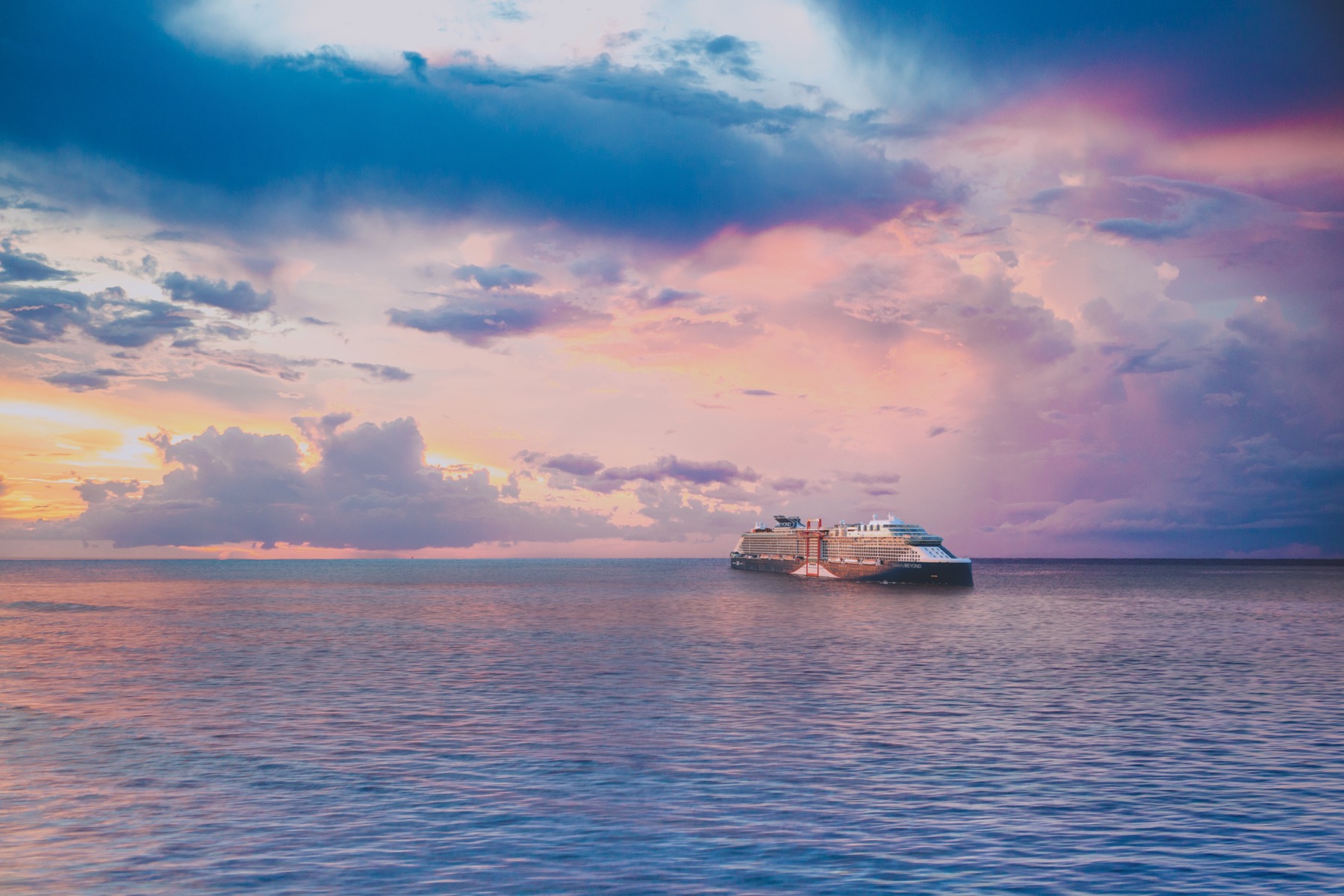 Why name a ship Beyond? Beyond what? Beyond anything that came before?  Well you can now look at a video to see what to expect from  Celebrity Beyond.  It looks amazing but reality is you won't have a full appreciation of its splendor until booking a cruise and stepping onboard what portends to be an incredible experience.  Nowhere near the fanatic cruiser some of my friends are, for me it isn't just the look, but rather it's the feel of the ship once you are at sea. It's the Captain and crew who add immeasurably to the experience. Beyond will have a great head start with Captain Kate McCue, first American female cruise ship captain, a true trailblazer and incredible role model. 
Beyond did its float-out on April 5, 2021. Now she is getting her finishing touches. This is when the designs, till now only seen on paper and in models, come to life. Interesting how the increased length and height have given designers the chance to expand the public spaces. From the resort deck to the rooftop gardens and restaurant, all expanded from those on EDGE and APEX; and they were already great. One of my favorite spots, the Sunset Bar, is now bigger and even more luxurious. Well known designer Nate Berkus worked his magic and I can't wait to have a drink there. They have also expanded The Retreat, the section with the high-end staterooms and suites on the ship. While I can't afford to book one of those, I can't wait to see what they have done. I will have to rely on my travel agent, Scott Moster Scott@myluxcruise.com, who is a cruise specialist, to invite me for a drink in his and his husband's suite. Beyond's first cruise is coming in April, 10 nights through Western Europe, embarking from Southampton, England.
My first cruise many years ago was a transatlantic on the QE2.  A six-day cruise from Southampton to New York, with a stop in Amsterdam. I am claustrophobic and in those days you put on your life vest and gathered at your muster station to learn about what to do in an emergency. My fellow travelers looked at me asking if I was ok as I apparently turned pale and started sweating. My response was, "I might be leaving the ship in Amsterdam." Thankfully after two hours of walking around and getting my sea legs and becoming comfortable on the ship, I was fine and those six days began my love of cruising.  
My next cruise was the start of my love affair with Celebrity. It was a fourteen-day transatlantic on Celebrity Silhouette, Rome to Miami. I couldn't believe there was a living lawn on the top deck where each afternoon at 4:00pm friends and I would sit sipping wine and eating scones with cream. 
I have traveled on other ships including the NCL Bliss on its inaugural cruise through the Panama Canal. It is a beautiful ship and few rooms at sea compare to its Observation lounge. But I always come back to Celebrity.
This past October I did a transatlantic cruise out of Barcelona on Celebrity APEX with its beautiful public spaces and great artwork, itself worth the trip. I had the opportunity to interview Captain Skylogiannis and he invited me to visit the bridge which just added to the great experience and led me to immediately book another APEX transatlantic cruise out of Rome in October, 2022.
So at this time my first chance to see and feel Beyond may not be until October 2023 when I am booked on her out of Rome for a fourteen-day transatlantic cruise. Until then I will rely on friends, who will be on her before me, to report on their experiences. They will tell me about drinks at the Sunset Bar and dinner at the new restaurant, Le Voyage by Daniel Boulud, whose design looks amazing and has only fifty seats. Guess that dinner will have to be booked far in advance.  
So this April, those lucky enough to be booked on its maiden cruise, will know for certain why Celebrity has named its newest ship in the EDGE series Beyond.