The Best Autumnal Pumpkin Cocktail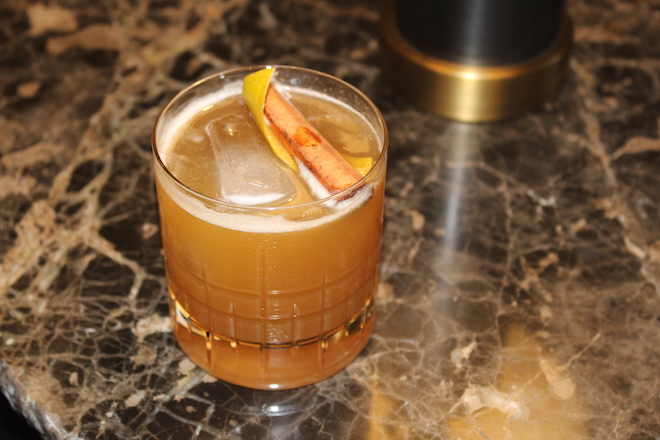 Just in time for the fall season, The Rye Bar has introduced their newest seasonal libation, a Bourbon Cocktail. Made with bourbon, all spice dram, and a special syrup, the cocktail is the perfect blend of sweet and spice.
Adjacent to The Grill Room in Rosewood Washington, DC, The Rye Bar offers an intimate setting for relaxed conversation where the bartenders prepare drinks the old-fashioned way, employing time-honored methods and traditional utensils to maintain the integrity of the
experience.
They're so sure you're going to want to try this one at home they're sharing the special recipe.
A Bourbon Cocktail
Cocktail:
• 2 oz Bourbon
• .25 oz All Spice Dram (Cotton&Reed distillery from D.C.)
• .25 oz Maple syrup
• .5 oz Orange juice
• 1 oz Pumpkin syrup (see recipe below for the syrup)
• couple of dashes of orange bitters
• Glass: Rocks
• Garnish: Lemon segment
Technique:
Add all ingredients into a shaker then add ice and shake it well, double strained it into a rock glass with a big ice cube then place the garnish on top of the ice cube
Syrup:
• 1½ cups water
• 1 cup granulated sugar
• ½ cup dark brown sugar
• 4 cinnamon sticks
• ½ tsp. ground ginger
• ½ tsp. ground nutmeg
• ½ tsp. ground cloves
• 1 butternut squash
Technique:
Roast the butternut squash in the oven with a little bit of butter and salt, once roasted combine the water and both sugars in a saucepot and bring to a boil. Stir until the sugar dissolves, then reduce heat to low. Add the cinnamon sticks, ginger, nutmeg, cloves and roasted butternut squash. Let simmer for about 5 minutes then blended all together except the cinnamon sticks, then strain it through a fine-mesh strainer put back the cinnamon sticks and store in the refrigerator.