Berried Alive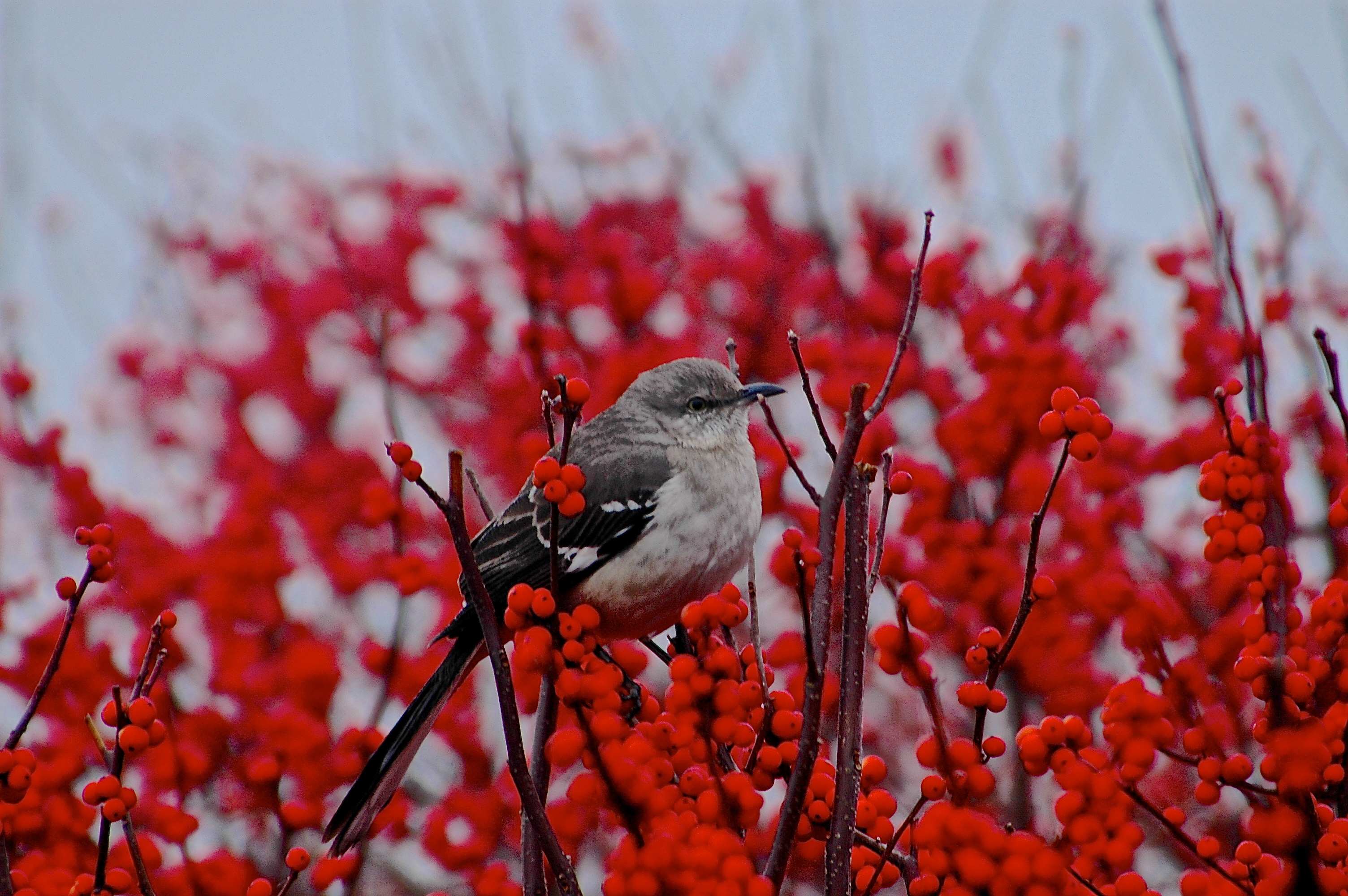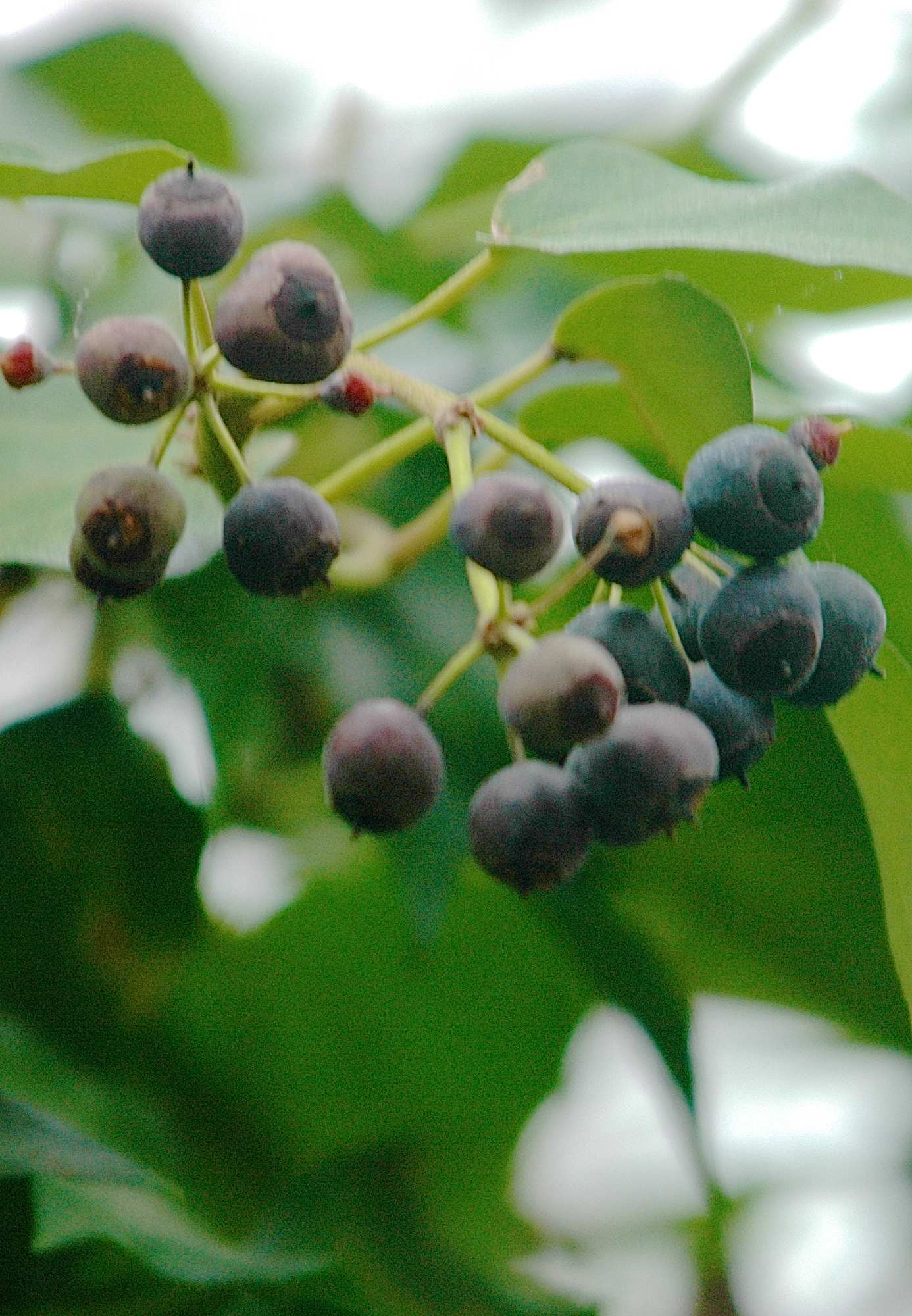 I have been joining my cats in the garden on recent warmish winter days, breathing in the fine morning air and shivering just slightly. Sunday morning, coffee in hand and barely mindful of a slight mist, I came upon berry-blue-seeded bird droppings on the flagstone. The source of the berries, I confess, is English ivy growing exuberantly over my brick walls.
This is a confession because English ivy (Hedera helix) is an invasive species responsible for all kinds of evil, from engulfing trees in a damaging viney embrace to smothering native ground-covering plants. In my defense, the ivy is rooted on the other side of the wall so removing it would be illegal. In an effort to be responsible, however, last summer I made an ungraceful and somewhat life threatening (acrobatics with a long pruner on a too-small ladder) effort to remove its blue-black fruits so birds would not eat them and disseminate the seeds. It seems I missed a few. English ivy doesn't bloom and produce seeds until it's a decade old. Only then does it produce small clusters of pale chartreuse flowers, very pretty against its dark leathery leaves, and followed by the dark blue berries popular with birds.
It's no secret that planting winter food for birds is a great way to keep them around, since they must forage more rigorously to find a decent meal this time of year. Berries that persist in winter provide birds with much needed winter meals and I like knowing their little bellies are full. And then there's the killing-of-two-birds-with-one -stone aspect (pun intended) in that, in addition to attracting feathery friends, you also get something pretty to look at.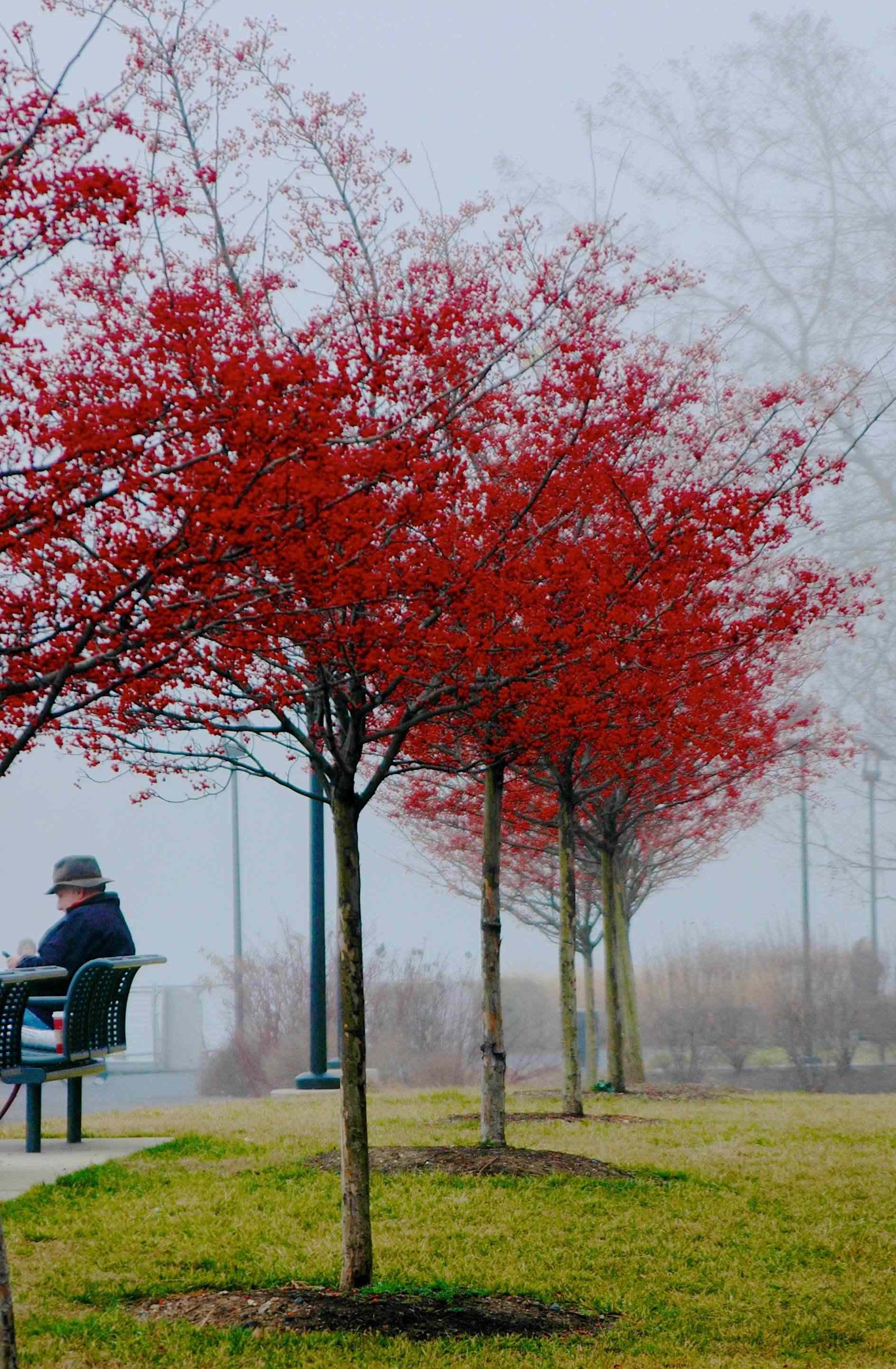 There is a panoply of planting options, many of them less invasive and more striking than ivy. Winterberry (Ilex verticillata), for instance, is a deciduous native holly with distinctive scarlet berries handsomely displayed on dark bare branches when winter is at its bleakest. Stunning on a sunny day, they make gray misty days sparkle – and indeed, 'Sparkleberry' is a cross with an Asian species developed at the National Arboretum that fruits especially well. Winterberries are finely leafed plants with small, relatively unobtrusive flowers in late spring. Somewhat uninteresting in the spring and summer garden, they blaze into glory in late fall when the berries begin to ripen and the leaves fall. The red-berried varieties are sought for holiday decorations but I have grown the salmon-orange colored "Winter Gold" among tall rhododendrons to great effect. Winterberry is breathtaking planted in masses, and are also effective specimens in sunny smaller gardens among evergreens, and beside white hellebores. Passable as hedges, they look odd if over pruned. Better to let it grow naturally and pluck a branch or two in December to grace your holiday table.
If you are looking for a tree with winter interest, try a Winter King hawthorn (Crataegus viridis 'Winter King'). This sweet tree grows about 20-25 feet high and can be as wide, so it needs more room than a tiny urban garden will offer. If, however, you can manage its size and your garden isn't too wet, you will be rewarded with clusters of petite white flowers in mid-spring, burgundy fall foliage, and luscious crimson berries that persist well into winter. Hawthorns, you might have guessed, have thorns, so you will want to take this into account if you have children of tree climbing ages. This native tree would look especially gorgeous against a white or gray wall, and is a perfected lawn specimen.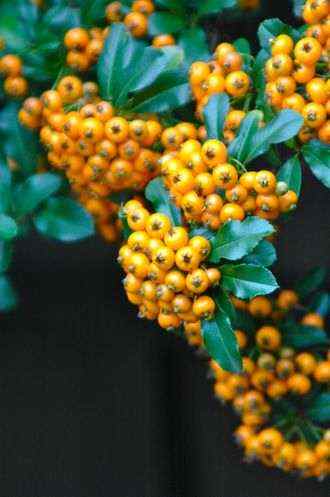 If your garden is too small for a hawthorn and you need an evergreen shrub you can always plant the versatile firethorn (Pyracantha coccinea). Native from Italy to the Caucasus, this versatile shrub makes an effective hedge and can be espaliered on walls. As long as it is in a reasonably sunny location (it tolerates dry soils) it will bear small white flowers late in spring, followed by bright orange-yellow or reddish orange berries in the fall. I don't know if it is its flavor or thorns that do it, but I have found firethorn to be reliably deer resistant. It needs annual pruning which naturally cuts back on the berries so prune it carefully after it blooms so you can sacrificing too many of the emerging berries. This is another thorny plant and I never have emerged unscathed after pruning it.
Cotoneaster is a great non-native, less thorny, ground-covering cousin of both firethorn and hawthorn. Low growing and berry producing, cotoneasters look particularly beautiful when their finely leafed evergreen branches are draped over walls or banks. There are oodles of species from which to choose, some better than others. One of my favorites is the Bearberry Cotoneaster (Cotoneaster dammeri). Its maximum height is about a foot and a half but it will grow up to six feet wide. Its tiny white flowers appear in late May and its small ruby berries begin to ripen in early fall just as its leaves turn burgundy. Regular pruning keeps it rejuvenated and nicely shaped.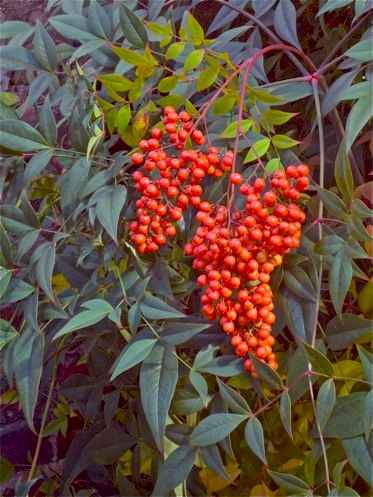 Harder to use is Heavenly Bamboo (Nandina domestica). While this shrub looks very pretty in masses, with its long pendulous clusters of tiny red berries and its delicate, lacey leaves, I find it often looks somewhat foreign. Indeed, it is native from the Himalayas to Japan, having been introduced to North America by way of British plant collectors in the early 1800's. Its berries are popular with mocking birds, cedar waxwings, and robins and, consequently, nandina has become invasive in some southern states. I only really admire nandina when it can grow to its mature 6-8 feet tall and it is allowed to clump naturally. Pruned badly, as often it is, it looks miserable and its berries are lost, so in a small garden, it's best planted in a place where its eventual size is taken into account. The compact version seems to berry less, and I find it sometimes looks, well, commercial and overused. I know of several Georgetown gardens in which it is a nice addition, though, especially now when the leaves are its winter purplish burgundy.
My cats are very pleased that I am taking the time to write about attracting birds in the winter garden. They are hoping I succumb to the desire for pretty winter berries for their enjoyment. Remember, planting for birds requires some forethought. Not all berries are suitable for planting around children, and not all birds will appreciate your feline companions.