Benvenuto Il Canale!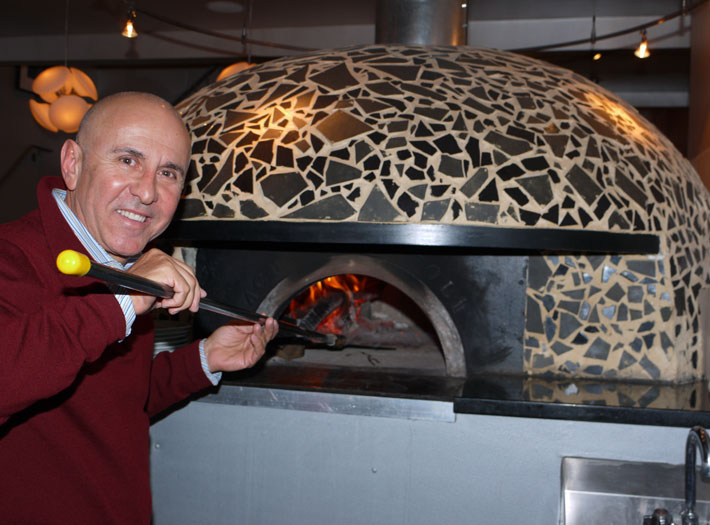 What takes two minutes, 900 degrees and your breath away? Hint: it's made by Enrico Sautto, a fifth generation Napoli pizzaolo, at the helm of a hand-made (non-mechanical) wood-burning oven with an inch of rock salt beneath its stones.
Yes, it's pizza. Honestly, the best we've ever tasted. The new Italian restaurant of Sicilian-born restaurateur Giuseppe "Joe" Farruggio has a lot more to offer than thin-crust pizza, but to miss it would be to miss a wonder of Georgetown, if not the western world.
Everything at Il Canale is freshly made and authentically Italian (except the Chilewich, but more on that in a minute) just the way Joe likes it. With Naples on speed dial, the Bufala mozzarella (in tubs of water, never refrigerated), vine ripe tomatoes and basil arrive weekly giving new meaning to the concept of dining "local."
The family's journey to Georgetown began in 1970, when Joe and his brood left Agrigento on the southern coast of Sicily for New York with dreams of culinary success. Quickly learning the art of New York pizza, which Joe calls "Chevrolet-style," he left the City to plant the tricolore in Woodbridge, Virginia, where he opened the first of five Joe's area pizzerias with the help of his growing extended family. In 2007, he consolidated and currently maintains locations in Arlington and Vienna.
Wanting only the best of everything for his signature restaurant, Joe started with executive chefs, Fabio Capestrano (with family restaurants in Florence and Livorno) and Paolo Buffa (a Milan-born chef with more than 20 years of culinary experience). There's Alain Suissa, the general manager with a great memory for names and faces, and Frederick Drigo, my charming six language-speaking server. And the vino? That's the domain of expert "Doreen from New York" who has assembled a selection of exceptional Italian wines.
When it came to décor, Joe went straight to award-winning McLean-based interior designer, Barbara Hawthorn. Under Barbara's direction, there is custom lighting from Hinson Design Group, photography from Bill Armstrong (Impressionistic) and Richard Frasier( C&O Canal scenes), and table and floor coverings from Chilewich.
Il Canale can accommodate up to 120 guests, starting with its upstairs prima sala (main dining room) Look for the bright umbrellas on the upper terrazzo (patio) as soon as the snow is gone for good. In the meantime, settle in near the pizza oven downstairs with a glass of wine (I started with a smooth Jermann Pinot Grigio) and peruse the menu.
Image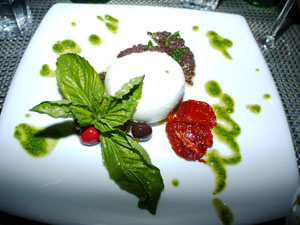 Flavor rules (the risotto tastes like rice, not oatmeal) on the "healthy, not complicated Mediterranean" menu Fabio and Joe created which will change 3-4 times a year. Since its "Friends and Family" soft opening January 27th, Il Canale's specialties have included La Mozzarella from Italian speaking buffalos and cows, and Frittura De Calamari e Zucchine (crispy tender calamari and zucchini served with a spicy marinara and sweet creamy mustard sauce). Joe shared his secret for tenderizing squid.
Image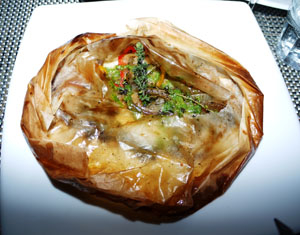 He soaks it in milk before breading. I had a most spectacular Branzino al Cartoccio (Mediterranean sea bass baked in parchment paper, roasted vegetables, and potatoes in a salmoriglio sauce).
Joe's favorite pizzas are his own creation, "Pizza Re" (Bufala mozzarella and Bolognese sauce) and the "Italia" (Bufala mozzarella, Prosciutto di Parma, baby arugula and shaved Grana Padano).
But for my first visit, I had to try the "Georgetown" (Bufala mozzarella, spinach, sausage and basil).
Image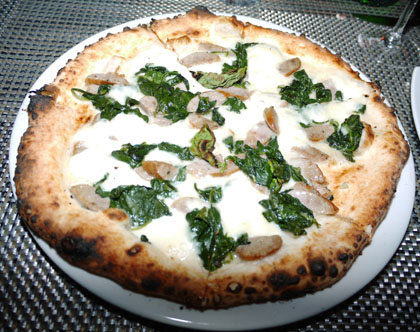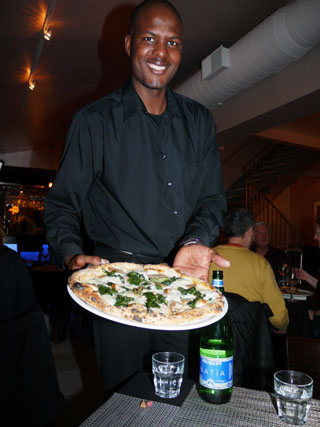 Rosario did the honors (Enrico was away), and it was the best pizza I have ever had anywhere.
By this time, Chef Fabio aka resident olive oil specialist, was explaining why he only marinates tomatoes in Affiorato extra virgin olive oil. Il Canale uses three kinds (all imported from Naples), but the Sapore D'Orr is strictly for salads while the Academia Barilla is reserved for pasta dishes.
Image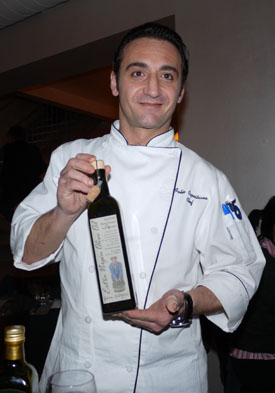 Clearly I had a lot to learn. But not before dessert. Or shall I say desserts. I sampled them all (yes, really!) My favorite was the Zeppole Con Zabaglione (fried dough with Zabaglione cream).
But don't forget the Sicilian cannolis and ricotta Tiramisu ... As for me, I can't...
Image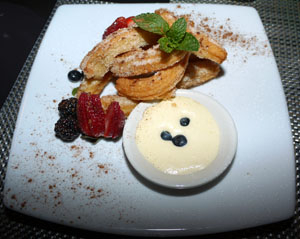 Il Canale at 1061 31st Street (a few feet away from the C&O Canal) is open daily from 11:30 am (Sunday-Thursday till 11 pm and Friday - Saturday till midnight).
T 202.337.4444