Ben and Jerry celebrate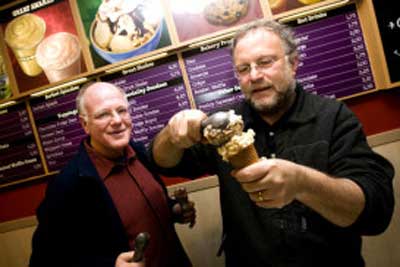 Tuesday was the annual Free Ice Cream Day at Ben and Jerry's and the students from Hyde-Addison elementary helped celebrate the company's more than thirty years of community involvement at the M Steet location. Chocolate and vTwo-thirdsanilla cones were handed out gratis until 8 PM. "Two-thirds of my class picked chocolate, but I picked vanilla" explained second grader Jack Maysak. I guess Chunky Monkey wasn't available.
When I was a college student in the Burlington, Vermont area in the late 1980's, we would hurry down to the local Ben & Jerry's on a designated day each week to pick up the much anticipated discounted "seconds" from the nearby B & J factory. They tasted just as good and probably went a long way toward increasing my "freshman fifteen". Ben Cohen would come over periodically and guest lecture at my Corporate Social Responsibility class. The company has been purchased by Unilever since B & J's "Who's Afraid of the Doughboy?" and "Two Real Guys" days, but it still maintains many of the original community based initiatives that Ben and Jerry started in the late 1970's including, much to all of our benefit, Free Ice Cream Day.
Long live New York Super Fudge Chunk!!!