Beijing: crazier than M Street in Georgetown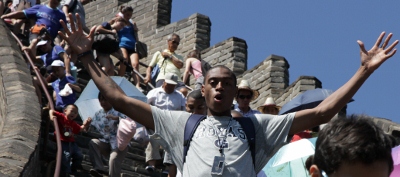 The Georgetown men's basketball team visited the famed Great Wall of China on Tuesday, parts of which are 26 feet high -- not exactly a sure bet place to practice slam dunks.
The Hoyas visited the "North Pass" of Juyongguan pass, known as the Badaling. This portion of the Great Wall is approximately 16 feet wide—a free throw plus a foot.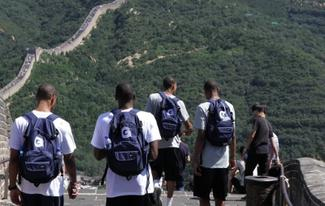 Among the interesting sites along the highway on the road trip was that of Beijing's Disney Land, which was never able to take off and had been sitting unused for nearly 10 years, the team learned.
Following their two-hour jaunt at the Great Wall, the Georgetown team practiced for the first time during their stay, working out at the Tiantan Sports Center, which houses the East Star Basketball Training Camp.
Before taking the court, Head Coach John Thompson III spoke to a group of approximately 20 Chinese boys and then had them do layup drills with members of the Georgetown team. The Hoyas also worked on dribbling and defensive techniques with the youngsters.
Following the clinic, there was no rest for the young Hoyas; they worked out for nearly 90 minutes more.
Then, the team practiced their social graces at a reception hosted by Georgetown President John J. DeGioia on Tuesday night at the Pangu Hotel in Beijing, located directly across the street from the Bird's Nest and the Water Cube, two of the spectacular facilities used for the 2008 Olympics.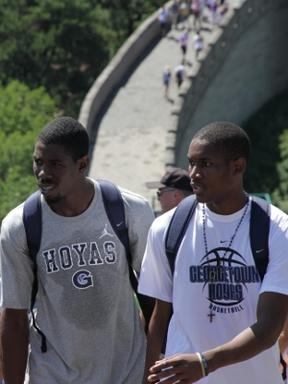 The previous day, the team visited Tiananmen Square, the Forbidden City and the Silk Market in downtown Beijing.
"I'm still trying to get used to the traffic," said sophomore Aaron Bowen of Jacksonville, Fla. "It just reminds me of a crazier M Street."
Freshman Otto Porter of Sikeston, Mo., took time out to get his aching feet a massage at the Silk Market. "I feel like I'm floating," he enthused. "My feet feel great now."
That should make for a smooth-as-silk season back on the Hoyas' court come this fall, let's hope.