Behind the scenes with Diane Rehm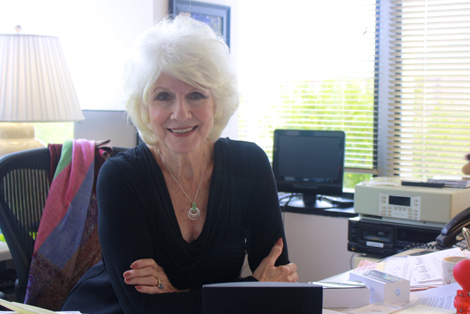 The thud of the control room's large, black clock is a drum race with time. Tick, Tock: 20 minutes remain until The Diane Rehm Show airs. Gadhafi's death, the show's guests and the first hour's segment have yet to be confirmed—not quite the typical morning for the WAMU radio station.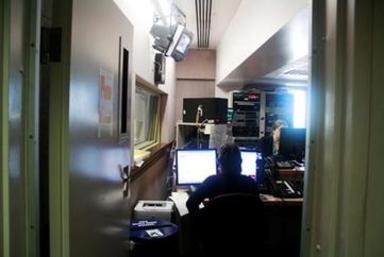 Amid the scramble, a thin woman, diminutive in height (though her signature hair—a generous white weave of volume -- adds an inch or two) enters the studio. Her presence transforms the environment—there's a power to her movements, a ring to her expressions and a sense of poise as she settles into the host's chair.
It's 10:05 and 50 seconds—time waits for none. She raises her hand—a delicate finger pointing upwards as she carefully straightens it forward towards the control room. The Diane Rehm Show is officially live on air.
While her nationally recognized program has become one of the most respected institutions within broadcast journalism, Rehm started at WAMU as a volunteer in 1973. At the time, the station, which launched in 1961, was "very tiny and very small and nobody had ever heard of it," Rehm said in an interview at the station with The Georgetown Dish. "That gave me the opportunity to sort of grow with the station."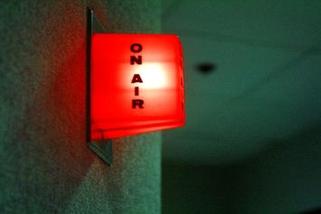 Rehm hosted her first show in 1979. (At the time, the show was still named Kaleidoscope. Kaleidoscope was renamed The Diane Rehm Show in 1984.) The host worked alone for the first two years, sorting bookings, selecting topics and writing the script. The long hours and heavy workload, however, became too much for Rehm.
"I finally said to my boss, 'You have to get me somebody [to help] or I'm out of here'," she said. Today, 95 full-time employees and 51 part-time employees work at WAMU.
Rehm possesses a fervor for the nation, one in which she emphasizes as a radio host. "I just feel that the country needs to continually remind itself of what a good place we live in and how fortunate we are," she said, her eyes large as she rests her chin on the palette of a small palm.
"My passion is my country, my family, my friends. Put up there my husband," she wags her finger before stretching her arms out, the jingle of her bangles adding a symphony to her movements.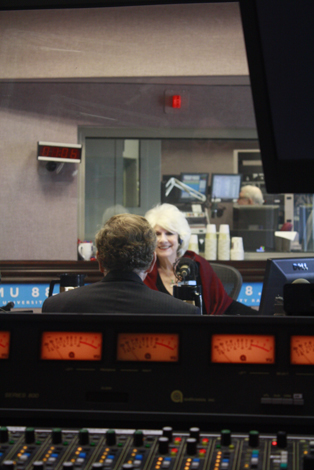 The Diane Rehm Show ranges in topics, from congressional and presidential elections to health, the arts and education. The show also features a readers' review ("Long before Oprah came along!") and recently expanded to add a constitution series and a section on the environment. WAMU allows Rehm freedom of thought as she pieces together her shows; it's a factor Rehm values and one that has influenced her lengthy stay at WAMU.
Rehm has interviewed a wealth of recognized individuals, such as former president Bill Clinton, Julie Andrews and Archbishop Desmond Tutu. The Diane Rehm Show's "Friday News Roundup" hosts a weekly journalist roundtable, including leading names such as Matthew Cooper (the managing editor of White House coverage for the National Journal Daily), Lisa Lerer (a politics reporter for Bloomberg News)and Steve Roberts (a syndicated writer and George Washington University journalism professor). Live, call in comments are also aired throughout Rehm's show— a personal touch to those tuned in to the public broadcast.
The story behind The Diane Rehm Show and WAMU's continued success? It's the people, Rehm said, that make it so. "Each of these producers cares so much about what they do. They are so dedicated to the idea of making it a program that people turn to for good solid information without the screaming and hollering."
Rehm has faced challenges throughout her years at WAMU, notably the diagnosis of spasmodic dysphonia in 1998. The disorder attacks the vocal cords, affecting the ability to speak.
The radio personality underwent botox injections into her vocal cords until 2010. She now works via Skype with a vocal coach in L.A.
"I said to someone at NPR recently, 'How is my voice affecting people out there?' and her response was, 'We don't even think about the voice. It's how the program is growing,'" Rehm said.
And that the show has. Over the 50 years of WAMU's existence, in addition to more than 30 years of The Diane Rehm Show, the station and show have expanded while managing to maintain its quality.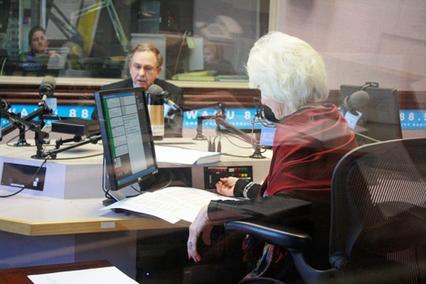 "Where are people going to get their information if not from an organization of interested people who believe you must deliver the news from a perspective broad enough for them to understand?" Rehm said. "We're not delivering one message. We're trying to deliver as broad a message as possible. People say to me, 'I don't know what we would do without WAMU.' Clearly, there is a need for public broadcasting to continue to make a difference."