From Beauty Queen to Queen of Beauty One Jar at a Time
Before you buy your next miracle cream from Neiman Marcus, you'll want to meet D'Andra Simmons. The recession detour her Hard Night Good Morning skin care line was forced to take turned the former Texas beauty queen and philanthropist into an international 'Queen of Beauty.'
"No one would talk to me," Simmons explained as she literally went door-to-door marketing her organic skin products in 2008. "I'm the only woman in my family who doesn't have cancer. What you put on the outside affects the inside," Simmons told The Georgetown Dish.
For more than a decade before launching Hard Night Good Morning, she was actively involved in the nutritional and skin care industry. As vice president of Ultimate Living, founded in 1996 by her mother, Dee, D'Andra learned all about production and development, traveling the globe for the finest ingredients.
The timing may not have been right for upscale boutiques to begin carrying her luxury skin care, but it's social media that Simmons credits for discovering her. When she decided to post product information on her Facebook page, Whole Foods Market took notice.
"Why don't we have these products?" Austin, Texas Whole Foods asked Simmons in 2009. "Would you like to compete with Dr. Hauschka?" After all, Hard Night Good Morning met all the guidelines for product purity in the company's 'bible.' Vegan, no animal testing, no paraben, no chemical preservatives, no phthalates, or gluten. Just organic rose ether, which, by the way means that instead of an average 12 year shelf life that most commercial products have, hers has only three years.
They were eager. "Just one thing," Whole Foods said," You need to lower your prices by 60%."
Instead of changing the formula, which includes "lots of exotic African ingredients," Simmons decided to cut deeply into her profit margin in the hopes of reaching a wider audience through the country's leading socially responsible food supermarket chain.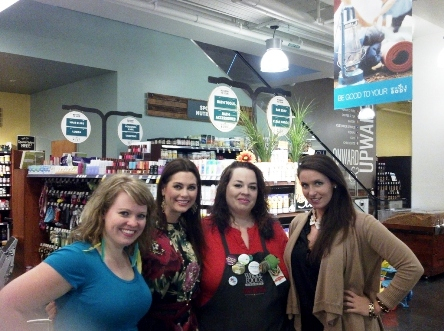 "I couldn't let this fail," Simmons went on, "The way I started the company was from the inheritance left by my father … who committed suicide right after I came home from my honeymoon." This company was meant to be Simmons' legacy as much as a tribute to her beloved father.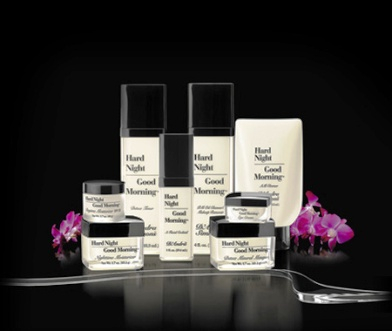 The nine product line includes a signature 'Hard Night Good Morning Facial Cocktail', a lifter, toner, tightener and primer "that makes me look like I have had a full night's sleep even if I have had only one full hour!" A celebrity favorite, the serum is currently favored on the set of Dallas by Brenda Strong.
Her best seller today is the eye cream, in the running for Best Eye Cream of the Year by Natural Health Magazine. As Simmons says, "What sets us apart is not only the aloe vera base, but also the amount of 'actives' in the line. It is almost unheard of to have four ingredients in an eye cream and charge $38.99! That would generally run several hundred dollars in luxury department stores."
Now in Whole Foods Mid-Alantic region including Georgetown, Simmons is about to launch on Shopping Channel of Canada, their version of Home Shopping Network (HSN), and poised to reach Europe by fall. Simmons' Hard Night Good Morning is changing the landscape of the beauty industry one jar at a time.