Beaten but not bowed: Carol Joynt delivers speech to women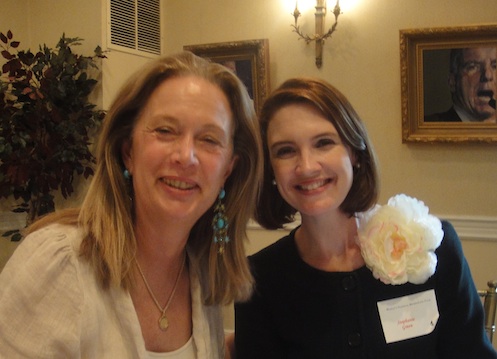 Georgetown author Carol Joynt took the podium at the Women's National Democratic Club Tuesday for a landmark speech about her new book, Innocent Spous e . Inspired by the speech, WNDC President Nucchi Currier said the Club intends to affect the 2012 presidential campaign, influencing the Democratic party platform on women's issues. She had a strong group to back her up at this special luncheon in honor of Carol, including Pat Bitondo, part of the well-known political family in Glover Park. Introduced by friend and writer Stephanie Green, Carol started with a question that someone asked at a recent book signing. What followed was a moving speech: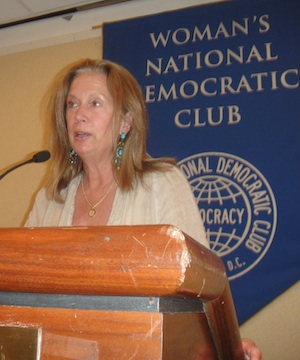 I've been asked a lot of questions in the past two weeks since my book came out, and each and every one is of interest to me. But since I have to start somewhere … here's a good one that stood out:
Were you aware that it was spousal abuse when it happened to you?
The first time my husband hit me we were riding in the car…heading out on some inconsequential errand, and – significantly -- not arguing. And there was no alcohol involved.
I put a tape in the cassette player, but he didn't want to hear it. He asked me to take it out. I refused and so he smacked me across the face.
While I sat there stunned, he yanked the cassette out of the player and tossed it out the car window … and kept on driving. And then there was silence.
I stared straight ahead, fighting back tears. I knew my husband had hit me. I knew it was wrong. It scared me and shook me to the core. …but most of all it made me sad, because whether I stayed with him another day… or another 50 years… our relationship as I'd known it was over…forever changed.
Even if I acted in denial about the event – which, truthfully, I did – inside I would know it happened, it would always be there.
When that first episode happe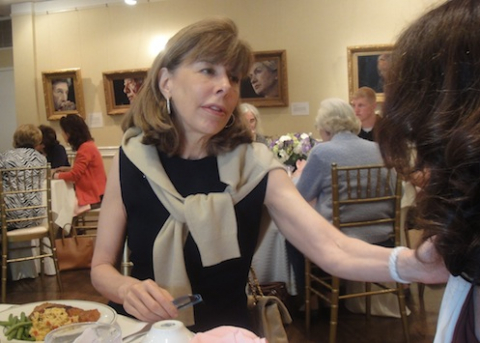 ned I couldn't have felt more isolated and alone … and that was probably part of the problem.
At the time we lived in a 200-year-old farm house in the middle of a 500-acre cattle farm at the end of a long dirt drive in Upperville, VA…a million miles away from the world I'd known as young up and coming journalist.
After Howard and I met, fell in love and married, I'd quit my job at NBC News, and severed ties with many of my old friends … to come and live this supposed idyllic life in the hunt country with the man of my dreams. But isolation isn't the best place to incubate a new romance. It wasn't good for me…that i am sure of.
I'd lost my mooring and my self.
There were a few more incidents like that one. At a hotel in Key West, drunk, in a jealous rage, he nearly strangled me. One rainy late afternoon near dark…driving back to Upperville from D.C. … mad at me about something…he pulled up in front of Dulles Airport and shoved me out of the car and then drove away with my handbag, my money. A stranger drove me home.
One evening in the kitchen I said something utterly offhand that he didn't like and he hit me in the eye. I went to the phone to call the police … I dialed the number … and, as he glared at me … I hung up.
By then I was back at work … a producer for CBS News Nightwatch … where I was a star producer. Even though I didn't call the police that night, I was getting back into the world. To colleagues I explained my black eye this way: "Oh, I was opening a champagne bottle and the cork hit my eye."
But when I tried that line on a girlfriend… she grabbed my shoulders and looked at me: "So that's your lie, is it? I've used that one, too. And next time you'll say you walked into a door."
It was the first I knew I wasn't alone, that quote people like me could be getting hit and keep quiet about it. I knew it happened to women, I heard it on the news, saw it in movies … but they were out there somewhere else, not my neighbors, not my friends. Not me.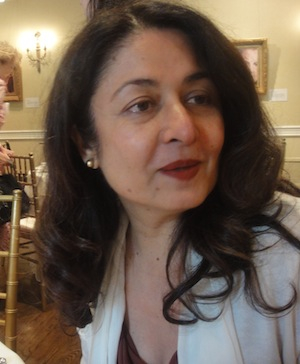 Besides, who could I tell? My family adored Howard. Our friends knew him as the affable and charming man he usually was. Maybe it was my fault after all. Maybe I wasn't being the best wife I could be. And if I talked about it that meant I had to do something about it… but I didn't know what to do or where to go.
Thank god Ii didn't remain that woman – inert, in denial.
Thank god I woke up one day and said to myself, "This can't go on."
I knew I had to save myself and possibly if I succeeded at that goal I would also save my marriage.
I got my guts up and told my G.P., who didn't pass judgment. He gave me the name of a psychiatrist. The irony is that once I started seeing the shrink … and making progress…digging deep into life…and over time asserting myself … Howard got jealous of my progress and wanted to see the doctor himself, which he did, and what we learned was that he suffered from chronic depression.
Not an excuse for his behavior … but at least an explanation.
The doctor put him on Prozac and the transformation was remarkable. That was at the ten-year mark in our twenty years together. Everything changed and got better after that, particularly our marriage. My work flourished. His work seemed to flourish…and, best of all…we had our son, Spencer.
Where I'd gone wrong was that in our marriage, initially, I'd let myself become the lesser half rather than the equal half … perhaps because he was so much older … perhaps because he was so dynamic and I looked up to him … perhaps because my own self esteem had never been fully formed.
That's what I worked on in therapy…and worked on it hard … and I did become a woman in full … strong, solid, self-confident. In fact, after so many sessions, the psychiatrist and I set a "T-day," termination of therapy, and put it on the calendar.
(pause)
Who knows what grand plan there is in our lives, but on the same day that I was supposed to terminate therapy, at the beginning of January 1997… I was instead at Sibley Hospital… where my husband was in grave condition with pneumonia…on life support… and about to die. Our lives had never been better.
The irony was not lost on me.
At home, I thought we were the happiest family. I treasured being mother and wife. Professionally, so many good things had come my way. I'd won an Emmy award for a CBS News prison interview with Charles Manson. I'd been picked as the Washington bureau chief of the TV version of USA TODAY. The show was a failure but the job put me in the ranks of management. I'd gone from that to producing roles with David Brinkley and Ted Koppel. In the first years after my son was born I directed films for the National Gallery of Art, working along side the brilliant J. Carter Brown, who I adored. And then I'd gone back to network news…in cable … as the "big game hunter" for "Larry King Live."
I was so hot I sizzled.
And then …as quickly as the love of your life can suddenly die …it all came apart. In my happy solid secure world, the world I thought I'd put together so soundly…the world I took for granted … the floor fell away, the walls came crashing down…and the abyss was at my feet.
Spousal abuse can come in many forms. There's physical abuse, of course…there's sexual abuse, too… and there's infidelity … but there's another kind, as well: financial.
I had a happy marriage. We talked all the time. We were best friends. We told each other everything, or so I thought… because somewhere along the way Howard opted not to tell me that at his business … Nathans … he'd stopped paying the withholding taxes to the federal government… and that he was under-reporting our total income on our joint tax return. Some of the money went to lifestyle, some of it went to favored employees under the table … but none of it went to the IRS.
If that's how Howard wanted to run his business … fine … and maybe it's the way a lot of restaurant owners run their businesses … I know that's true … but when we wrote our wills …and he made me heir to Nathans … he should have considered my liability. Maybe he did. I'm sure he thought he'd get it all worked out …cut a deal with the IRS … and tell me once it was resolved. I'll never know his plan. I was robbed of both him and his explanation.
I learned the dismal truth two weeks after Howard's death … when his tax lawyers called me in to meet with them. I was expecting condolences and maybe a shoulder to cry on. But that's not what I got. What I got was the news that my husband was under investigation for federal tax fraud, that the debt was close to $3 million… and that as his sole heir, and because I'd signed the tax returns … I was the defendant. They suggested I sell everything, pay the IRS, and move on with my life.
Much as that day in the car when he first slapped me …I sat in stunned silence, trying very hard to fight back the tears.
I was scared to the bone. And i knew, no matter what, my son's life and my life would never be the same. We'd lost our father and husband … the center of our universe … and now we were about to lose everything else.
But this time was different.
The carol sitting in the lawyer's office was a lot different from the Carol who sat in that car all those years ago. Time and therapy had changed me. Believing in myself had changed me. I may have been scared out of my wits … but I wasn't gonna take it anymore. I wasn't gonna not call the police … in other words … cry out about my innocence and ask for help.
This time I would defend myself ... because not only did I not know what Howard had done … did not understand what it was Howard had done…I didn't participate in whatever it was Howard had done … I was innocent.
I got lawyers who believed in my innocence and they put together a rock solid defense …
And the IRS absolved me of guilt and awarded me the status of "Innocent Spouse."
But sadly one of the main reasons they found me innocent had mostly to do with my ignorance. I could just as easily be called an ignorant spouse.
Howard didn't force me to ignore our family finances. I chose to. I loved going to work and being a hard nosed journalist and then coming home to my secure nest and a husband who handled all the books. Numbers confused me. I wasn't good at math.
Before my marriage I simply operated on a finance model of not buying anything I couldn't afford. I lived within my means and paid my taxes. That way it never got beyond me. My apartment was a rental, my furniture was from LL Bean.
But I married a man who had a business, he introduced me to a more glamorous lifestyle …we owned things … there was always money and we always lived well and I let him handle it. Gladly.
I had my own income, credit cards and bank account. I paid my own bills … but still let him balance my checkbook.
I was happy that way and it was foolish of me. And my best advice to anybody who is married … and maybe with their head in the sand, too … is become fluent in personal finance. Learn how to read a tax return. If you are in your spouse's will … know what you will be inheriting and ask a lawyer to explain the liability.
Winning "innocent spouse" lifted Howard's tax debt off my shoulders. Everything that was in his name … money in his bank account, stock portfolio, proceeds from the sale of his cars and boat – in other words, most of what we had … that money went to the IRS. Everything that was in my name, which because of his death included our home … went to me. Spencer and I had something. Not what we would have had, but something.
We could start over.
What I didn't factor in was the burden of the restaurant.
I kept it, because I thought I could sell it, not realizing it had never been a money-maker… that Howard's father – when he was alive -- had subsidized it for almost 28 years … underwriting the shortfall by almost $2 million.
People ask me if was I mad at Howard. Well, yes. Of course. In so many different ways. But when the IRS hit me, I didn't have room for grief or anger. I had to wage a war for survival … I had to focus on beating the rap.
But deep into the years of being stuck with a bankrupt saloon …a business where I had no skill set … no feeling of natural habitat … it was that awful predicament, stuck in quicksand, that fueled my anger, rage and resentment… and I took it out on everyone…
Friends who no longer knew how to fit me, a widow, into their lives …
Landlords who didn't believe me when I said the Nathans math didn't add up, that it was impossible to pay taxes and the rent and the staff salaries ...and to convince them I wasn't heir to a vast Joynt family fortune …
Heck…. Spencer and I weren't even in the Joynt family trust … we were on our own …
The sharks that were always out there, shape-shifting, out-smarting me and making me feel vulnerable …
My son, for almost any transgression…
And, of course, at the end of the day, Howard … for leaving me this mess.
Sometimes I'd sit on his grave and cry … but as much as it was out of despair it was also frustration with him… a man I loved … a man I wanted to continue to love…who I told our son should be loved … a man I slept next to practically every night for 20 years … but who, sadly, turned out to be a stranger.
I had to come to terms with that, and I did, and I had to raise my son so he, too, would come to terms with it, understand what happened, and be able to forgive and find peace.
I told Spencer all kinds of stories about his father. Most of them were the happy times we had together … the many ways he enchanted me… delighted me … made me laugh … held my hand at just the right moment …how he impressed me with his intelligence … his gut understanding of people … his love of history, especially the 18th Century, and the civil war, and travel … his appreciation of some of the finer things in life…the way he agreed to learn how to sail at my behest even though he didn't know how to swim … his good eye for art and furniture … that he was a good friend to all our friends … and how he could fix the plumbing but also plant a garden. I wanted Spencer to know that man.
But at age appropriate times I doled out the reasons why there was a lot of stress on mom, and the ways Howard had lost his way … not so much an aggressive act toward us … but nonetheless we did end up as the victims.
I wanted Spencer to understand it … and I think he did. Before the manuscript was locked I asked him to read it. I said if there was anything he wanted me to change I would … but he said he was fine with it just the way it was … and that comforted me. He also said, "I had no idea you'd gone through so much."
But, being 19, he doesn't carry that revelation around as a reason to give me less stress.
I always wished Howard's sister Martha would read it, too … but she declined. She was as angry with her brother as anyone, but she loves him, and feels that with their parents dead … someone in the family needs to be there for him… and that's her … and that's good and I respect that ...
What I've been through has taught me a lot about life in the real world … not the sheltered perks of journalism or wealth … but the world in which most people live … with debt, with worry, with uncertainty, and no particular clout to make it any different.
It also taught me to see myself through the eyes of others…to see their point of view…and to analyze whether it's fair and whether I need to make changes. But always respect that other view… I got that from being a widow, a defendant, a solo parent, the boss of 55 people, the employer of many lawyers and the writer of a memoir.
Martha and I got through so much of the early days together … we'd sit in booth 26 at Nathans … my favorite (I should have given it to the Smithsonian but the landlords wanted the fixtures) … sipping our drinks … looking across the red-checked tablecloth at each other… trying to untie the knots … to figure out the mysteries of this man we both loved.
It was Martha who told me I wasn't wife number three but wife number four … it was Martha who told me Howard hadn't gone to Harvard but to the University of Pennsylvania…
And it was Martha who told me Howard had also hit the wife before me, wife # 3, not comforting me so much as making me realize it was not me but him … and that he was flawed, and it went around with him…until he walked into a doctor's office and dealt with it.
She also said something else that kept me going. She said: "You're going to make mistakes, but you'll figure it out and get through it." I did get through it. I made one thousand mistakes but I like to think I made each only once.
Thank you.